On the pitch and off it, Gary Cahill is emerging as a player eager to take England forward.
He accepted the captain's armband from Wayne Rooney against Norway on Wednesday and on the resumption of training at St George's Park near Burton assumed a lead role in talking up the fortunes of the national team.
After a summer of despondency and disappointment, the Chelsea bulwark has little patience with negative interpretations of a victory against Norway at Wembley that came with a clean sheet. His manner reflected the urgency demonstrated by England head coach Roy Hodgson, who snapped his defiance in the face of post-match criticism of the 1-0 win, and on the training pitch yesterday, impelling his players to reach for a higher gear.
Cahill sat out the session to rest an ankle carrying a little fluid but made plain his readiness to train today and expressed his confidence in Hodgson's remodelled team.
England 1 Norway 0 player ratings
England 1 Norway 0 player ratings
1/12 Joe Hart

Had little to do in the first half but count empty seats, then came alive to make a vital save just after the break from King's near-post header. 6/10

Getty Images

2/12 John Stones

Composed and got forward well. Good opposition to make debut against and caught out of position occasionally but can be pleased with his big night. 6

Getty Images

3/12 Gary Cahill

Had a trying time against Josh King. Turned rather too easily by the Blackburn striker in the first half, then embarrassed out on the right touchline.

Getty Images

4/12 Phil Jones

Like his defensive partner, did not inspire confidence. Poor header resulted in Elyounoussi shot but went close with a header from a corner. 5

Getty Images

5/12 Leighton Baines

Always eager to get forward and had a shot blocked, yet wasted several good chances to cross. Kept looking for the ball when England toiled after the break. 6

Getty Images

6/12 Alex Oxlade-Chamberlain

Difficult night for the Arsenal man. Too often let down by a heavy touch and often required to come inside to bolster England's centre. Rather lost. 4

Getty Images

7/12 Jack Wilshere

No doubting his enthusiasm, produced several telling passes and should have won a penalty. Yet his distribution was erratic and awareness was poor. 5

Getty Images

8/12 Jordan Henderson

Played the holding role and was neat and tidy. Usually available for his team-mates yet could not step up when England drifted after half-time. 5

Getty Images

9/12 Raheem Sterling

Shone amid all the mediocrity. With Sturridge seemed to be taking on Norway on their own. Lovely touches and vision. Won England's penalty. 8

Getty Images

10/12 Daniel Sturridge

Sharp, direct and in the first half dangerous, going close with both a shot and a lob. Good link-up play and on the same wavelength as Sterling. 7

AP

11/12 Wayne Rooney

Hardly led from the front. Too many moves broke down around him and was reduced to playing Hollywood passes to no one. Emphatic penalty – then off. 5

Getty Images

12/12 Danny Welbeck

A little more space to work in than Rooney but England looked more dangerous when he came on. Good near-post shot and smart cross from the left. 6

Getty Images
"The squad is really young and almost just starting out," he said. "It doesn't seem that long ago I was trying to get my first cap. Maybe in terms of age and games in the Premier League I'm a bit more of an experienced player. But that's to do with how young the squad is and how many young players we have here, starting their international careers a lot younger than me, which is exciting."
Cahill was expressing a view broadly held within the camp. There was no desire to shout down those fans who stayed away on Wednesday nor to prove a point. The optimism appears genuine, despite the often flat, predictable offerings against Norway.
"I think there's enough creativity to create goals. It is a young team. I felt pressure when I made my debut so the young lads must be under pressure at the minute with the so-called doom and gloom around. I just tell everyone to be patient and support the young lads. They've come in and done really well."
There was praise, too, for Hodgson, who has ditched avuncular gentility for the knuckledusters. At one point during drills at St George's Park yesterday he stopped the session to admonish the group. He wanted the ball moved more quickly, with greater intensity.
"As a player I have seen a bit of both," Cahill said. "When he is upset at something, with the squad or with training, he expresses his opinion and gets angry. I have seen that side of him before. It's easy when you win games and before the Word Cup when we were qualifying and winning frequently and getting decent results it is easy to tick along. When things don't go too well you have to be a bit more direct and he is adding that extra bit of pressure to the squad, which is good."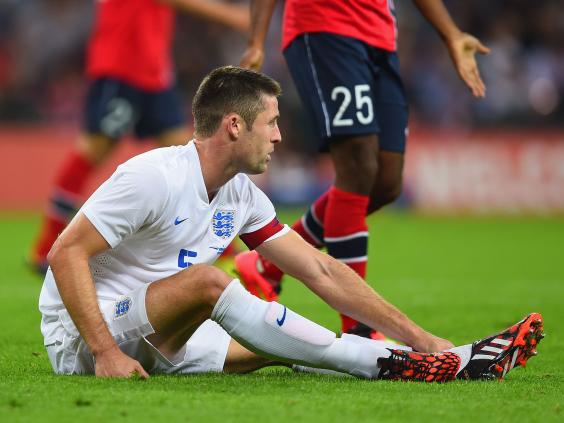 And so to Switzerland on Monday for the first competitive outing since the World Cup in Brazil, where England failed to register a win and scored only two goals. Again Cahill's glass is half-full when he sifts through the outcome of a devastating campaign.
"We didn't come away from the World Cup absolutely  battered. They were tight games and fine margins. We lost the first game [to Italy] after apparently some of the best football we played. You're down to one game of football that you need to win [against Uruguay] and we ended up losing with a goal that was, I thought, a freak.
"I'll never forget it, but I won't let it affect me. There's no point looking through it all this week; it's gone now. As a team, the experience leaves a bad taste in the mouth, but you move forward to try and do better."