Roy Hodgson spent a long time before tonight's game standing in solitude on the pitch in the country where his name was made in international football and contemplating the burden of the England manager.
It will take longer to persuade the English of the credibility of his hard-won reputation but victory over Switzerland was one step back in the right direction.
For the first time in a while he can walk away from this international break with a spring in his step and a weight lifted from his shoulders. England have beaten their toughest opponent in Euro 2016 qualifying away from home in their first game and the road to France in 21 months' time looks as becalmed as any qualifying campaign in recent memory.
Victory in Basel against the world's ninth-ranked team was the breathing space that Hodgson needed after a summer of pain. His tactical preparation was astute and, on the whole, his big players delivered. Once again, there was a case for putting the marvellous Raheem Sterling above them all, but even so the likes of Wayne Rooney, Danny Welbeck, Joe Hart and Jordan Henderson ran him close.
Switzerland have not lost at home since September 2010 when Fabio Capello's England side, fresh from the pain of another disappointing World Cup finals, revived flagging spirits with a 3-1 victory.
Welbeck scored the two goals, the first borne of an electrifying combination between Rooney and Sterling and the Arsenal man typified the hard running of a well-drilled England team. They are a long way from being the cultured blend of power and passing that the English dream of, but they do now at least have one significant triumph between them and that bloody awful World Cup performance. 
Switzerland 0 England 2 - player ratings
Switzerland 0 England 2 - player ratings
1/11 Joe Hart

Returning to his imposing best. Underworked in first half as Lichtsteiner shot over. Strong saves from Seferovic before being rounded by Drmic. 7/10

EPA

2/11 John Stones (left)

Forced to play out of position again but not unduly troubled. Turned easily on occasion but overall was unfazed on the biggest night of his career. 6

Getty Images

3/11 Gary Cahill

More experienced centre-back and held backline together with authority. Struggled on turn at times. Trademark clearance off line from Drmic. 7

EPA

4/11 Phil Jones

Fell into Seferovic to halt one Swiss attack. Ceded possession before being bailed out by Hart. Close with header and cleared from under how own crossbar. 6

Getty Images

5/11 Leighton Baines

Caught late by Shaqiri in opening minutes but was danger with delivery from left side. Enjoyed freedom to spend large periods in the Swiss half. 6

Getty Images

6/11 Jack Wilshere

Too easily robbed of possession but enjoyed space to influence proceedings. Clever ball to Rooney came to nothing and had shot deflected past post. 7

Getty Images

7/11 Fabian Delph

Handed competitive debut and too hyped early. Left foot in on Behrami before diving in on Lichtsteiner. Rarely gave ball away and should have won penalty. 7

Getty Images

8/11 Jordan Henderson

Overcame injury worries to maintain place in centre of the park. Tidy in possession and aided forward momentum as England prospered on counter. 6

Reuters

9/11 Raheem Sterling

England's latest great hope kept the hosts occupied with his quick feet and canny movement. Played major role in move for Welbeck's opener. 7

Getty Images

10/11 Wayne Rooney

Failed to control Wilshere pass in front of goal and close with header before dropping back to orchestrate move for opener. Best showing for a long time. 8

Getty Images

11/11 Danny Welbeck

Arsenal new boy replaced Sturridge. Chose wrong option after steaming in off right wing but showed composure to find net twice to earn the points. 8

Getty Images
The problems are obvious: while the defence improved through the game there were times in the first half when it offered all the security of a poorly-fitted garden shed door. England were fortunate that Hart has found his confidence again and he was outstanding, so too Gary Cahill in the second half.
Hodgson selected a midfield diamond with Jack Wilshere at its base and distributing the ball well in the first half. Fabian Delph, a surprise pick on the left side of that midfield conspired to get himself booked within nine minutes and seemed not to grasp the necessity of curbing his excesses until he had gone through a couple of anxiety-inducing red-card near-misses.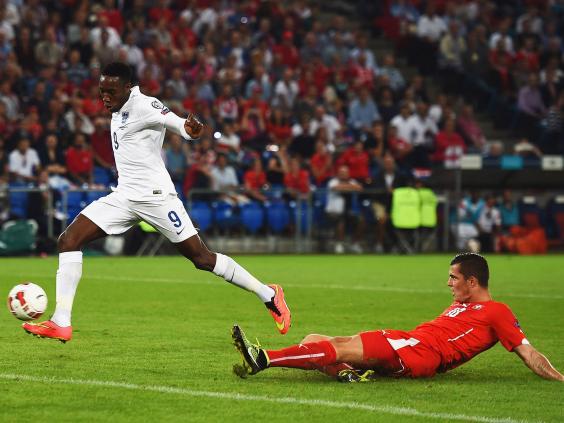 At the tip of the diamond was Sterling, the man in whom so much faith was invested and was, as a consequence, subject to the close attentions of Valon Behrami for much of the first half. That was not to say that he did not get on the ball in dangerous positions, largely because of a Swiss defence that was hopeless at times with Steve Von Bergen doing his very best to justify Philippe Senderos' future return to the team.
It was Von Bergen who gave the ball away on 15 minutes and allowed Sterling a run at goal down the centre. He seemed to ignore his best instincts and instead of forcing the issue in the area against two back-pedalling centre-halves elected to pass the ball early to Rooney whose right-footed shot did not ask too many questions of Yann Sommer.
It was the same for England on 29 minutes when Welbeck pinched the ball away from the hapless Von Bergen out on the right and bore down on goal. The new Arsenal striker does all the right things in his opponent's half, charging after defenders at a gallop and applying pressure all over the field. It is in the penalty area that his head can go at times and instead of shooting this time he struck a nervous cut-back which managed to elude both Rooney and Sterling.
At the other end, Phil Jones was having another of those evenings when things can go from good to bad within the blink of an eye. He got the wrong side of Haris Seferovic on 18 minutes and then, when Admir Mehmedi's ball through came, seemed to be shoved out the way. He fell onto Seferovic and knocked him over and the referee Cuneyt Cakir looked unwilling to attribute responsibility.
Much worse for Jones came on 33 minutes when having first done well to intercept a ball he then gave it away to the Swiss team's most dangerous player, Xherdan Shaqiri. Shaqiri put the ball through the Jones-sized gap in the England defence and only an excellent save from Hart, with his right foot, stooped the shot from Seferovic.
Then, at the end of the half, two chances for England. Rooney hit a right-footed shot on the turn from the right that was palmed away by Sommer. From the corner Jones was unmarked and headed downwards but had his effort well-saved by the Swiss goalkeeper.
At the start of the second half it was Switzerland who were the more assured in possession but Hodgson's team picked them off on the counter-attack. Wilshere cut in from the left and had a shot just pushed wide of the post by Sommer. Sterling inexplicably missed the ball altogether after a swift move from Wilshere to Sterling and back to him from Henderson on the right opened up a chance.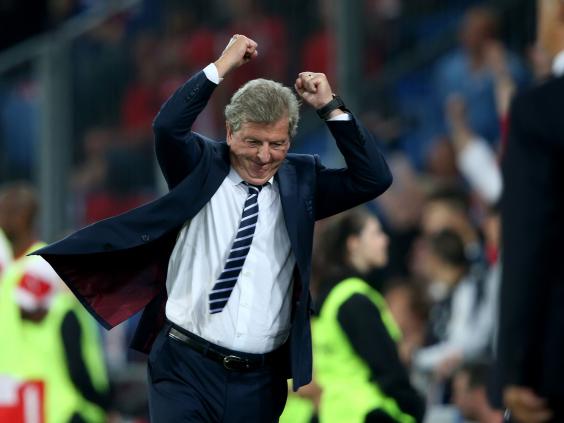 Then, just before the hour Hart was again alert enough to stop a well-volleyed ball from Seferovic in the area. England had defended better but the momentum was with their opponents, until finally Hodgson's players got the break they needed.
The ball fell to the right people when Sterling's pressure got the ball away from Inler and Rooney in turn played in Sterling down the left wing. These two had looked the most composed on the break all night. Sterling slipped a fine ball to the far post where Welbeck arrived just in time, and onside, to put the ball in at the far corner.
The game opened up and there was one exquisite penalty box expedition from Sterling on 69 minutes, delicately picking his way through the feet until Stephan Lichtsteiner threw himself into a well-timed tackle.
At the other end, Cahill slid in on the line to stop a goalbound shot from the substitute Josip Drmic. The ball bounced up and struck Cahill on the arm, a fact pointed out at length to the referee Cakir by Drmic who had himself been offside when he made the initial run between England's two centre-backs.
--
MATCH IN NUMBERS
1 - Danny Welbeck scored his first international goals in just over a year
50 - James Milner won his 50th England cap, overtaking Sir Geoff Hurst
9 - Raheem Sterling assisted his first England goal – on his ninth appearance
Reuse content