It was nearly 11pm when Wayne Rooney left Wembley on Wednesday night to board the team coach. Most of his team-mates were already aboard but Rooney had patiently worked his way down the media line: television, radio, newspapers. He is captain now, and that means added responsibilities.
Rooney's approach to the job, it immediately became clear, was to be honest. There was to be no sugar-coating. England had, he admitted, been "sloppy at times" and "could have done better" against Norway.
He wanted to look ahead to the 2016 European Championships and tomorrow's opening qualifier against Switzerland but, first, he had to look back and address what manager Roy Hodgson calls "the baggage" of the World Cup debacle.
"That was my worst moment in football," said Rooney. "The younger lads who were there as well, they felt that, and it is not a nice feeling. We have to try to make we don't feel like that again, and so make sure we qualify for the Euros. If we get there, when we get there, then that experience can will help us."
England 1 Norway 0 player ratings
England 1 Norway 0 player ratings
1/12 Joe Hart

Had little to do in the first half but count empty seats, then came alive to make a vital save just after the break from King's near-post header. 6/10

Getty Images

2/12 John Stones

Composed and got forward well. Good opposition to make debut against and caught out of position occasionally but can be pleased with his big night. 6

Getty Images

3/12 Gary Cahill

Had a trying time against Josh King. Turned rather too easily by the Blackburn striker in the first half, then embarrassed out on the right touchline.

Getty Images

4/12 Phil Jones

Like his defensive partner, did not inspire confidence. Poor header resulted in Elyounoussi shot but went close with a header from a corner. 5

Getty Images

5/12 Leighton Baines

Always eager to get forward and had a shot blocked, yet wasted several good chances to cross. Kept looking for the ball when England toiled after the break. 6

Getty Images

6/12 Alex Oxlade-Chamberlain

Difficult night for the Arsenal man. Too often let down by a heavy touch and often required to come inside to bolster England's centre. Rather lost. 4

Getty Images

7/12 Jack Wilshere

No doubting his enthusiasm, produced several telling passes and should have won a penalty. Yet his distribution was erratic and awareness was poor. 5

Getty Images

8/12 Jordan Henderson

Played the holding role and was neat and tidy. Usually available for his team-mates yet could not step up when England drifted after half-time. 5

Getty Images

9/12 Raheem Sterling

Shone amid all the mediocrity. With Sturridge seemed to be taking on Norway on their own. Lovely touches and vision. Won England's penalty. 8

Getty Images

10/12 Daniel Sturridge

Sharp, direct and in the first half dangerous, going close with both a shot and a lob. Good link-up play and on the same wavelength as Sterling. 7

AP

11/12 Wayne Rooney

Hardly led from the front. Too many moves broke down around him and was reduced to playing Hollywood passes to no one. Emphatic penalty – then off. 5

Getty Images

12/12 Danny Welbeck

A little more space to work in than Rooney but England looked more dangerous when he came on. Good near-post shot and smart cross from the left. 6

Getty Images
Rooney confessed he was unable to get the bad memories from Brazil out of his mind after the tournament as he tried to relax ahead of the new season.
"We don't get much time off after [the World Cup]. It was three weeks and you have to take your break, but you are still thinking of things that you could have done differently or better, so it is frustrating.
"Up until the Norway game, really, you are still thinking about it, so I was just glad to get back out there again playing for England and getting the victory. The disappointment is still there, obviously, but you have to move on and focus now on the qualifiers for the Euros.
"It was important we came back after the World Cup to get a victory - but now the real business starts. You could say it is the start of a new era. We've lost the likes of Frank [Lampard], Steven [Gerrard] and Ashley Cole; they have been massive players for us over the years. Now the younger lads, they have to come in and step up, it is as simple as that. There are big expectations playing for England. We all understand that.
"It is going to be a tough game in Switzerland, we know that. But we have to focus and work on things which we feel can expose them. We have to play better than against Norway to get a good result, but I am sure we'll learn from that game. It is a young squad and there were moments when we could have done better. We played some good stuff first half and were a bit unfortunate not to go in at half-time with the lead. We started the second half really sloppy, which was disappointing, and we knew we had to improve. Thankfully we got the goal and then finished the game well. So there were some good signs - but there were some sloppy moments."
There was criticism that Rooney was trying too hard because he was captain, trying to force passes that were not on, or go searching for the ball when he should have been finding and making space, but he insisted he treated the match as a normal game.
"Obviously you feel a greater responsibility [as captain], but once you are out there you are playing with your team-mates, you are trying to win the game, so it was not so much different on the pitch as we are all trying to help each other.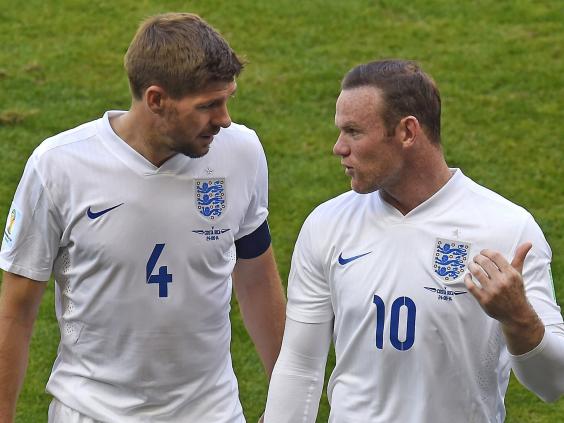 "It is a great honour and something that I was extremely proud to do. I am grateful to the manager for giving me the opportunity. It was a proud moment for me - but I was just pleased to get out on the pitch and play the game."
And to begin the process of putting the failures of the 2014 World Cup behind him, and England.
Reuse content