If there is a Swiss 'Arry out there somewhere, walking his dogs by an Alpine lake, it is hard to imagine him accusing Switzerland's footballers of "not giving a toss".
This is not just because Switzerland sit ninth in the Fifa rankings – 11 places above England – and had a creditable World Cup, beaten in the last 16 by a goal deep into extra time by Argentina's Angel Di Maria. No, according to Philippe Senderos there is just something different about the international football experience for a Swiss player.
Whatever the truth behind Harry Redknapp's words this week, the feeling for Senderos – the only England-based player in the Swiss squad preparing to face Roy Hodgson's team in Basel on Monday – is that England will arrive burdened, as ever, by extra expectation. Their shirt just seems that little bit heavier to wear.
"I think it's different in Switzerland, yes," he says. "Because [with] England you're expected to win and to go to every single tournament, and with the players and the quality they have they should do that."
England 1 Norway 0 player ratings
England 1 Norway 0 player ratings
1/12 Joe Hart

Had little to do in the first half but count empty seats, then came alive to make a vital save just after the break from King's near-post header. 6/10

Getty Images

2/12 John Stones

Composed and got forward well. Good opposition to make debut against and caught out of position occasionally but can be pleased with his big night. 6

Getty Images

3/12 Gary Cahill

Had a trying time against Josh King. Turned rather too easily by the Blackburn striker in the first half, then embarrassed out on the right touchline.

Getty Images

4/12 Phil Jones

Like his defensive partner, did not inspire confidence. Poor header resulted in Elyounoussi shot but went close with a header from a corner. 5

Getty Images

5/12 Leighton Baines

Always eager to get forward and had a shot blocked, yet wasted several good chances to cross. Kept looking for the ball when England toiled after the break. 6

Getty Images

6/12 Alex Oxlade-Chamberlain

Difficult night for the Arsenal man. Too often let down by a heavy touch and often required to come inside to bolster England's centre. Rather lost. 4

Getty Images

7/12 Jack Wilshere

No doubting his enthusiasm, produced several telling passes and should have won a penalty. Yet his distribution was erratic and awareness was poor. 5

Getty Images

8/12 Jordan Henderson

Played the holding role and was neat and tidy. Usually available for his team-mates yet could not step up when England drifted after half-time. 5

Getty Images

9/12 Raheem Sterling

Shone amid all the mediocrity. With Sturridge seemed to be taking on Norway on their own. Lovely touches and vision. Won England's penalty. 8

Getty Images

10/12 Daniel Sturridge

Sharp, direct and in the first half dangerous, going close with both a shot and a lob. Good link-up play and on the same wavelength as Sterling. 7

AP

11/12 Wayne Rooney

Hardly led from the front. Too many moves broke down around him and was reduced to playing Hollywood passes to no one. Emphatic penalty – then off. 5

Getty Images

12/12 Danny Welbeck

A little more space to work in than Rooney but England looked more dangerous when he came on. Good near-post shot and smart cross from the left. 6

Getty Images
It should be stressed that Senderos, sitting in a dressing room at Aston Villa's Bodymoor Heath training ground, was not sticking the knife in. He noted that England "have been doing it [in qualifying]" and that their poor World Cup campaign was a surprise. "I think everyone expected more – and the players as well."
In the case of Senderos, who joined Villa this summer on a free transfer from Valencia, the Switzerland shirt has provided a welcome constant during a mixed decade since his Arsenal debut 10 years ago. The fact he has made only 126 Premier League appearances in the intervening period reflects his ups and downs with Arsenal, Everton (briefly) and Fulham. Yet he takes pride in his 54 caps and three World Cups for his country.
"I wouldn't say I raise my game," he says. "It's a different type of football. The conditions are different, the players you play with are different and the type of football I guess is different, so maybe it shows up this way."
Senderos, 29, began his international career with the Swiss side that won the 2002 European Under-17 Championship, beating in the semi-finals an England team featuring Wayne Rooney, the tournament's five-goal top scorer. More than a decade on, the Scouser now has the England armband.
Senderos believes Rooney will "thrive as captain" and details what makes him, still, a formidable opponent. "He's always moving around and finding pockets between the midfield and the striker, so for us as defenders it's very tough because he brings you out of the spot where you are comfortable. He's a tough player to mark; he has got great vision and ability."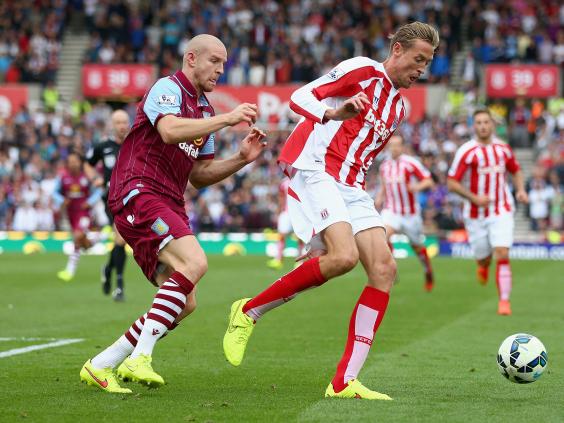 Senderos also praises his new Villa colleague Fabian Delph, capped for the first time against Norway on Wednesday – "he will bring his energy, his power, his will to move forward all the time" – and dismisses the notion that Switzerland are favourites to win Euro 2016 qualifying Group E.
"I don't think you can ever go as favourites against a big team like England. We are still a small country. We are developing very well and we are qualifying for big tournaments. But England are a massive country in football and they have a lot of players to pick from."
The same can increasingly be said of Switzerland. Senderos is hopeful that Ottmar Hitzfeld's successor as coach, Vladimir Petkovic, "is going to bring something new", and he can count on an impressive supply line of talent.
After Senderos's Under-17 success, there was the  Under-17 World Cup win in 2009. "The national team and every single club in Switzerland have done a big job with the youth. We've seen the results with my generation and the next generation, who were world champions in Nigeria, which was a massive achievement for Switzerland, who had never won anything at any level. Those players have come through to the first team."
The Under-17 World Cup was won by a goal from Haris Seferovic, the son of Bosnian parents; he went on to hit the winner in their opening World Cup game against Ecuador.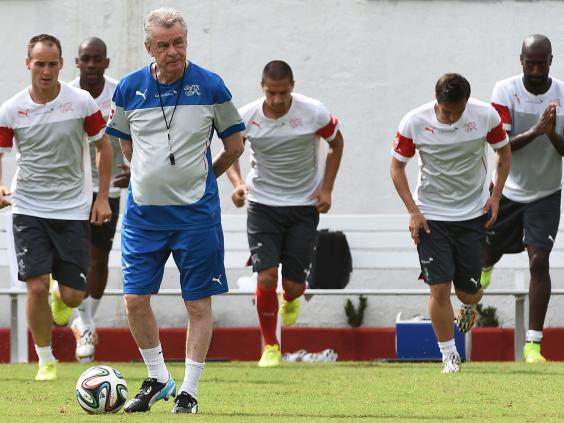 "If you see our line-up we don't have many Swiss-named players," Senderos adds. "We have a lot of immigrants, who were born and raised in  Switzerland, and we've used that to our advantage. That's very important for a small country."
Senderos himself, son of a Serbian mother and Spanish father, embodies this multi-cultural make-up. His own World Cup experience, though, was mixed. Coming on as an early substitute in the group fixture against France, he was part of a defence that conceded five goals and did not reappear for Switzerland's two remaining matches.
"It was a tough game," he recalls. "To lose in the manner we lost, especially after all we did before that, didn't really show our qualities. It was disappointing for me and the whole Swiss camp. Obviously I would have liked another chance but it didn't happen."
Senderos seems to have one of those naturally sad countenances but when disappointments come, he picks himself up and carries on. Take the fact he was surplus to requirements at relegation-bound Fulham in January.
"It ended, but I went to a big club like Valencia so I was very pleased about my move. Valencia was a big club, we played in the semi-finals of the Europa League. We were so close to going to the final. It was a good experience for me to be in the country of my dad and I really enjoyed it."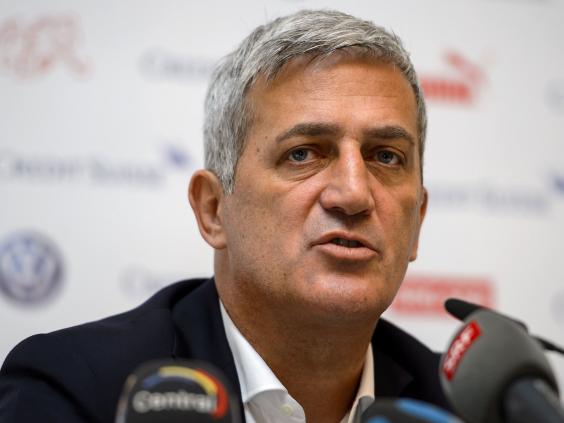 His eyes light up as he remembers the night at the Mestalla when Valencia overturned a three-goal deficit against Basel with a 5-0 victory in the Europa League quarter-finals. This is a man who has also played on loan at Milan but he is delighted to be back in England at Villa, where he is already showing signs of a strong defensive pairing with Ron Vlaar.
"I always loved the game here and was very pleased to come back," he says. "I don't think I have things to prove.I've been around and played in a lot of games, and I try to always give my all."
Spoken like a man who cares more than 'Arry says some do...
--
Return to Senderos 
Defender in numbers
184 - Matches played in England – for Arsenal, Everton, Fulham and Villa
20 - Villa were the last and 20th team to concede in the PL this season – with Senderos playing every minute so far
54 - Switzerland caps for Senderos – making his debut in 2005 vs France
Reuse content