It was an absolutely marvellous afternoon for Wayne Rooney. On the special occasion of his 100th cap, he equalled Jimmy Greaves' 44 England goals with a genuine captain's performance. I am a great fan of Rooney and I always have been.
He always plays, he always turns up and takes responsibility and he always looks, to me, one of the best players on the field. You cannot do better than that. Sometimes people expect too much from him. But he is always going to fight for you.
And he is an exemplary captain, which is just what this England team needs. You could see that he was making sure his team-mates kept up their standards – even in the latter stages – and did not drop their game.
England 3 Slovenia 1 - player ratings
England 3 Slovenia 1 - player ratings
1/11 Joe Hart

After being almost redundant for the last home game against San Marino and given another quiet night in Estonia, he would have expected a little more work but was barely tested again, except by Henderson's unstoppable header. Acted as sweeper well whenever he was called into action to do so. 6/10

AP

2/11 Nathaniel Clyne

Happy to get forward as the full-backs need to when England play with a narrow diamond formation, the young Londoner had an acceptable debut with no obvious errors. Less attack-minded after half-time when Sterling went wider. 6

Getty Images

3/11 Phil Jagielka

Less solid than his central defensive partner, losing Novakovic to allow him to head a corner wide in one uncomfortable moment and slipping to let in Kampl for another. As one of the players in the side with England goals to his name, the Evertonian produced one good header for the team's first effort on target. 5

Reuters

4/11 Gary Cahill

The Chelsea man is becoming England's most dependable defender, further improved by his regular Champions League experience. Upset Novakovic with some of his headed challenges and got a kick for his pains. One lax pass led to Jagielka's booking. 7

Getty Images

5/11 Kieran Gibbs

After a first start for four years against San Marino the Arsenal full-back was given another one unexpectedly soon as stand-in for Leighton Baines. He did fine defensively and had a hand in the third goal without offering Baines's attacking brio. Booked for a stab at Birsa's Achilles. 6

Getty Images

6/11 Jordan Henderson

Without a goal in 18 England appearances and would not have wanted to break his duck by scoring at the wrong end. Sitting on the right of the midfield diamond the Liverpool player has been an ever-present in the national side this season without influencing many games. 5

Getty Images

7/11 Jack Wilshere

Unenviably stationed in the centre circle, the worst area of the pitch, for his 25th cap. Got mud on his shirt early on in giving and taking some hefty challenges before playing some neat forward passes. But then he had a quiet second half. 7

Getty Images

8/11 Adam Lallana

Not a natural winger, we know, and almost too eager to drift inside. He delivered ome poor free-kicks and corners which failed to clear the first defender until he put one on Rooney's head in the second half and the Liverpool man did then help to force Welbeck's first goal with his own shot. 5

Getty Images

9/11 Raheem Sterling

Not too tired to play this time, although as he discovered against the defensive San Marino he found the middle congested and took until the second half to move wide much more often, when he looked more dangerous. Set up Welbeck nicely for the third goal. Booked. 6

Getty Images

10/11 Danny Welbeck

Put in a poor performance in Estonia last month and having a mixed season for Arsenal, which was reflected here early on. Brought Rooney or Clyne into the game well enough and he worked hard to be rewarded with his two goals later on. 7

Getty Images

11/11 Wayne Rooney

Having received his golden 100th cap from Sir Bobby Charlton, the captain won the penalty cleverly by wriggling through defenders and then converted it with a thump for his fourth goal in the last five England games. Played almost up alongside Welbeck throughout the match and linked well with him in setting up chances for each other. 8

Getty Images
He is a motivator and an inspiration to the younger players in the side. England have got a lot of young players, and not too many of an age where they are at the top of their game – apart from the defenders – so the midfielders and forwards need the guidance of someone with the experience and quality of their captain, Rooney.
FIRST HALF NOT BAD
The first half was not great but I was never worried about England, even if they were a bit sluggish. What I liked about England in the first half was that they kept it very quiet all the way through, with good defensive concentration.
Slovenia did well to keep England always 20 yards away from their goal, forcing them to shoot from distance, and not allowing them to attack through the middle. England's passing  was stuttering. Maybe they could have pressed Slovenia higher up the pitch, to win the ball nearer  the opposition penalty area,  but it was a familiar pattern and something that often happens at Wembley.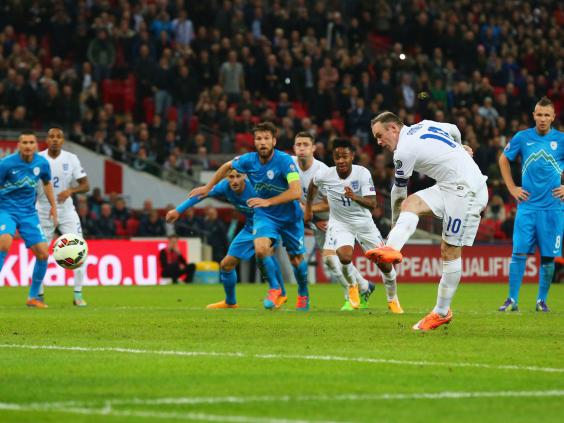 SECOND HALF BETTER
Even when Slovenia went 1-0 up, I was never worried, and neither were England. They did not drop their heads, they got straight back into the game, and eventually they tired Slovenia out. You just have to keep working, keep playing and just try to run them down.
And then, towards the end of the game, Slovenia were just not fresh enough anymore to stay with England's one-twos or their dribbling, as we saw for Danny Welbeck's excellent second goal, the third for England. In the end, England wore Slovenia down until they could not take any more, and the visitors fell apart in the final 25 minutes.
I don't think that the tactical change at half time really mattered. When you have Rooney, Welbeck, Raheem Sterling and Adam Lallana, they are all going to move about.  In the first half they could not get free, they could not shrug off the close marking of Slovenia. But as the game went on Rooney and Welbeck got better and cut them apart. Welbeck did remarkably well.
SCOTLAND NEXT
The game against Scotland on Tuesday will be really interesting. Scotland have an awful lot going for them now, they are in a good vein of form. They did very well in a difficult game against Ireland on Friday, Steven Naismith and Shaun Maloney were excellent.
I wonder if Scotland worked so hard against Ireland that it might affect them, but they will pull every stop out to win the game. It is one of the great derbies of international football and the atmosphere at Celtic Park will be electric. Roy Hodgson will most likely play Ross Barkley and maybe one or two others.
But I am feeling confident about England now. There has been a great shift forward since the World Cup. They are solid at the back, they are patient and when they smell blood they can go for the throat. They are getting a ruthless streak. Tuesday will be a great game. Both teams will want the bragging rights.
Reuse content