Theo Walcott was not overly concerned by the absences from training this morning of Daniel Sturridge and Jack Wilshere ahead of England's World Cup qualifiers against Moldova and Ukraine.
Sturridge was carrying a thigh injury during Liverpool's victory over Manchester United and has been given extra time to get back to full fitness.
Wilshere went off in the first half of Arsenal's win against Tottenham at the weekend with stomach cramps and he has also been afforded more time to try to recover.
Both players remain with the squad at St George's Park, though, and the hope is they will be fit for Friday's qualifier against Moldova and the crucial game in Ukraine four days later.
Arsenal forward Walcott was optimistic the pair will be ready for Friday and in a press conference: "He (Sturridge) is here - that is the positive.
"Hopefully Dan can get over the knock.
"He played with it (on Sunday) I think so fingers crossed he will be okay for Friday and Tuesday."
Of his Gunners team-mate Wilshere, Walcott added: "He's had an illness so he needs an extra couple of days to recover.
"I am sure he will be fine, hopefully."
As for any potential replacements, the 24-year-old added: "The manager knows the players to pick for these games.
"I am always there if the manager needs a different option. We have Rickie (Lambert) and Danny (Welbeck) there.
"We have some good attacking threat and we'll be fine."
Boss Roy Hodgson included Andros Townsend, Ross Barkley and Raheem Sterling in the squad.
Townsend is the oldest of the trio at 22 and Walcott believes there are opportunities for the newcomers to stake their claim.
He said: "It's a great opportunity for youngsters coming into the squad - that they are going to take their chance.
"I came in at such a young age and I got a hat-trick against Croatia - anyone can do that against Moldova and Ukraine.
"There are chances there to be taken. It's only going to be positive when you see these youngsters coming through.
"It is important to get to know the players and staff and the set up here, it helps you when you go to tournaments. It helped me when I went to the 2006 World Cup.
"I didn't feature but I knew what to expect at the next tournament which sadly didn't happen.
"You want to see the best young talents come through very early and they will only improve."
Walcott has been an impressive performer for Arsenal so far and added: "I am enjoying my football at the moment, it's nice I am getting 90 minutes every game now.
"To come into this England set up and feel like one of the older ones is quite surreal, it is very exciting - the balance we have on this team is very fresh.
Having beaten Moldova 5-0 the last time the teams met, England will be expected to pick up three points ahead of next week's visit to Ukraine.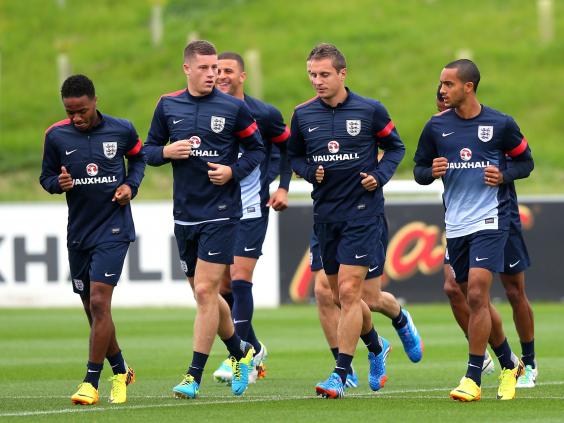 While preferring not to look too far ahead, Walcott admitted Ukraine was "the big one".
He said: "We are very professional, we know the task ahead and we have to treat Moldova with respect. "Ukraine is the big one.
"I like to look at games coming up. Hopefully we can have a good performance and not pick up any injuries going into Tuesday's match."
Manchester City midfielder James Milner, meanwhile, warned his England team-mates not to expect a walkover at Wembley despite last September's comprehensive 5-0 victory in Moldova.
"It was a good performance out there in Moldova, we managed to get on top early so hopefully we can do that on Friday," he said.
"We have a tough game on Friday first, but when we go out to Ukraine there will be a great atmosphere.
"We have four games left and it's in our hands. It's down to us to perform in them and finish the job."
Milner, who did not make his full England debut until he was 23, is especially keen to see Young Lions Ross Barkley and Raheem Sterling in action.
Everton midfielder Barkley is included for the first time while Liverpool winger Sterling could earn his second senior cap after featuring in a friendly defeat to Sweden in November.
"It's pleasing that we have some young players form the under-21s stepping up. It shows there is the quality there," Milner added.
"It's a really good time to be in the England squad, we have a good mix of younger and older players.
"It doesn't take too much motivation to play for your country. Everyone is desperate to do their best for the Three Lions."
PA
Reuse content