Former Arsenal striker Ian Wright has blasted the behaviour of both Tottenham and Arsenal fans for the behaviour during the fallout from the news that Theo Walcott has been ruled out for six months after suffering a ruptured cruciate knee ligament.
The injury means that he will also miss the 2014 World Cup in Brazil, with the tournament set to become the third that he will not play in during his career.
Upon the news breaking on Monday evening, Spurs fans rejoiced after they were taunted by the winger as he was carried off on a stretcher, gesturing the scoreline to the away section at the Emirates as he received a barrage of coins and plastic bottles.
Wright has defended the 24-year-old though, and labelled those taunting the England international "sad" and that "Tottenham will always let you down".
Wright, who never played at a World Cup himself after missing the 1998 tournament due to injury, didn't stop there though, as he took aim at fans of the Gunners for reported anti-Semitic comments that have been confirmed by the police.
"Gotta say, reading some of the tweets the spurs fans are sending about what AFC fans say about the holocaust! Ashamed!" Wright posted.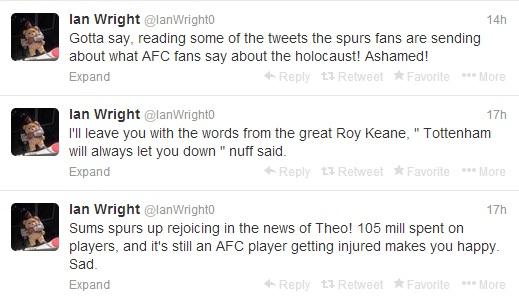 Walcott hasn't played a minute of World Cup football despite being selected for the 2006 tournament by then manager Sven-Goran Eriksson. As a baby-faced 17-year-old, Walcott was taken to Germany as a wildcard, but failed to get any playing time, which was hardly surprising given he was yet to make his Arsenal debut.
Having starred in the qualification stage for the 2010 World Cup – including a hat-trick against Croatia – Fabio Capello lost faith with the winger and elected to take Aaron Lennon and Wright's son Shaun Wright-Phillips instead.