"We all live in a piece of solid rock," sang the small but noisy crowd inside Gibraltar's Victoria Stadium on Wednesday night. It was a statement of the obvious given the outline of Europe's most famous chunk of limestone rising high above the goal to their right, yet it left no doubt that the supporters of Uefa's newest nation have a sense of humour – something they may well need when the serious business of Euro 2016 qualifying kicks off.
After all, this was the week when – after all the excitement of a Euro qualifying draw which pitted them against Germany, Scotland and the Republic of Ireland – Gibraltar's footballers came down to earth with a bump, their first official international matches on the Rock bringing a sobering 4-1 defeat by the Faroe Islands on Saturday, followed by a 2-0 loss to Estonia four days later.
After the optimism engendered by November's encouraging goalless draw with Slovakia in Gibraltar's inaugural international fixture, reality is beginning to bite – and not just on the pitch. This week's double-header took place against a backdrop of bickering, centred largely on coach Allen Bula's policy of recruiting British-based professionals to his squad.
There have been articles questioning Bula in the Gibraltar Chronicle, and outside the Victoria Stadium on Wednesday, one fan, standing with a beer in his hand and a red and white flag draped over his shoulders, echoed those complaints. "Where were they before now?" he growled of the new crop. "The supporters don't want them."
Given that Gibraltar has no professional league – captain Roy Chipolina is a customs officer, while goalkeeper Jordan Perez is a fireman – Bula has sought to add experience through a six-strong British contingent, which includes Wrexham defender David Artell and Wycombe's Reece Styche, who both made their debuts this week.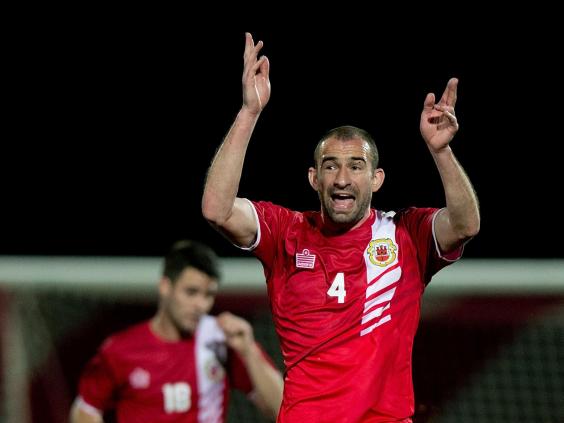 Before gaining Uefa status, a player had to be born in the territory with a population of just 30,000, but Bula is defiant: "I will bring in players on the eligibility rule that will make that difference, not for the sake of bringing in a player. Having said that I won't take a local player for the sake of keeping people happy."
His best-known recruit is Danny Higginbotham, the former Derby, Southampton and Stoke defender who also happens to be his nephew. The 35-year-old's appearance against Estonia on Wednesday was his last before he joins Bula's coaching team, and he spoke fondly of the Gibraltar squad being "like a family". However, it seems a pretty dysfunctional one.
The whole of Gibraltar uses the Rock's one full-size synthetic pitch at the Victoria Stadium – every non-professinal league game is played there and one training session for the national team this week took place as local children lapped the running track. But that was the least of Bula's worries as he complained about a lack of support. The Gibraltar FA recently denied him funds for a scouting trip to England, while Gibraltar's club sides will only allow him time with the locally based players during international weeks, whereas the coach wants a day a week to work with them. "From what I've seen I think the players and coaching staff need some more help with things they are trying to achieve," said Higginbotham.
There is also opposition to the coach's use of the cautious 5-4-1 formation which Gibraltar will no doubt need when they kick off Euro 2016 qualifying against Robert Lewandowski's Poland on 7 September. "We have to realise what we are and we have to defend 85 minutes in a match," said Bula.
He even accused his players of ignoring their instructions in the Faroes debacle yet there were more encouraging signs against Estonia, not least in the display of Liam Walker, a ball-playing midfielder once of Portsmouth who is the only squad member playing top-flight professional football, with Israeli side Bnei Yehuda.
There could also be better news on the horizon with the GFA hoping to receive planning approval by the end of this month for a new 8,000-seat stadium on Europa Point, Gibraltar's southern tip, which looks directly across the straits to north Africa. It would allow Gibraltar to play future qualifiers at home rather than in Faro, Portugal, where they will stage their Euro 2016 fixtures because the Victoria Stadium does not meet Uefa requirements. Naturally, some locals have raised objections, but that seems the way of the world on the Rock.
Reuse content