Joachim Löw did not contrive a draw to enable his mentor to qualify for the business stages of the World Cup but it was Germany who ensured that Jürgen Klinsmann would make it through.
It was not this match but the opening game, in which Portugal were dismembered 4-0, that decided the standings in Group G. For all Cristiano Ronaldo's efforts, the debacle in Salvador, combined with the United States' victory over Ghana, gave Portugal far too much leeway to make up.
Midway through the second half in Recife, when Thomas Müller's hard, surgical strike had separated the two sides, it dawned on Klinsmann's bench and many of those up in the stands that if Ghana – who were then drawing 1-1 with Portugal in Brasilia – scored once more, the US would be eliminated. The cameras began relaying pictures of Wonder Woman and Captain America, or at the very least people dressed like them, glancing at their watches.
When the final whistle sounded on a contest played in driving, intense rain, Wonder Woman, Captain America, the Statue of Liberty and all the others adorned with the Stars and Stripes began some serious celebrating. Klinsmann, or "Klinsi", embraced Löw and then, face dripping with rainwater, wandered over to join them.
United States 0 Germany 1 player ratings
United States 0 Germany 1 player ratings
1/22 Tim Howard

Safe pair of hands and little chance with the goal, although perhaps at fault for pushing it toward Mueller. 5/10

GETTY IMAGES

2/22 Fabian Johnson

Coped well with the direct running of Podolski. 6

GETTY IMAGES

3/22 DaMarcus Beasley

Defended well and got forward whenever the chance arose. 6

GETTY IMAGES

4/22 Omar Gonzalez

Recovered from an early mistake to make a series of important challenges. 7

GETTY IMAGES

5/22 Matt Besler

Defended resolutely alongside Gonzalez. 6

GETTY IMAGES

6/22 Jermaine Jones

A muscular and energetic presence in midfield. 7

GETTY IMAGES

7/22 Graham Zusi

Fought hard but lacked a final ball. 6

GETTY IMAGES

8/22 Kyle Beckerman

Screened the defence well but was left with a lot to do. 7

GETTY IMAGES

9/22 Michael Bradley

A mixed bag of inconsistent passing and tackling. 6

GETTY IMAGES

10/22 Brad Davis

Struggled to make an impact before being subbed early in the second half. 5

GETTY IMAGES

11/22 Clint Dempsey

An isolated figure up front with little service. 6

GETTY IMAGES

12/22 Manuel Neuer

Little to do but always alert and excellent distribution. 7

GETTY IMAGES

13/22 Jerome Boateng

Provided much needed width from right back. 7

GETTY IMAGES

14/22 Benedikt Howedes

Comfortable on the ball but not a natural full back. 6

GETTY IMAGES

15/22 Per Mertesacker

Barely broke a sweat, but didn't need to. 6

GETTY IMAGES

16/22 Mats Hummels

Rarely troubled but alert when needed. 7

GETTY IMAGES

17/22 Philipp Lahm

A classy presence in midfield, kept Germany ticking with his passing. 8

GETTY IMAGES

18/22 Bastian Schweinsteiger

Relatively quiet and looked a touch off the pace. 6

GETTY IMAGES

19/22 Toni Kroos

Slick in possession and always a threat. 7

GETTY IMAGES

20/22 Mesut Ozil

Some nice touches but failed to impose himself on the game. 6

GETTY IMAGES

21/22 Thomas Muller

Floated all over the pitch and, inevitably, got on the scoresheet. 7

GETTY IMAGES

22/22 Lukas Podolski

Failed to get in to the game and was substituted at half time. 5

GETTY IMAGES
The tournament began with the United States coach attracting considerable criticism for saying his team could not win the World Cup. In a land built on Hollywood dreams this went down rather badly. What, they asked, would Vince Lombardi, the great coach of the Green Bay Packers, have made of such defeatism?
However, Barack Obama, watching the game above the clouds on Air Force One, would have understood the measure of Klinsmann's achievement.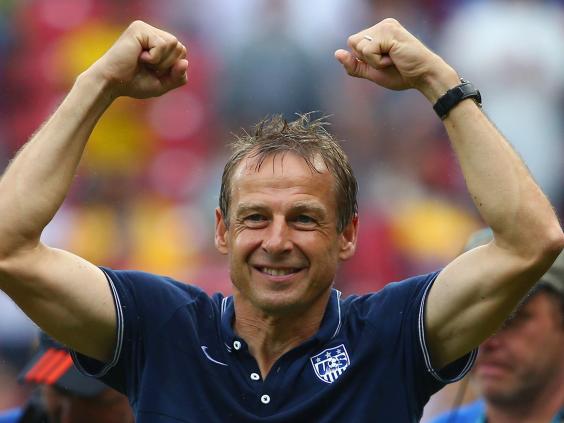 He had guided the United States through a group that included not just Germany,  who have never failed to make the second phase of a World Cup, but a Portugal side featuring arguably the world's best footballer and Ghana, who had knocked the Americans out of the past two tournaments. Sport, like politics, is the art of the possible.
This was the first time that the United States has gone further than England when the two have competed at the same Word Cup. "Most people would agree that this was by far the strongest group," said Klinsmann afterwards. "It was hard work and some tremendous commitment that saw us through. Whoever we face in the last 16, we are going to take it to them. This is an achievement but now we really get started.
"There was so much at stake here. It was easy for Jogi [Löw] but for us this was the key match to play. I screamed from the sidelines more than ever just to get my defence up the pitch."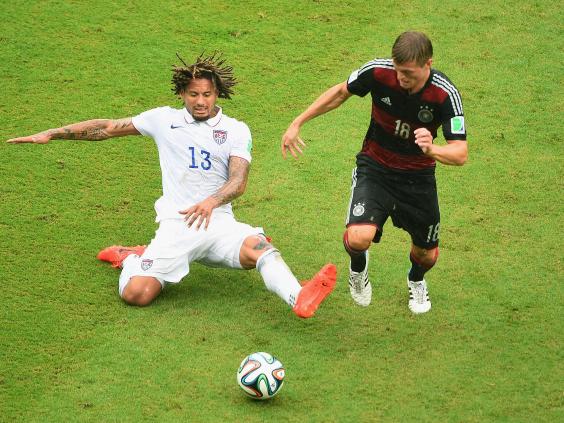 The suggestions that the two teams, who required only a draw to see each other through, might contrive a repeat of the "Anschluss" game, when in 1982 West Germany and Austria conspired to knock out Algeria, never materialised and nor were they likely to.
Unlike the farce in Gijon, a game so tame that the then France coach, Michel Hidalgo, said it should be nominated for the Nobel Peace Prize, both sides did try to attack.
Manuel Neuer did not actually have a serious shot to save, although Graham Zuzi sent one flying dangerously near the Germany crossbar. But for a fabulous interception from Philipp Lahm, which gave an answer to critics like Michael Ballack who argue he has lost a critical amount of pace, Alejandro Bedoya may have had forced an unlikely equaliser.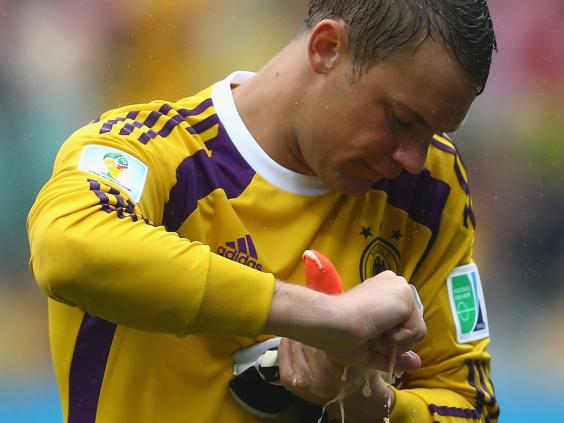 Germany did not reach the heights they have touched since Klinsmann rebuilt them for the 2006 World Cup but they did not really have to. They still remain the likeliest European team to win the World Cup, and the Bundesliga is the last of the big four European leagues to be represented in Brazil.
In the years of Bobby Charlton and Franz Beckenbauer, German football used to measure itself against the English game. It may still do, although the statistics would not bear repeating this side of the Rhine.
 Müller's drive, as he met Per Mertesacker's header that had been punched away at full stretch by the US goalkeeper Tim Howard, resulted in his ninth goal in as many World Cup appearances or, put another way, eight more than Wayne Rooney, who has played in one more tournament. Miroslav Klose and Müller, between them, have scored seven more times than the entire England team in World Cups stretching back to 2002.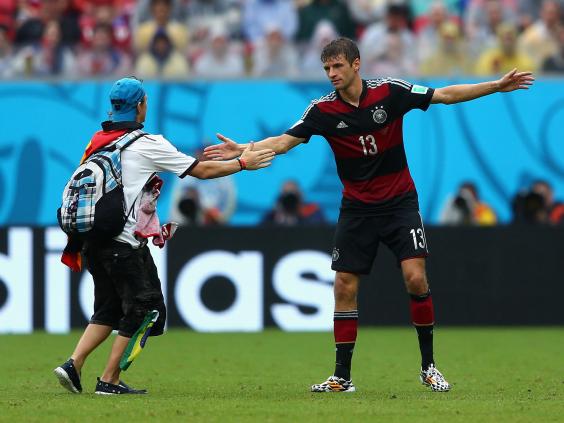 Then, a German side infinitely more limited than this one, had beaten the US in the quarter-finals. Klose is the lone survivor from that, very different, Germany. Towards the end, with the match under control, it did seem his team-mates were trying to contrive the move that would take him past the Brazilian Ronaldo, as the greatest World Cup goal-scorer.
The record did not materialise but Klose's introduction during the interval did change German tactics for the better. In the first half, the game-plan had been to force the ball out wide, particularly to Jérôme Boateng, to send low, fizzing crosses into Howard's area. It did not quite come off but, when Klose came on, Germany became more direct and looked better for it.
Tickets for this match had been changing hands for up to $600 but, when the two teams walked out, the Arena Pernambuco looked one of the emptiest stadiums of this World Cup.
The reason was the rain that had turned Recife's streets into canals and made the journey to a stadium that lies 12 miles from the city centre into a river cruise at the average speed of a narrow-boat on the Grand Union Canal.
The exclusion zone set up around the arena meant that fans, dressed as Captain America or not, had to walk in the driving rain along the side of the dual carriageways. However, by the end, both Germany and the United States finished still on  the road.