Uruguay's manager, Oscar Tabarez is known as El Maestro, "the Teacher", but this was one lesson he could not control.
It was supposed to be a perfectly straightforward exercise, Uruguay would sweep aside the makeweights of Group D before preparing themselves for the serious business against England and Italy. When the final whistle blew here, those calculations were suddenly worthless.
If Spain's disintegration against the Dutch in Salvador was the result of the World Cup so far, this was the shock of the tournament and carried a similar pattern – one side took the lead with a penalty before falling apart after the interval.
When Marcus Urena sprinted past Diego Godin to slide the third goal home, the Castelao was a blaze of flashlights from camera phones, most carried by the neutrals.
When Costa Rica arrived in Brazil, their captain, Bryan Ruiz, whom Fulham had found surplus to requirements, said their aim was to have something to play for when they face England in their final game. This they certainly will.
What Uruguay, who became the first South American team to lose in this World Cup, have to play for is another matter. Tabarez did not think it worth risking Luis Suarez here but when they face Roy Hodgson's side in Sao Paulo without the dismissed Maximiliano Pereira it will be all or nothing.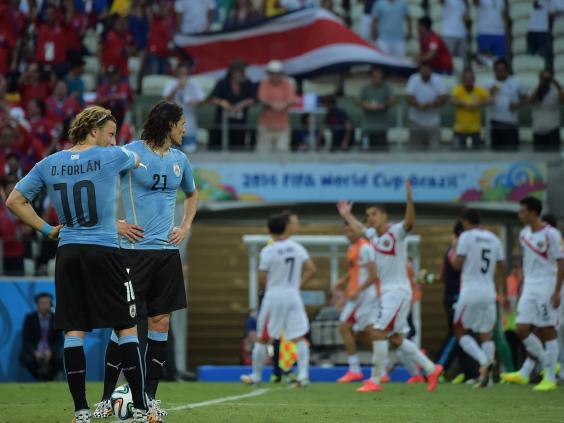 The last time Uruguay played a World Cup game in this country one of Brazil's foremost writers, Nelson Rodrigues, said the outcome was "our Hiroshima". This was altogether a lower-key event – 64 years ago, Uruguay won 2-1 to win the World Cup – although some who had come from Montevideo wore shirts with the number "1950" on the back to commemorate perhaps the greatest shock of any World Cup, .
Twelve minutes into the second half, as Oscar Duarte's low, diving header nestled in the corner of Fernando Muslera's net, Fortaleza was staring at another World Cup surprise. Costa Rica, the makeweights of this group, were 2-1 up and all the calculations made in newspapers and magazines for months seemed suddenly irrelevant. They are no whipping boys.
Oscar Tabarez's side, fielding eight of the men who had started the semi-final with Holland in Cape Town four years ago, had exerted a kind of control while leaving enough cracks for Costa Rica to exploit – which they did dramatically.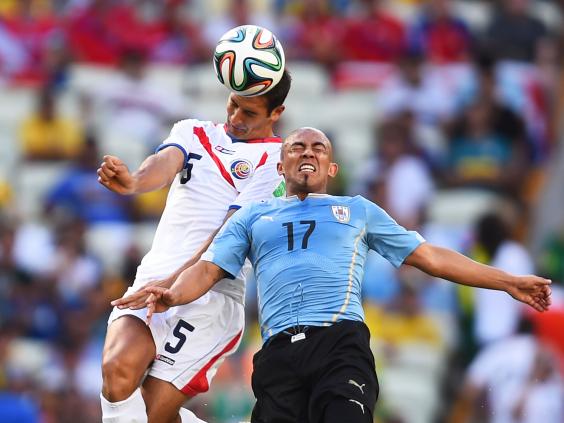 The vast bowl of the Castelao, which was three-quarters full, was about 20 degrees hotter than Green Point had been in 2010 and Costa Rica did not look like the Dutch. It took a while for Uruguay to get a feel for the game but, once they did, the breakthrough carried a sense of inevitability.
If the way La Celeste's captain, Diego Lugano, threw himself to the floor was theatrical, the fact was that Costa Rica's wing-back, Junior Diaz, had both arms around him as they went to meet Diego Forlan's cross. Edinson Cavani, who had just skewed a wonderful chance into the crowd, drove the penalty into the corner of Keylor Navas's net.
This has already become a World Cup of contentious decisions but Felix Brych's award was marginal but correct. You could say the same for the disallowed goal. Godin was merely inches offside when he met Lugano's cross.
In the absence of Luis Suarez much of the attention focused on Forlan, who was playing his 111th international. At 35, he is inevitably not the footballer he was in South Africa but there were still some lovely touches and one moment of drama when his shot was deflected from the tip of Duarte's boot and seemed to be heading for the top corner until Navas, back-pedalling, tipped it over.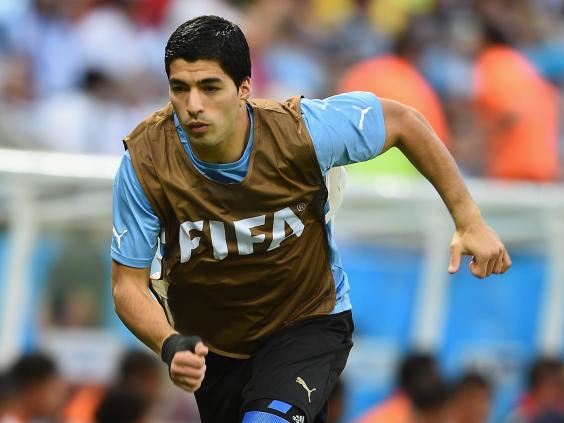 In the build up to this match, Costa Rica's captain, Bryan Ruiz, predicted that if the rest of Group D thought them a walkover they might be surprised. Twenty-four years on from their first tournament, where they had beaten Sweden and Scotland in Genoa and qualified for the round of 16, there was considerable expectation from their supporters.
Joel Campbell, who embarrassed Manchester United when on loan to Olympiakos from Arsenal, proceeded to do the same to Uruguay. In the first half his shot on the run flew perhaps a yard wide and nine minutes after the restart he shot again, with devastating consequences.
Costa Rica's equaliser was not the kind of goal scored by whipping boys. It was wonderfully worked; the cut-back by Cristian Gamboa was precise and athletic. Campbell's finish was that of a striker who might not be part of Arsène Wenger's loan schemes much longer.
Duarte put the Costa Ricans ahead with a diving header that sneaked inside the far post from Christian Bolanos's cross, and Urena provided a deft finish after being put in neatly by Campbell with a defence-splitting pass. Pereira's sending-off was the heavy finishing touch to a poor night for the Uruguayans.
Reuse content