There were some very long faces on Spain's flight to Luxembourg on Friday. Diego Costa had plenty of leg room in his emergency exit seat, which will please Jose Mourinho, his manager at Chelsea, but there was little else to comfort the European Champions.
Pedro wore the same face he had the night before when he was heckled by fans who had made their way into the press area of the MSK Zilina stadium after the 2-1 defeat to Slovakia. He had turned to give them back some of the abuse they had shouted at him on his way to the team coach – how quickly the respect earned by three straight tournament wins evaporates after one poor World Cup.
Cesc Fabregas looked similarly displeased and coach Vicente del Bosque wore the expression of a man with a few important decisions to make.
Spain have two main problems as they attempt to digest their first defeat in qualifying for eight years and go into tomorrow's game against Group C bottom team Luxembourg in the Stade Josy Barthel: they no longer seem sure about how they should attack and they do not seem capable of defending.
The second issue is perhaps the most serious because it is one Del Bosque has to fix without the necessary tools. In the last round of Champions League matches only two of the eight central defenders on display for La Liga teams were Spanish. Suddenly the options have dwindled and with Sergio Ramos not currently fully fit, the situation is made even worse. On Thursday Del Bosque considered playing Chelsea left-back Cesar Azpilicueta in the centre of defence.
Behind the back four is a shaky Iker Casillas who now struggles to make the kind of saves that were once so routine. Against Slovakia he won his 158th cap and in terms of internationals played the only European ahead of him is Latvia's Vitalijs Astafjevs on 165.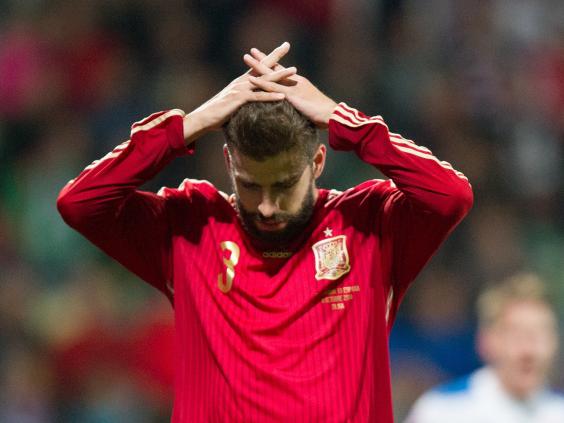 Casillas wants to erase the memory of the last World Cup and does not want a legacy built on the unprecedented tournament treble to be soured by the calamity of this summer's Netherlands defeat and the collapse against Chile. But David de Gea is now one of Europe's most in-form goalkeepers and the pressure is on Del Bosque to call time on Spain's greatest-ever keeper.
Casillas's recent club form for Real Madrid has suggested the changing of the guard might be delayed until after France 2016, as Spain's 33-year-old captain desires and many believe he deserves. But his error for the first goal was very costly against Slovakia and it came after De Gea's best performance yet for Manchester United.
At the other end of the pitch, Spain's problems are based less on a lack of options, and more on being unable to decide which strikers to go with. Should the team be built around the Costa-Fabregas partnership that has Chelsea top of the Premier League? Or should the emphasis remain on the short-passing style which delivered their trophy successes? Flooding the team with low centre-of gravity midfielders to the point where even the centre-forward is a midfielder (as at Euro 2012) feels like Spain's identity now,  and picking a mobile central striker such as Valencia's Paco Alcacer is the alternative to selecting Costa.
With the class of Fabregas and Costa evident each week for Chelsea, leaving the latter out might seem like madness, but against Macedonia in Spain's previous qualifier Alcacer played in the injured Costa's place and scored in a 5-1 win. He got the equaliser on Thursday after coming off the bench – that's two goals in two games – while Costa searches for his first after six matches.
The ever-diplomatic Del Bosque is currently trying to chart a course somewhere between the two extremes and may even play both Costa and Alcacer on Sunday.
Luxembourg should not pose many problems tomorrow and a win will take the team closer to France 2016. "Suffering because of the defeat, but can't wait to play the game on Sunday and get the win" tweeted Andres Iniesta yesterday. Michel Platini's tinkering all but guarantees Spain's qualification, but how they fare in France could depend on what Del Bosque does next.