Wales manager Chris Coleman believes the fans have reconnected with the national team again as his side seek to end the country's long wait for a major finals appearance.
More than 30,000 saw Wales battle out a goalless draw with Bosnia-Herzegovina in Cardiff on Friday night as Coleman's side went top of Group B in Euro 2016 qualifying.
It was a far cry from previous campaigns when Wales have often struggled to attract crowds over 10,000 and Coleman said the atmosphere at the Cardiff City Stadium reminded him of games he played at the old National Stadium 20 years ago before it was rebuilt as the Millennium Stadium.
There was a pulsating atmosphere throughout as Wales claimed a point in their pursuit of a first major tournament since the 1958 World Cup in Sweden.
"That's what the fans wanted to see and I think they would have given the players a standing ovation even if we'd lost the game," Coleman said.
"They saw a bunch of committed players and it was one of the best atmospheres I've known.
"I remember us playing at Cardiff Arms Park before the Millennium Stadium was built, we had 40,000 in there and it was rocking.
"This was the first time we've walked out at Cardiff City in that atmosphere.
"They played the national anthem and I thought it was powerful, the players reacted to that and the crowd reacted to the players."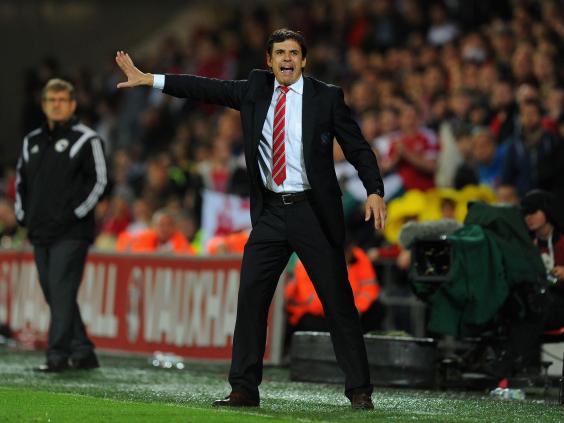 Belgium and Israel won their first games elsewhere in the group after their meeting last month was postponed because of the political tension in the Middle East.
Wales now have four points from their opening two games after winning in Andorra last month and entertain Cyprus on Monday night with Coleman insisting it will have been a productive camp if they win that fixture.
"They knew the pressure going into the game," Coleman said.
"There was a big crowd for a reason but they didn't disappoint.
"They can't show any less what they showed out there and if we beat Cyprus I think it will have been productive camp.
"They had chances, we had chances - but it was a good point and a great performance.
"We had to ride our luck a little bit because they're a good team.
"You know against teams like that you have to do that because they have enough quality when they're on their game to hurt anybody.
"We never played our best football but we dug deep and in terms of putting it on the line felt our players didn't have anything more to give."
Coleman felt Bosnian midfielder Miralem Pjanic was fortunate to stay on the field after picking up a first-half booking for felling Jonathan Williams.
Moments later Pjanic fouled Williams again but he escaped with only a lecture from the Russian referee Vladislav Bezborodov.
"We thought he could have been sent off," Coleman said.
"On another day maybe, because he kicked him seconds again after the first challenge.
"It was a shame (Pjanic wasn't sent off) because he's a fantastic player, when you look at him from afar he's good but when you see him close he's even better."
Bosnia coach Safet Susic said he was not disappointed with a point and insisted everything was all to play for in the group.
"The game was as I expected. It was a difficult game," Susic said.
"We came here to get three points and we took some risks.
"The score is not bad for either team because they are our direct opponents for second place.
"But I think the best players on the pitch were the two goalkeepers."
PA
Reuse content