The speech was more sweet than Agincourt, touching in tone and message, and also in the awkwardness of its delivery. It is not easy standing before your peers in a testosterone boys club that is a football changing room. Rooney was dropped right in it in a playful sense by his coach Roy Hodgson shouting "speech, speech", and his team-mates would have revelled in his discomfort but he scrambled a decent response that took courage to execute.
It is entirely right to acclaim Rooney, arguably the last of England's great street footballers. It was interesting how Rooney's 50-goal England landmark met with some negativity in the radio-sphere with callers to BBC Radio 5Live expressing frustration with a state of the game that no longer sees players going past opponents. Rooney was in a sense taking the rap for the failure of the nation to produce and harvest the wingers of old, who would drop a shoulder and take on the world.
The informal footballer is lost to us in this age of the academy child. It was bad enough for Rooney, taken off the streets at eight years old when Everton whisked him behind the walls of Bellefield. Chris Waddle advanced the argument that the best attacking players in the world are South American, where, in the absence of academy pampering in cosseted environments, footballers like Luis Suarez and Alexis Sanchez never lose the hunger born of poverty and privation.
INSIDE ACCESS: Watch @waynerooney's speech to his teammates after he became @England's record goalscorer. #Rooney50 https://t.co/Ac5y5buVix

— England (@england) September 8, 2015
When they take to the pitch they are bringing to the piece ability developed in unstructured games where the rhythm would be set by older boys trying to take lumps out of cocky upstarts. In this natural order of things the young 'uns that survive do so by virtue of a greater desire and an acutely honed technique.
Rooney was this player in his early years as a pro, making Arsene Wenger's eyes pop when he scored against Arsenal as a 16-year-old for Everton, lighting up the international stage in Portugal two years later and beginning his Manchester United career with a Champions League hat-trick. Rooney had already had a ten-year career behind him as a junior. It is hardly surprising therefore that he might have lost a yard of sharpness after 11 years on the Old Trafford front line.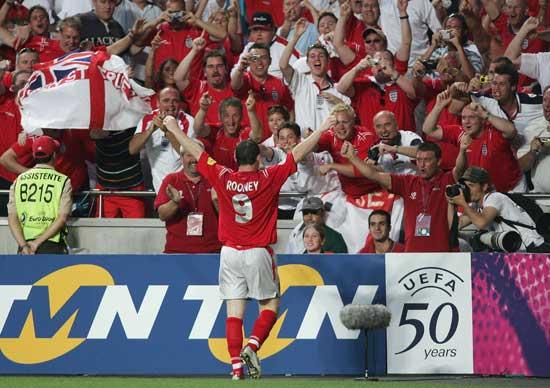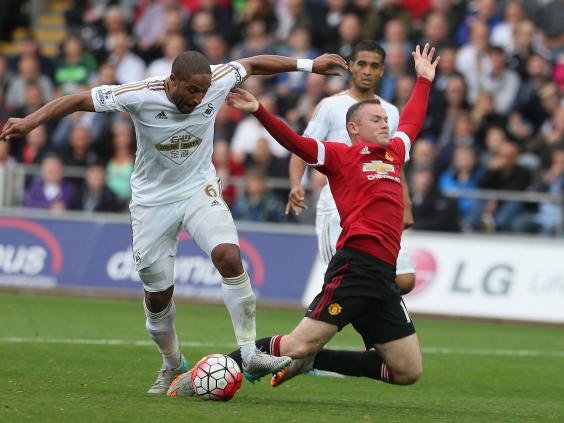 The eulogies that accompanied his surpassing of Sir Bobby Charlton's England record contrast sharply with his Premier League reviews. Rooney has not scored in his last ten Premier League outings. In Manchester United's most impressive spell last season, during which they beat Liverpool at Anfield and Manchester City at home, Rooney had little influence on games.
The truth is the international stage bears easier fruit. When Charlton roamed the earth international football was still the elite arena, a time when the best players assembled for their countries. In the Champions League epoch, the most powerful clubs take their pick of the world's best players assembling club sides that carry few passengers and would see off most international teams.
England 2 Switzerland 0 player ratings
England 2 Switzerland 0 player ratings
1/13 Joe Hart

Not a busy night for England's number one but he was solid when called upon. His concentration levels were superb and showed bravery to dive at Shaqiri's feet. 6/10

Getty Images

2/13 Gary Cahill

Did not look like the most experienced member of the defence. Having been regarded as the long term option for so long, his place is under threat if Smalling and Stones continues to develop. 5

Getty Images

3/13 Chris Smalling

A strong start saw him tackle Shaqiri superbly but his distribution was found lacking. Solid performance overall but not yet the finished article. 6

Getty Images

4/13 Luke Shaw

Bombed forward at every opportunity and finally seems to have put his injury plagued debut season at Old Trafford behind him. 6

Getty Images

5/13 James Milner

Ran and ran all night long, but did not make a real impact. Wasn't there to only make up the numbers but did little to stand out. 5

Getty Images

6/13 Jonjo Shelvey

Struggled to get on the ball and dictate like he did against San Marino. A sharp learning curve, but one he coped with and was much improved in the second half. 5

Getty Images

7/13 Fabian Delph

Substituted in the first minute with suspected hamstring strain. Painful. N/A

Getty Images

8/13 Alex Oxlade-Chamberlain

Isolated at times in the first half, but saw more of the ball in the second period. Good delivery from wide areas. 5

Getty Images

9/13 Raheem Sterling

A mixed bag for the Manchester City man. Worked tirelessly and chased his man back diligently but didn't sparkle in the final third. 5

Getty Images

10/13 Wayne Rooney

The striker's big night threatened to pass him by. Made no mistake from the spot. Deserved his record. 6

GettyImages

11/13 FROM THE BENCH: Ross Barkley

Played in a couple of positions and played well considering he was not expecting to enter the field of play so early on. 6

Getty Images

12/13 Harry Kane

Instant impact from the substitutes bench. Always wanted the ball. His goal could see his confidence come flooding back for Spurs. 7

13/13 John Stones

Came on at right back and proved there is more than one string to his bow. 5

Getty Images
Rooney's Wembley serenade will mean little on Saturday if he fails to put some meat on the bone against Liverpool at Old Trafford. In his last engagement against Swansea he was shut out easily by Ashley Williams, wasting three opportunities he might have buried in his pomp. His only goals this season have come against sub-standard international opposition and a Bruges side in Champions League qualifying shorn of key players.
He says he has a few good years left in him. Maybe, but the best of Rooney is in the past, and his future depends on finding the net with greater frequency on Saturday afternoons in the service of United.
Reuse content