From the moment England's World Cup campaign began, debate has raged about Wayne Rooney and his role in the side.
Following their loss to Italy on Saturday this has only intensified, with many now questioning the Manchester United man's place in the side.
Now Chelsea boss Jose Mourinho has given his thoughts on the matter, stating that the left of the pitch is not the "best position" for the forward who "loses a bit of his danger" when not playing through the middle.
Hodgson opted to shift Rooney out wide in England's opening game of the tournament, allowing him to accommodate youngster Raheem Sterling in a more central role - a bold move that won him praise among many England supporters.
However Mourinho, who very publicly tried to sign Rooney at the start of last season, believes the forward is best played in the centre.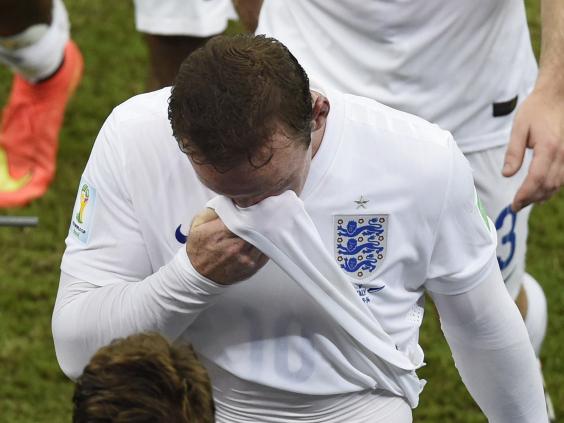 "I don't think it is the best position for Wayne," said Mourinho in an exclusive interview with Yahoo.com , "but I think many, many times players must do sacrifices for their team and I think Wayne did well.
"I think in this moment after defeat it is quite easy and it is a normal tendency to try and find the reasons for the defeat but I think it is fair to say that the reason for the England defeat was a great Italy.
England 1 Italy 2 player ratings
England 1 Italy 2 player ratings
1/22 Joe Hart

Didn't stand a chance for either goal, but almost at fault for another. 6/10

GETTY IMAGES

2/22 Glen Johnson

Never really exposed, but never entirely uncomfortable. 5

GETTY IMAGES

3/22 Gary Cahill

Partially at fault for both goals, and generally struggled with Balotelli. 5

GETTY IMAGES

4/22 Phil Jagielka

Sometimes caught out, but in the right place for Mario Balotelli's chip. 6

GETTY IMAGES

5/22 Leighton Baines

Repeatedly exposed and never got chance to display his attacking abilities, other than one superb slipped pass for Rooney. 5

GETTY IMAGES

6/22 Jordan Henderson

Putting him right beside Gerrard made England, and the player, look a little flat. 6

GETTY IMAGES

7/22 Steven Gerrard

Typically effective in attacks, less dependable when forced to defend. 6

GETTY IMAGES

8/22 Danny Welbeck

A productive showing that dismissed doubts over whether he should start. 7

GETTY IMAGES

9/22 Raheem Sterling

The player who best defined some of the new optimism around England. 8

GETTY IMAGES

10/22 Wayne Rooney

One fine assist, a lot of futile play. Poor. 5

GETTY IMAGES

11/22 Daniel Sturridge

A Gary Lineker-style finish to a cap a fine World Cup debut. 7

GETTY IMAGES

12/22 Salvatore Sirigu

Stepped in for the injured Gigi Buffon and then stepped up, making some excellent saves. 7/10

Getty Images

13/22 Matteo Darmian

A good performance, even if his pace wasn't as penetrative as usual. 7

Getty Images

14/22 Andrea Barzagli

So dependable, and perpetuating a fine line of Italian defenders. 8

Getty Images

15/22 Gabriel Paletta

The hair might be thinning, but the former Liverpool player made his own presence felt. 7

Getty Images

16/22 Giorgio Chiellini

Some cynical challenges, and still doesn't look entirely comfortably at left-back. 6

Getty Images

17/22 Claudio Marchisio

A brilliantly precise finish, a productive performance. 7

Getty Images

18/22 Daniele De Rossi

The necessary aggression amid so much Italian elegance. 7

Getty Images

19/22 Marco Verratti

Barely misplaced a ball, and played a key role in the first goal. 7

Getty Images

20/22 Antonio Candreva

An utterly exceptional cross for Balotelli's goal, and a surprise he was taken off. 7

Getty Images

21/22 Andrea Pirlo

The clever passes are too plentiful to remember, but the dummy for the opening goal impossible to forget. 7

Getty Images

22/22 Mario Balotelli

Frequently a threat, occasionally wasteful, but ultimately the match-winner. 7

Getty Images
"England played very, very well. I don't remember seeing England play so well in an important competition like the World Cup.
"Obviously Roy was trying to play at the same time Rooney, Sterling and Welbeck with Sturridge, and to do that somebody has to play a bit more on the side and Wayne did his job.
"He got an assist for the goal with good participation in the game. But he loses a bit of his danger because he is naturally a goalscorer when he plays more in central positions.
"England are obviously not happy because that situation is now an extreme situation: they cannot lose another match in the group phase.
"In the next match against Uruguay it is forbidden to lose. In my opinion the English team had a very, very good positive game [against Italy]."
England's must win game against Uruguay is on Thursday.
Reuse content