England manager Gareth Southgate reiterated that captain Wayne Rooney missed Tuesday's 2-2 draw with Spain due to a minor knee injury, despite pictures of the Manchester United striker appearing to be intoxicated emerging in the media.
The Sun printed a picture of Rooney appearing to be drunk on its front page on Wednesday, a day after the 31-year-old missed the final England international of the year. The Football Association confirmed on Monday that Rooney had been sent back to United to recover from a "minor knee injury", but a story emerged in The Sun that claimed Rooney had "gatecrashed" a wedding party at The Grove Hotel in Watford on Saturday where the England squad were staying.
Another picture printed in The Sun shows Rooney alongside two women in a photograph allegedly taken at the party, with sources at the event claiming he was up drinking until 5am Sunday morning and could barely speak or stand. He was also pictured alongside England teammate Phil Jagielka.
Rooney's representatives have denied that he gatecrashed the wedding party and that he was actually invited to attend by "excited revellers".
Speaking after the 2-2 draw with Spain, Southgate confirmed that Rooney suffered the injury on Friday in the 3-0 victory over Scotland and was not able to train with the rest of the squad on Sunday, and dismissed the idea that his absence was some sort of disciplinary action for going out the night before.
"Wayne was injured. He picked up an injury on Friday, couldn't train Sunday and that's it," Southgate said.
Southgate, who also confirmed before the match that the players were given a day off on Saturday and given some free time, had no plans to start Rooney in the international friendly even if he was fit, with Jordan Henderson captaining the side.
"I wouldn't start Wayne in this game anyway, so we'll decide which route to go," Southgate said on Monday.
England vs Spain player ratings
England vs Spain player ratings
1/22 Joe Hart – 6 out of 10

Didn't see much of the ball at all and had very little to do from a blunted Spain attack.

2/22 Danny Rose – 7 out of 10

Attacked and defended well down the action-packed left flank but picked up a silly yellow.

3/22 Nathaniel Clyne – 7 out of 10

Attacked well down the right-hand side and didn't see much coming his direction in the way of defending.

4/22 Gary Cahill – 7 out of 10

Solid and controlled the back line well throughout, albeit it with little threat coming his way.

5/22 John Stones – 6 out of 10

Still not looking like a settling presence and played one awful pass to Dier which nearly put caused Spain to win the ball in a dangerous area.

6/22 Jordan Henderson – 7 out of 10

Won the midfield battle with Busquets and looked comfortable with the armband on yet again.

7/22 Eric Dier – 7 out of 10

Needed to be strong in the tackle to stop Stones' poor pass from being a costly one.

8/22 Raheem Sterling – 9 out of 10

Carvajal will wake up in a fit of sweats tonight with memories of what Sterling did to him. Tortured the Spanish defence and was brilliant throughout.

9/22 Adam Lallana – 8 out of 10

Flawless in the 24 minutes he played before going off injured. His teasing cross drew the penalty and he converted it brilliantly.

10/22 Jesse Lingard – 7 out of 10

Started strongly in the No 10 role but faded as the game went on. His pace was always a threat though.

11/22 Jamie Vardy – 9 out of 10

Was clever in winning the penalty and luring Reina's challenge and there was no one stopping him getting his head on the ball from his goal. Good celebration too.

12/22 Pepe Reina – 5 out of 10

Was made to look like a fool by Vardy for the penalty in the first half but saved well from Henderson in the second.

13/22 Cesar Azpilicueta – 6 out of 10

Attacked well down the left and avoided most of England's attacking threat, which was all down the other channel.

14/22 Inigo Martinez – 5 out of 10

Got a cynical yellow for a challenge on Walcott and didn't really look comfortable.

15/22 Nacho – 5 out of 10

Another to struggle with England's attack and was left chasing shadows.

16/22 Dani Carvajal – 5 out of 10

Struggled with the pace of Sterling, Lingard and Vardy throughout and didn't manage to get forward as he would have liked.

17/22 Sergio Busquets – 5 out of 10

Failed to stem the midfield flow as he usually does for Barca and was another to struggle with England's pace.

18/22 Thiago Alcantara – 6 out of 10

Played in a slightly deeper role and looked classy in everything he did – although failed to create anything of any substance.

19/22 Vitolo – 4 out of 10

Had a shot in the first half which he dragged wide but had a tough evening at Wembley.

20/22 Juan Mata – 5 out of 10

Exchanged a couple of neat passes with Silva but failed to create anything of note.

21/22 David Silva – 6 out of 10

The leader of the team on the night and did all he could to get Spain in it.

22/22 Artiz Aduriz – 4 out of 10

Barely saw the ball and wasted a good chance in the first half with an under-hit pass to Vitolo.
"At times too much of that responsibility has laid with Wayne and we need to share that. There are leaders already and other potential leaders who I think can step forward.
"And once you have a team full of those players then we'll have a lot of success."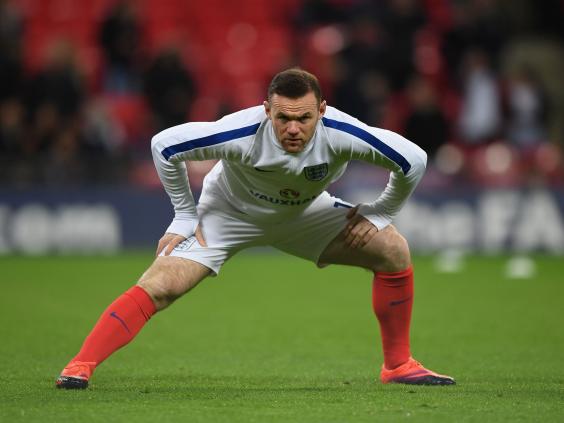 Southgate has now completed his four-match spell as interim manager, with the FA expected to offer him the chance of becoming manager on a full-time basis for the 2018 World Cup and 2020 European Championship, although his contract will include a break clause after Russia 2018.
Reuse content