Wayne Rooney has hit out at sections of the media who said he trained with England's 'reserves' yesterday.
Rooney received criticism for his performance in Manaus on Saturday night, where he was ineffective on the left hand side.
The Manchester United man provided the assist for Daniel Sturridge's equaliser, but failed to leave his mark on the game and struggled to provide Leighton Baines with adequate cover.
Rooney did move into his preferred central position eventually, but England couldn't find a way back and lost 2-1 to Italy.
At England's Urca training base yesterday Rooney did a light warm down away from the other nine outfield players who started against Italy, then stayed behind for extra shooting practice.
Some questioned whether England boss Roy Hodgson had done so in a bid to recapture his form.
Rooney took to his Facebook page to defend himself.
England 1 Italy 2 player ratings
England 1 Italy 2 player ratings
1/22 Joe Hart

Didn't stand a chance for either goal, but almost at fault for another. 6/10

GETTY IMAGES

2/22 Glen Johnson

Never really exposed, but never entirely uncomfortable. 5

GETTY IMAGES

3/22 Gary Cahill

Partially at fault for both goals, and generally struggled with Balotelli. 5

GETTY IMAGES

4/22 Phil Jagielka

Sometimes caught out, but in the right place for Mario Balotelli's chip. 6

GETTY IMAGES

5/22 Leighton Baines

Repeatedly exposed and never got chance to display his attacking abilities, other than one superb slipped pass for Rooney. 5

GETTY IMAGES

6/22 Jordan Henderson

Putting him right beside Gerrard made England, and the player, look a little flat. 6

GETTY IMAGES

7/22 Steven Gerrard

Typically effective in attacks, less dependable when forced to defend. 6

GETTY IMAGES

8/22 Danny Welbeck

A productive showing that dismissed doubts over whether he should start. 7

GETTY IMAGES

9/22 Raheem Sterling

The player who best defined some of the new optimism around England. 8

GETTY IMAGES

10/22 Wayne Rooney

One fine assist, a lot of futile play. Poor. 5

GETTY IMAGES

11/22 Daniel Sturridge

A Gary Lineker-style finish to a cap a fine World Cup debut. 7

GETTY IMAGES

12/22 Salvatore Sirigu

Stepped in for the injured Gigi Buffon and then stepped up, making some excellent saves. 7/10

Getty Images

13/22 Matteo Darmian

A good performance, even if his pace wasn't as penetrative as usual. 7

Getty Images

14/22 Andrea Barzagli

So dependable, and perpetuating a fine line of Italian defenders. 8

Getty Images

15/22 Gabriel Paletta

The hair might be thinning, but the former Liverpool player made his own presence felt. 7

Getty Images

16/22 Giorgio Chiellini

Some cynical challenges, and still doesn't look entirely comfortably at left-back. 6

Getty Images

17/22 Claudio Marchisio

A brilliantly precise finish, a productive performance. 7

Getty Images

18/22 Daniele De Rossi

The necessary aggression amid so much Italian elegance. 7

Getty Images

19/22 Marco Verratti

Barely misplaced a ball, and played a key role in the first goal. 7

Getty Images

20/22 Antonio Candreva

An utterly exceptional cross for Balotelli's goal, and a surprise he was taken off. 7

Getty Images

21/22 Andrea Pirlo

The clever passes are too plentiful to remember, but the dummy for the opening goal impossible to forget. 7

Getty Images

22/22 Mario Balotelli

Frequently a threat, occasionally wasteful, but ultimately the match-winner. 7

Getty Images
"Sometimes wonder what the press are getting at," he posted
"I said from the start I want to do everything I can to make sure I'm ready for these World Cup games and as part of that I was doing extra training a week before the squad joined up.
"That's exactly what I did yesterday, my own extra training because that's what I wanted to do."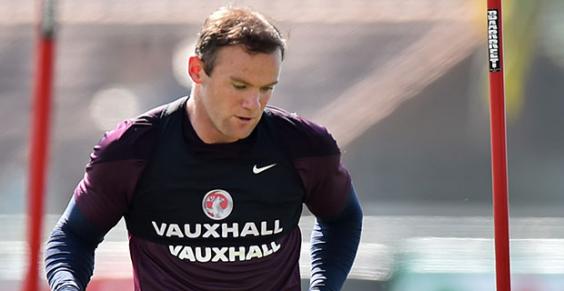 Gary Neville last night insisted that Hodgson and the England coaching staff were more than happy with Rooney's contribution in the Arena Amazonia.
"My opinion is that Wayne Rooney, after seeing him every day in training, is a very important player," said Neville on BBC Radio 5Live.
"He is our top goalscorer under Roy, he is our main assist man and probably but for a yard he would have been man of the match if he had scored that goal.
"We came off the pitch the other night and had our coaching debrief with Roy, Ray (Lewington), Dave (Watson) and myself and there was no other suggestion that Wayne Rooney had played pretty well for us in that game, that he had done everything we asked for."
Neville was unhappy with the criticism of Rooney, saying the nation always has an "obsession" with one player at a major tournament, with Rooney the man currently in the firing line.
"You can call it a debate or an obsession," he added.
"I don't think either are wrong because every time I have been part of a tournament I have seen this with a player, whether it be (Paul) Gascoigne, (Michael) Owen, (David) Beckham or Rooney.
"We love it. The whole country loves creating a drama around one player."
Reuse content