One week into the tournament and so far the World Cup has been a roaring success.
Not only has the tournament served up a hearty buffet of deliciously exciting football for its viewers all round the world, but they have also been treated to the additional garnish of new technology.
Goal-line technology has been introduced, mostly providing moments of comedy but nevertheless proving itself to be highly useful.
However the real star of the tournament has been the referees' new magic spray. Used to mark out the correct distance the wall should stand from the ball at free kicks, the natty disappearing foam has taken the World Cup by storm.
For fans of South American football, the foam spray is nothing new, having been used in league matches on the continent for some years, but for the huge global audience, these are bold new days.
No more can the defensive wall creep forward, cramping the free kick taker's style, when the referee's back is turned and in theory we should now see more goals scored from free kicks.
But what is the magic disappearing foam made of? According to LiveScience it is: "a mixture of butane, isobutane and propane gas; a foaming agent; water; and other chemicals.
"When it leaves the can, the gas depressurizes and expands, creating small, water-covered droplets on the field. The butane mixture later evaporates, leaving only water and surfactant residue behind."
In pictures: Grace Dent's top 10 World Cup moments
In pictures: Grace Dent's top 10 World Cup moments
1/10 1. The World Cup is full of mystery and intrigue

Why was rapper Pitbull and Jennifer Lopez the highlight of the World Cup Opening Ceremony?

2/10 2. The opening ceremony held so many more mysteries

Why were the dancers dressed as piles of sticks, zombies or Pac-man ghosts?

3/10 3. Close monitoring of what the UK's menfolk have said on social media about the TV pundits proves that Britain has no gender inequality in the fine art of bitching

Phil Neville, eviscerated on Twitter for getting his Saturday night task done, albeit sounding slightly like a Texas Instruments Speak & Spell. "Burn him! Throw him in a well!" was the general mood of post-match reaction

PA

4/10 4. Robbie Savage was the butt of a Thierry Henry put down in the BBC World Cup studio

Robbie Savage, a man who favours a khaki club-style mock-safari suit, leather bangles and a lustrous Sun-In speckled 'rave curtains' hair-do and then finds himself cruelly plonked next to the elegant, fashion-forward Thierry Henry for Sunday's France v Honduras punditry

BBC

5/10 5. Will no one think of poor Gordon Strachan?

He was left to broil in 40-degree heat, wearing Blue Brothers sunglasses during ITV's arduous 'Hey, we're on the beach, just bantering' pre-Brazil v Croatia pundit fests

6/10 6. What the BBC and ITV pundit teams are missing are voices that truly reflect the average World cup fan

'Jesus, the French team have got lovely strips, that Karim Benzema could take me for a croque-monsieur ANY DAY, am I right?' – can only be imminent

7/10 7. The Japanese fans have been spotted earnestly cleaning the stadium after matches

Even after being beaten 2-1 by the Ivory Coast. Game over, bin-bags out, every paper cup, hot-dog wrapper and iota of trash removed from the Arena Pernambuco in Recife

Getty

8/10 8. As the great philosopher Madonna once said, 'Italians Do It Better'

Andrea Pirlo appears to be 50 per cent hirsute, smouldering, oddly cerebral seeming God-like being, partly super-powered ball-passing Robot from the Planet Woof

9/10 9. Saturday's defeat cannot take away my pride in our true national talent: all-day drinking

The heroic sight of determined fans piggybacking 36 cans of Stella along high streets at 10am, set for a solid 11-hour pre-match build up. The next morning in east London was like the Danny Boyle movie 28 Days Later with highly patriotic zombies

10/10 10. Japanese fan site @footy_bum_bot, which gets to the nitty-gritty of what many women and gay men want from football coverage

Japanese web genius compiles surprisingly tasteful mid-play action shots of, say, Xabi Alonso's bottom vs Netherlands or Steven Gerrard's gluteus maximus muscles in mid-match physio
The spray is the brainchild of Argentine journalist Pablo Silva who developed the spray called "9:15 Fairplay," a reference to the metric equivalent of the free-kick distance requirement.
The spray hasn't just been a new concept for fans and players to get to grips with, it also appears some referees are still getting the hang of it...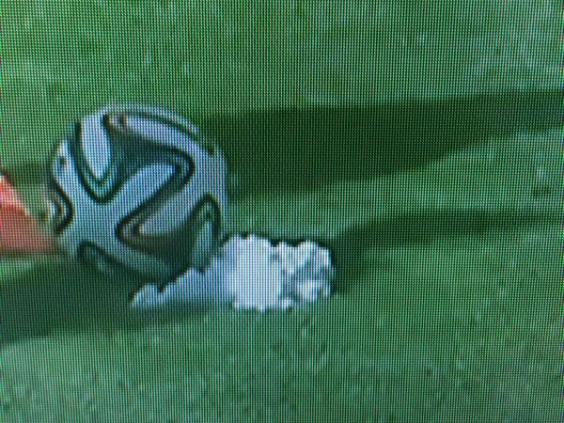 If this photo is anything to go by, then you certainly wouldn't want to pass out at a party attended by Mexican referee Marco Rodriguez, particularly if there was any shaving foam lying around.
Reuse content