Prior to kick-off nearly a fifth of respondents to a BBC Sport survey said they believe England will win the Women's World Cup. A poll taken after this match, which was controlled by France from start to finish and deservedly won by them, would have produced a considerably lower number.
However, the original figure suggests a lot of people have not been paying attention because outside of the England camp few followers of the women's game expect England to win the finals whereas France are widely tipped as dark horses. In that context this was a respectable result that ought not damage England's chances of progressing - it may, indeed, enhance them since the draw favours the runners-up in Group F.
"It gives us a platform to build momentum," was manager Mark Sampson's instant verdict. It did, up to a point, as long as England do the job in their remaining group matches, against Mexico on Saturday and Colombia next week.
It was not, though, an especially encouraging performance for all the old ills of English football (of both sexes) were on display. On the credit side England were very good without the ball. They stuck to their gameplan, battled doggedly and remained in the game to the final whistle. The problem, as so often, was when they had the ball. In difficult windy conditions, on a pitch made slick by rain, they struggled to keep possession, mounted few cohesive attacks, and never looked like scoring. After Eugenie Le Sommer put France ahead with a superbly struck 29th drive the result was rarely in doubt. However, France were fortunate not to finish with ten women after Laura Bassett was elbowed in the face by Camille Abily with 20 minutes left.
"The result was not good, but we will reflect and take lots of positives," said Sampson. "Defensively the way the team managed the game was outstanding, limiting one of the best teams in the tournament to three shots on target."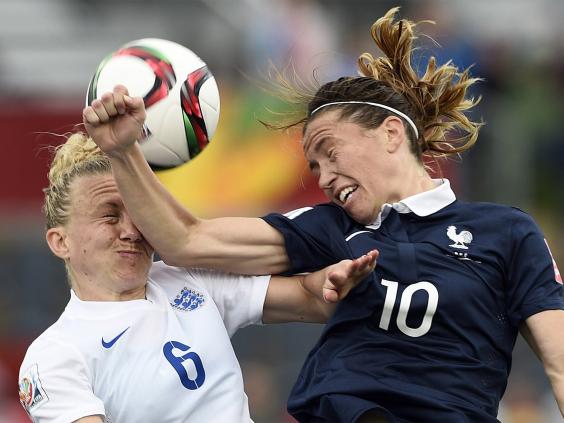 After six months of tinkering with formations in the wake of Germany's Wembley win Sampson unveiled a new one, 4-1-4-1 with Fara Williams anchoring the midfield and Ellen White seeking to support lone striker Eniola Aluko from the right flank. To guard against the pace of Elodie Thomis on the French right Lucy Bronze played ahead of Claire Rafferty as an auxiliary left-back. This worked to the extent Thomis, who has so troubled England in the past, was withdrawn early.
It was a formation designed to contain, understandably perhaps in view of the talent within this French side, and the weight of history. Seven of the English starting XI, and eight of the French, had played in the last competitive meeting between the sides: the 3-0 drubbing in Sweden that sent England out of the 2013 European Championships and ensured the removal of Sampson's predecessor, Hope Powell.
The memory seemed to affect the approach of both teams. England were fearful, dropping back. France were confident, pushing on. England's inability to retain possession invited pressure and it was inevitable that a team as talented as France would eventually break through. Time and again England players just hooked the ball on in the hope that somehow it would get through to the willing, but isolated Aluko.
The chances began to mount. In the eighth minute Abily headed wide from Jessica Houara's cross when unmarked. Then Karen Bardsley beat away a Louisa Necib free-kick after Williams had clattered Le Sommer. A scramble ensued when Bardsley punched rather than caught a corner. Gaetane Thiney, finding space on the edge of the box, brought another save from Bardsley.
Eventually the dam broke, though it was due to English errors rather than French brilliance. It was also a goal that encapsulated the English habit of treating the ball like a hand grenade. England gained possession in their own half and Bassett, played a short pass to her nearest team-mate, Katie Chapman. Chapman looked like she neither expected or wanted the ball. Her first touch was poor and Le Sommer stole the ball, strode purposefully forward, then drilled in a 25-yard shot that Bardsley got her hands to, but could not save.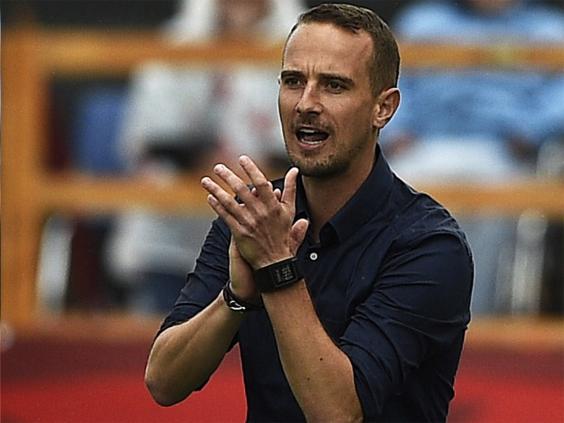 The French had had nine shots by the time England had their first, Chapman hooking a loose ball wide after French keeper Sarah Bouhaddi failed to gather a cross. The first, indeed, only, English shot on target was in the 55th-minute, Jill Scott hooking an Aluko corner into Bouhaddi's arms.
Gradually England sought to be more offensive bringing on a Toni Duggan, Fran Kirby, then Jade Moore. The shape shifted to 4-3-2-1 with Bronze replacing Scott at right-back while Duggan and Kirby sought to support Aluko. It might have brought reward had the referee been stronger. Rising to meet a cross Abily led with an elbow and pole-axed Bassett. The Greek referee appeared not to notice and as play continued Houghton was also laid out as she clashed heads with Thiney. The ball fell to Abily but her goalbound shot struck the prone Houghton and ricocheted clear.
Asked if Abily should have been dismissed Sampson said: "A look at Laura will answer the question. We were told before the tournament we would be protected if we abide within the rules, we have been let down and so has Laura Bassett."
England, of course, have two agendas here: To go beyond the quarter-finals for the first time, and promote the women's game back home. With regard to the latter this was not a great advertisement England having set out to kill the game and largely succeeded. Asked if he felt viewers in England might have been put off by England's approach Sampson responded: "If people are looking to see a group of players willing to work hard, put their bodies on the line, and stick together, they got value for money. They have to understand we were playing a world-class team. My message is 'stick with us, watch the next game, and see which England come out then'".
Player of the match Le Sommer.
Match rating 6/10.
Referee T Mitsi (Greece).
Nigeria prayers heard: Ordega's late leveller
Francisca Ordega's late strike earned Nigeria a 3-3 draw against Sweden in their Group D opener at the Women's World Cup.
With Sweden hanging on for the win, Ordega ran on to a perfect pass from Ngozi Okobi and confidently fired past goalkeeper Hedvig Lindahl in the 87th minute.
"The Nigerian team is a praying team," said Super Falcons coach Edwin Okon, who knelt down to kiss the ground after Ordega's goal. "We knew it is not over until it is over."
Megan Rapinoe scored twice as the United States – seeking their third World Cup – overcame early defensive shakiness to beat Australia 3-1, while Cameroon scored three goals in a nine-minute period as they routed Ecuador 6-0. Gaëlle Enganamouit scored a hat-trick and the Africans were awarded three penalties.
Reuse content