At midnight on 2 July more than two million people are expected to watch England play a football World Cup semi-final. Nothing unusual in that, except it will be women they are cheering on.
A month ago only the committed knew the women were playing in a World Cup and fewer had heard of Fran Kirby, Jodie Taylor and Lucy Bronze. Now they are the talk of social media and on the front pages of newspapers that three weeks ago seemed unaware women even played football.
The team, managed by Welshman Mark Sampson, are England's first of either sex to reach a World Cup semi-final since 1990, when Paul Gascoigne's tears captivated a nation and helped lift English men's football out of the depression engendered by the tragedies of Bradford, Heysel and Hillsborough.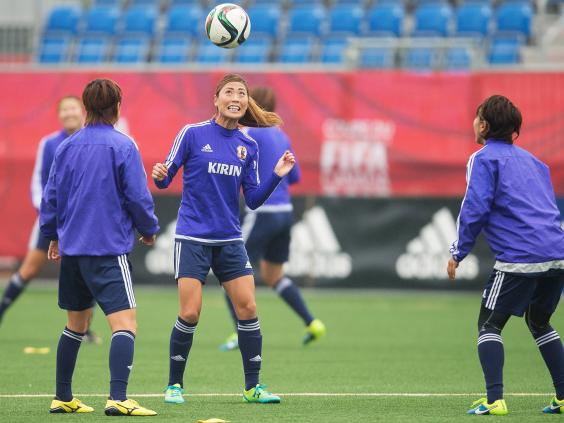 Should Sampson's women beat World Cup holders Japan in the Canadian city of Edmonton tonight, they could have the same dramatic effect on the women's game in England. They would be the first England team to reach a final since Sir Alf Ramsey's World Cup winners in 1966 and the first to do so on foreign soil. But who are the players, and how have they suddenly got all of England agog?
The English love winners
Forget the stereotypes about playing for fun and being good losers. The English love a winner as much as anyone. Rowing would still be an elitist sport known only for Oxbridge graduates' annual day out on the Thames were it not for the likes of Olympic gold medallists Steve Redgrave, Matthew Pinsent and James Cracknell.
England's women have filled the void left by the men, serial failures for a generation (a supposed "golden generation").
Their month in the sun was briefly threatened by the young men of the under-21s. Tottenham's Harry Kane, the new golden boy, was expected to lead them to European Championship glory. Then England lost two of three matches to go home early and coverage disappeared with them. The Sun splashed on the back page with a picture of Kane on his knees and the headline 'Over to you, girls'.
The English especially love modest, lowly-paid winners
Admiration for England's male footballers is qualified by resentment at occasional boorish behaviour and colossal salaries. That football is as meritocratic an industry as any in the country, and players' pay is commensurate with the income they generate, is largely ignored.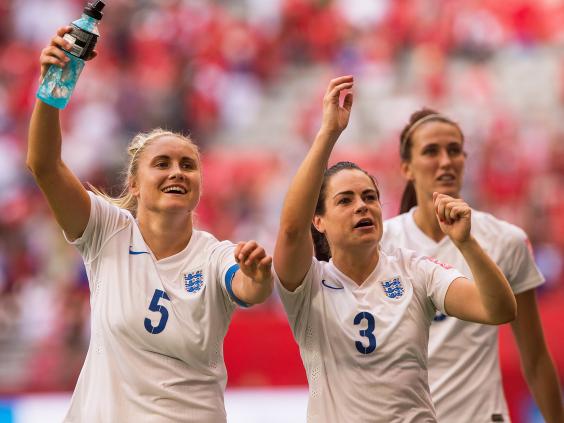 The women are impeccably behaved and, relatively poorly paid. Their bonus to win the World Cup will be £35,000 each. Had the men won in Brazil last year they would have received £350,000.
However, most female England players actually do quite well considering the sport has to be subsidised by the men. They have a central contract with the Football Association worth £20,000-£25,000 (the national average salary is £26,500) and club contracts that can reach £40,000.
Female GB hockey players, who recently won the World League semi-final to qualify for the Olympics, would love such rewards. 
They are so inspiring
As the team have become better known, so have their individual stories. Their first goal was scored by Fran Kirby, who gave up the game at 17, suffering from delayed depression probably brought on by the death of her mother three years earlier. Playing for fun, in the park, rekindled her love for the sport. Poignantly, her goal against Mexico would have co-incided with her mother's birthday. "Happy birthday Mum," she tweeted afterwards.
The other scorer in that game, England's first win, was Karen Carney. She has also suffered from depression, so bad at one stage she had to be pulled from the car to go training by Laura Bassett, England's centre-half and then a team-mate at Birmingham City.
Veteran midfielder Fara Williams was homeless as a teenager after being estranged from her family. Incredibly she spent years playing for England while living in hostels and on the streets, hiding her status from team-mates.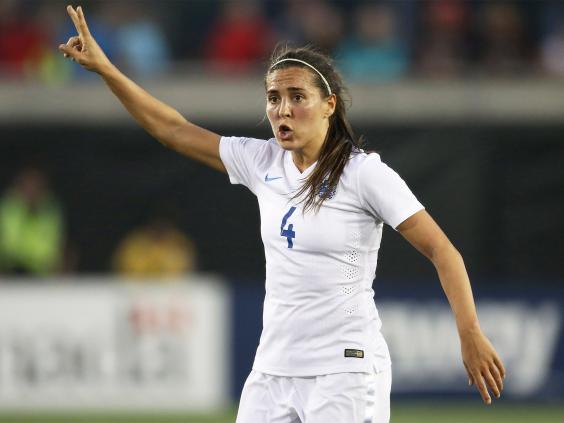 Now reconciled with her mother she supports charities that help the homeless.
Two players are role models in the gay community having come out: the extrovert striker Lianne Sanderson and former captain Casey Stoney, who was made an MBE during the tournament, and recently had twins with her partner Meg Harris. That made Stoney one of two mums in the team. The other, Katie Chapman, has left her three kids behind with husband Mark, aside from a brief visit. Another reversal of traditional roles applies to goalkeeper Siobahn Chamberlain – fiancée Leigh is home arranging their wedding.
The matches
The quality of the football has been mixed. France v Germany was excellent but there have been one-sided matches (Germany beat Ivory Coast 10-0, Switzerland beat Ecuador 10-1) and poor ones, including some involving England. But there has been very little diving, barely any dissent and no rolling around in fake agony – when Bassett was elbowed in the eye she simply got up and played on. Most of all the players look as if they are playing for fun, and that enthusiasm is infectious.
They capture the zeitgeist
Doctor, politicians, psychologists all agree there is a need to get young girls playing more sport. This newspaper and sister papers i and Independent on Sunday seek to promote women's sport as a matter of policy. But outside of the Olymics and Wimbledon fortnight there are few role models.
Women's rugby had a brief spike in popularity after England won the women's World Cup last year, women's cricket is growing, but only football is likely to prompt mass participation. If girls, their parents, brothers and schoolmates, start to accept females playing football is "normal" (the England team are full of stories about being teased or ostracised for playing when young) there could be a huge rise in sports participation.
Much rests on tonight.
Reuse content