John Herdman was 25 when he realised he would have to leave England to achieve his dreams. He had long known he would not make it as a player, but it sank in that this meant he would not reach his goals as a coach either.
Herdman's "playing career" peaked at Prudhoe Town, then in the second division of the Northern League. English football can be an insular environment with a show-us-your-caps mentality. Herdman was working as a coach at Sunderland's youth academy, but when it came to moving up the ladder a CV boasting the Northern League's lower tier was not going to lift him many rungs.
So Herdman left, for the other side of the world, and thence to the women's game. Having transformed that sport in New Zealand he moved again, to Canada.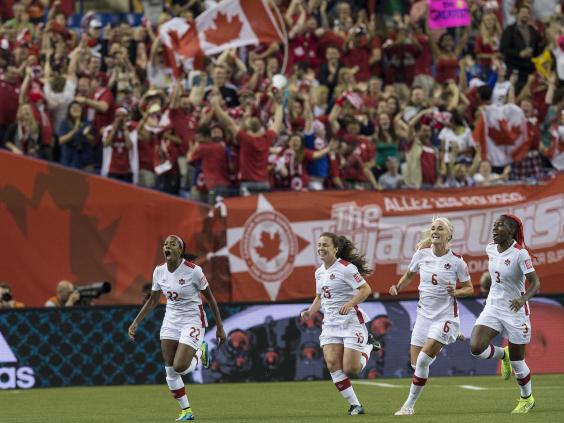 On Sundat the 39-year-old will be a very vocal, visible, often smiling presence on the touchline at BC Place, Vancouver, as Canada's women's team, roared on by 50,000 fans, try to reach the World Cup quarter-finals. Just by escaping the group stage they have already achieved something only one Canadian national team, male or female, has previously done.
Meanwhile Sunderland are on their 11th manager since he left the North-east and Newcastle United, the team he supports, their 10th.
So what? That would be the reaction of many. This is women's football, a world away from the maelstrom of the Premier League. Maybe, but while the players are not as quick, as strong or, in most cases, as skilled, the pitch is the same, the tactical challenges are similar, and the mental aspect is arguably even more important.
Herdman's players are competing in a World Cup on home soil, carrying not just the weight of a nation's hopes on their shoulders, but, as with England, also the immediate future of their sport.
If Herdman is feeling the pressure he is not showing it. He gives every impression of relishing the spotlight. Not known for his modesty, he has made one false step in public, when he dissected the tactics of New Zealand before meeting his former team in the group stage. The game ended goalless with the Silver Ferns, under Herdman's former assistant Tony Readings, going closest when they hit the bar with a penalty.
Herdman will not make the mistake again, being swift to take lessons on board. Like many successful people he is also a driven man with a prodigious work ethic. This he has attributed to "still trying to prove to my mum I'm worth it," adding, "it drives you, drives you, drives you".
Herdman's mother was an alcoholic, his father suffered from mental illness, manic depression bordering on schizophrenia according to a profile with Herdman in Toronto's Globe & Mail.
That may have been brought on by working away from home on the North Sea oil rigs after he was laid off when the steelworks at Consett closed. When his parents divorced Herdman, a teenager, found himself caring for his father.
The dominant presence in his childhood appears to have been his grandfather, once a union leader at those steelworks and previously a professional boxer. "A hard man, a proper man's man, no one messed with him," Herdman has recalled.
The young Herdman fought, too. Having done moderately at school he tried to follow his sister, who had joined the RAF, into the military. At 5ft 6in, he was not recruited. He ended up in a local college and suddenly found his vocation: teaching. He retook exams and studied sports science at Leeds Trinity.
He got a teaching job at his old school, then began lecturing at Northumbria University and operating one of Simon Clifford's Brazilian Soccer Schools. That led to the job at Sunderland, where Jordan Henderson was among his charges, but he soon realised a jobbing amateur footballer could only rise so far.
Then a university contact moved to New Zealand, and sent news of a coaching development job. Herdman and his wife, Clare, decided to go. Within two years his work rate and big picture vision were noticed by the national association, New Zealand Football.
Two years later they made him women's coach. He took the Silver Ferns to two World Cups and the 2008 Olympics, and designed a programme called Whole of Football that restructured coach and player development (male and female) from the grassroots to the elite.
His voice is still on the NZF video introducing the concept but Herdman was poached by Canada in 2011. A year later he took the team to bronze at the London Olympics, leading the Canucks out at his beloved St James' Park on the way. Their dramatic semi-final defeat to the United States was a huge event in Canada and when Herdman became a candidate to take over the England women's team the Canadians moved swiftly to extend his contract to 2020.
Herdman is big on motivation, positivity, and "training the brain", a philosophy that owes much to his experiences with his father. It is such a specialism he also works as a motivational speaker.
To motivate himself he mounted on a wall at home an enlarged photograph of Christine Sinclair, Canada's most famous footballer, a 226-cap, 154-goal veteran, looking dejected after a defeat.
That also helped get Sinclair, a massive dressing-room presence, in his corner. When she scored the 92nd-minute winner in Canada's opening match it was to Herdman that Sinclair ran to celebrate.
There is another reason Herdman is big on mental skills. Despite a highly favourable draw Canada will have to play to their maximum to win this competition.
They have scored twice in three matches and while they ought to beat Switzerland in Herdman's adopted hometown tonight tougher tests, starting with England if they win their last-16 tie on Monday, lie ahead.
Herdman, however, has faced tough challenges before and come out smiling, always smiling. Sometimes it seems he is smiling to convince himself and others things are going well, but right now he has much to be happy about.
--
British coaches at the WWC
Tony Readings (New Zealand)
Age: 39
Captained AFC Wimbledon in their first league match, having attended the trials on Wimbledon Common. Left for New Zealand to play, then coach, rising to lead the Silver Ferns since 2010.
Jill Ellis (United States)
Age: 48
Portsmouth born and bred but emigrated with her parents at the age of 14 to the US, where she began to play organised football. Followed father into coaching. Became US coach in April 2014. Now a US citizen.
Mark Sampson (England)
Age: 32
Welsh ex-semi-professional who has managed England for the past 18 months, having previously worked at  Swansea City's academy, Welsh League side Taff's Wells and Bristol Academy Ladies.
Reuse content