Referees can have a rather large bearing on the outcome of World Cup matches, just ask England.
Frank Lampard will probably never forget the name of Jorge Larrionda, the Uruguayan referee who failed to spot his long-range effort had gone in against Germany in 2010. While the whole of England will be eternally grateful to Tofik Bakhramov, the linesman who deemed Geoff Hurst's shot had crossed the line in the 1966 final.
That's why the Three Lions, and indeed the other 31 nations competing in Brazil this summer, will be paying close attention when Fifa designate which refs will be officiating which games.
So who will England want to avoid?
Turkish official Cuneyt Cakir is the stand-out name from the 33 referees going to the World Cup. He dismissed Steven Gerrard in a World Cup qualifier against Ukraine in 2012, Gary Cahill was sent off in the same year at the World Club Cup Final and Cakir was also the man in charge when former England captain John Terry lashed out against Barcelona in the Champions League semi-final. And on top of all that, Cakir has already sent off two men on World Cup duty for England, albeit at junior level. Michael Mancienne and Frazier Campbell were both given their marching orders in separate games during England's 2009 U21 World Cup campaign.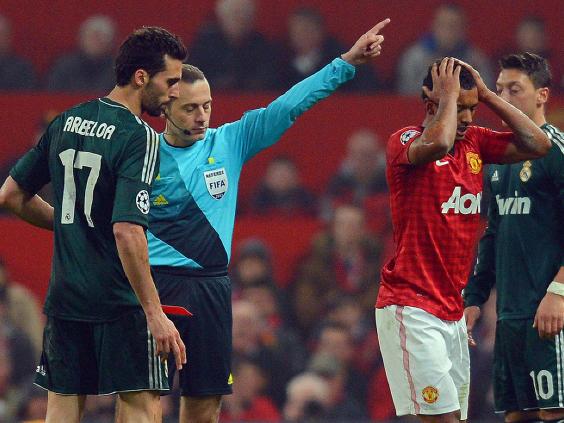 Another to avoid might be Marco Rodriguez according to an in-depth study by Sports Interaction. The referee dubbed 'Chiqui Dracula' in Central America and labelled a "complete poser" by Graham Poll is the most liberal with the red card. In 79 matches the Mexican with slick black hair has issued 51 red cards, meaning he sends a player off more than once every two games. For England, who were quickly defeated after seeing David Beckham sent off in 1998 and Wayne Rooney dismissed in 2006, red cards should definitely be avoided.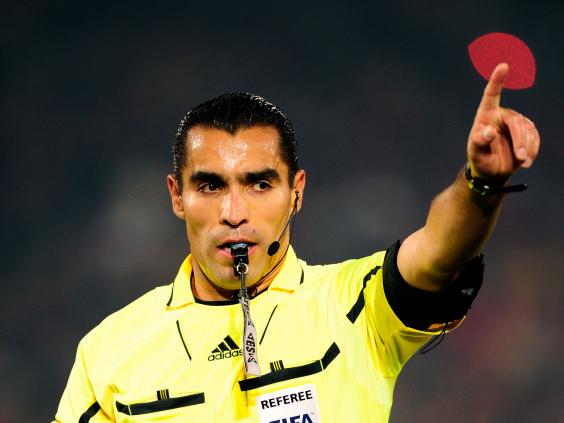 Meanwhile the official most free with the yellow card is Columbian Wilmar Roldan. The tallest official going to Brazil dishes out an average of over five a game, with 381 yellow cards shown in 73 international matches.
World Cup 2014: The 10 best penalty takers
World Cup 2014: The 10 best penalty takers
1/9 Mario Balotelli - Italy

Once hailed as the man who never missed, Balotelli's 100 per cent record from the spot was lost last season when he missed twice for AC Milan. Even so, he remains one of the best penalty takers in the world at the moment. Technically perfect and with all the arrogance and nerve to slot home even the highest pressure of kicks. He had scored his first 26 in a row as a professional, never missing for Manchester City or Inter Milan. He scored the first in Italy's shoot-out with England in the quarter-finals of Euro 2012 and has fired in from the spot in World Cup qualifiers and the Confederations Cup since.

GETTY IMAGES

2/9 Steven Gerrard - England

Despite not always finding the mark in an England shirt, Gerrard has been deadly from the spot this season for Liverpool. He has scored ten spot kicks for the Reds this year, more than many other clubs combined, and will have great confidence should he be required to take one for England this summer. Gerrard has had mixed fortunes for England at major tournaments, scoring in the shootout against Italy at Euro 2012 but missing against Portugal at the 2006 World Cup. If the Liverpool captain doesn't feel up for it, he could always turn to his new club team-mate Rickie Lambert. After joining the Saints in 2009, the striker scored 34 penalties in a row, a record that few, if any, in world football can match.

GETTY IMAGES

3/9 Yaya Toure - Ivory Coast

Yaya Toure has been something of a dead ball master this season. His free kicks have been well publicised and praised, and rightly so, but his conversation from the penalty spot has been equally superb. He scored all six penalties handed to him for Manchester City last season, each with power and placement and the Ivory Coast can count on him should it be needed. From 12 yards or 25, Toure always looks certain to find the back of the net from a set piece.

GETTY IMAGES

4/9 Lionel Messi - Argentina

Argentina will be looking to Lionel Messi if they want to win the World Cup on the soil of their great rivals - and that includes when it comes to penalties. The little magician scored three during qualification and rarely misses when he takes them for Barcelona either.

GETTY IMAGES

5/9 Cristiano Ronaldo - Portugal

Among CR7's many, many talents is the ability to fire home a penalty as good as anyone out there. Along with his six successful spot kicks throughout Real Madrid's season, Ronaldo also completed the scoring from 12 yards in their Champions League final victory over Atletico. He is, of course, no stranger to England fans when it comes to penalties either. He netted during the Euro 2004 quarter-final shootout between Portugal and the Three Lions and did so again two years later at the World Cup. Ronaldo needs no second invitation to get his name on the score sheet and a penalty kick is just bread and butter to him.

GETTY IMAGES

6/9 Robin van Persie - Netherlands

RVP may have fallen behind Wayne Rooney in the pecking order of penalty takers at Manchester United but the Dutchman hasn't lost any of his accuracy from the spot. During his Arsenal days, Van Persie smashed home spot-kicks for fun and has done the same for his country ever since. Of his eleven goals in qualifying, two came from the spot and he slotted in another brace in the league last season. He hasn't missed one since November, his last wayward effort being against Real Sociedad in the Champions League group stage.

GETTY IMAGES

7/9 Mesut Ozil - Germany

Truth be told, this could be virtually any German player really but Mesut Ozil seems to get the honour more times than his team-mates. He has missed a couple of high profile spot kicks for Arsenal this season but those will just spur him on to convert should it be needed in the World Cup. Philipp Lahm, Thomas Muller and Miroslav Klose would all have a good case to take a German penalty, among others of course, but Ozil has been their main man for several years now. He smashed in all three of Germany's penalties during qualifying and will be the man with the responsibility in Brazil.

GETTY IMAGES

8/9 Eden Hazard - Belgium

In Belgium's star studded line up for this World Cup, Eden Hazard is their brightest. Among his considerable attributes is his ability from the penalty spot. Last season, he slotted in four in the Premier League, Belgium's sole spot kick in qualifying and a vital away penalty against PSG in the Champions League quarter-final which helped set up victory in the return leg. Many have tipped Belgium as their outside vote for the World Cup title and should they need a penalty shootout to secure it along the way, Hazard is as sure as anyone from 12 yards.

GETTY IMAGES

9/9 Franck Ribery - France

Bayern Munich winger Franck Ribery will be the man handed the honours if France need the ball smashing in from 12 yards. He notched one during the qualification campaign and is among those to share the duties at his club. Having felt hard done by to be overlooked for the Ballon d'Or in January, few players will be more determined to prove their ability than the Frenchman, and one or two from the spot wouldn't do his case any harm.

GETTY IMAGES
If assigned Victor Carrillo of Peru it could be a nightmare or a blessing as he's the least shy of pointing to the spot. In his 75 international matches he's given 31 penalties at an average of 0.41 a game.
Good selections for England would be Nicola Rizzola or Pedro Proenca. Both have taken charge of England on three occasions and England are undefeated in all of them. The Three Lions emerged unbeaten against France, Switzerland and Netherlands when officiated by Italian Rizzola, while Proenca of Portugal officiated games against Brazil, Italy and Ukraine.
It would appear the referees selected to officiate the tournament, which includes the Premier League's Howard Webb, include a few who will be prepared for whatever the tournament can throw at them. 
Japanese official Yuichi Nishimura caused such dismay in a game refereed in Congo that fans went looking for post-match vengeance. Unfortunately, a lack of racial understanding from the Congolese saw supporters get their revenge by vandalising Chinese restaurants after the game.
In a domestic Turkish league game, the aforementioned Cakir was beaten up by a goalkeeper, Proenca was headbutted by an unidentified assailant while shopping in Lisbon and Chilean official Enrique Osses also felt a goalkeeper's wrath, by being knocked out in a Chilean Premier League match.