Adidas have withdrawn a series of T-shirts, one of which carried the slogan 'Looking to score?', after complaints from the organisers of the 2014 World Cup in Brazil.
The German sportswear brand are among the chief sponsors of this summer's tournament and are producing various merchandise, including the official ball.
One of their ranges was a series of T-shirts which have been accused of sexualising the host country's image.
One had images of scantily clad women with the slogan 'Looking to score?'. Another had 'I love Brazil' along with a heart shaped liked a bikini-clad bottom.
Brazil have been eager to stay away from linking Brazil's image with sex appeal, and the tourism board criticised the range from Adidas.
"Such an attitude indirectly contributes to committing crimes such as sexual child and adolescent exploitation," said the tourism ministry in Brazil.
Brazil president Dilma Rousseff also appeared to enter the debate, tweeting that while Brazil welcomes visitors to the World Cup, her country is ready to fight sexual tourism.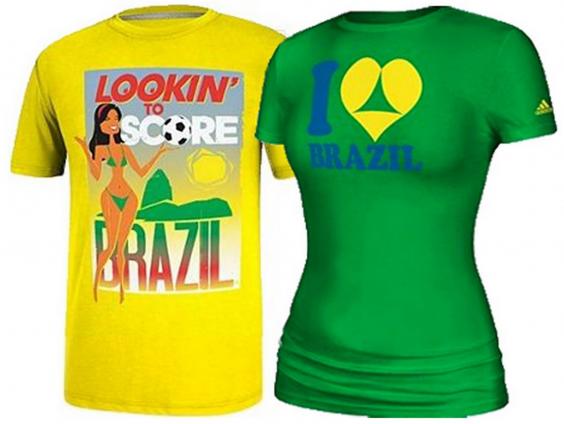 The T-shirts, which were a limited edition range meant for sale in the US, have now been withdrawn.
"Adidas always pays close attention to the opinion of its consumers and partners," a statement read.
"Therefore, it is announcing that these products will not be sold anymore."