Although the image of Chris Waddle blazing his penalty into the Turin night while "Nessun Dorma" played over the closing credits will be forever imprinted into English minds, it is far from the most painful penalty taken at a World Cup.
The price of Roberto Baggio and David Trezeguet's misses was the trophy itself, while when Asamoah Gyan struck his in Johannesburg four years ago, the sound of ball hitting bar could be heard right across Africa.
Like so many who fail from a dozen yards, Gyan changed his mind at the last minute. He was going to put it to Fernando Muslera's right but saw the keeper move fractionally in the same direction.
Gyan hit it straight but too high. At that moment, Luis Suarez, who deep into stoppage time had handled Gyan's shot on the line, was transformed from a figure crying on the touchline to a Uruguayan national hero.
Tomorrow, against the United States in Natal, Ghana face their first World Cup finals game since that night, when the brief dream of an African nation winning the World Cup in the first tournament Africa had ever staged flickered and died.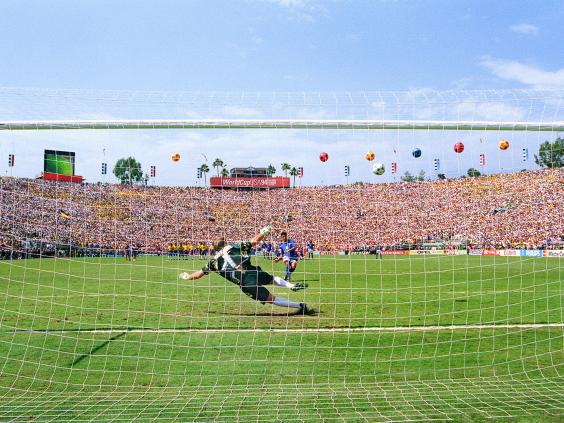 African football made a soggy start to this tournament by the rainswept beaches of Natal. Cameroon became the first African nation to reach a quarter-final in 1990 but have performed humiliatingly badly ever since.
They began with Samuel Eto'o issuing a statement as to why the Cameroon players had refused to meet the country's president, Philémon Yang, or board their plane to Brazil until they were given an extra $10,300 (£6,000) each.
"We hope that those who were offended by our insistence will be able to forgive it," the Chelsea striker said in a statement. Those watching them from the nation's capital, Yaoundé, would find it hard to forgive a shoddy display against Mexico that has gone a long way to ensuring that Eto'o and his team will be boarding a plane back to Cameroon rather more promptly than they took the outbound flight.
While Ghana face an American side they knocked out of the previous two World Cups, Ivory Coast began their latest fling in the tournament in the small hours of Sunday morning. Like Cameroon, ability has not been matched by results. They may be impressively skippered by Yaya Touré but this is a man who is reportedly seeking a transfer from Manchester City because he was not wished a happy birthday.
The draw has not been kind to Ghana, although they will play all three of their group games amid the heat and humidity of the Brazilian north-east. Their final warm-up match was a 4-0 destruction of South Korea in Miami that echoed the 6-1 demolition of Egypt that confirmed their passage to Brazil.
It is 40 years since the first nation from sub-Saharan Africa qualified for a World Cup finals, and in 1974 Zaire confirmed every known prejudice. Seen as the personal plaything of the country's despotic president, Joseph-Désiré Mobutu, they arrived in West Germany in a specially chartered Boeing 747, where they were served Courvoisier cognac and Cuban cigars.
Later, after a 9-0 thrashing by Yugoslavia, the players were informed by Mobutu's representatives that they were "scum and sons of whores" and if they lost their last match, against Brazil, by more than three goals "they would never see their families again" (they squeaked in, losing 3-0). The Zaire players had been promised $20,000 (£12,000), a house and a car but, when they returned to Kinshasa, all they were given were their lives.
Money is still an issue in African football. Nigeria, who arrived late to the Confederations Cup last year because of rows over payments, had similar arguments before setting up base in Campinas, 62 miles north of Sao Paulo, where the mothers of three high-profile Brazilian footballers – Grafite, Luis Fabiano and Rogerio – were kidnapped .
Nigeria should be one of the great powers of world football. In 1994 and 1998 they topped their World Cup groups in the United States and France and won gold in the 1996 Atlanta Olympics. Yet they have never made a quarter-final.
Money, stability and internal rows have long been a cancer which their manager, Stephen Keshi, has moved to address. Keshi, known in Lagos as "Big Boss", is a strong man, who has won the Africa Cup of Nations as both player and manager, and in charge of Nigeria he needs to be.
After winning the Africa Cup of Nations Keshi resigned, alleging that the Nigerian Football Federation had actually booked flights back home before they played their quarter-final against Ivory Coast. He withdrew his resignation a day later but used it as a bargaining tool to ensure his team were given business-class travel and a properly equipped training camp in the United States.
He also addressed head-on the disunity that has so often dragged Nigeria down. He ordered John Obi Mikel and Emmanuel Emenike to sit down in front of the team and thrash out their differences after a long-running feud between the Chelsea midfielder and the Fenerbahce striker spilled into the open during their friendly with Greece. Keshi then asked any other players who had complaints to speak up now rather than let it fester when they reached Brazil.
The $100,000 (£60,000) bonus for winning the World Cup – an eighth of what Spain were awarded four years ago – may seem pretty notional, but Nigeria have an easier passage than Ghana, who face Germany and Portugal. Their group includes Bosnia and Iran.
But Nigeria were given a pretty straightforward route to the last 16 in South Africa and failed to win a single match. The Nigerian Football Federation responded by firing the manager, Lars Lagerback, and suspending the team from international competition, the kind of response Mobutu would have admired.
World Cup 2014: The 10 best players featuring in their final tournament
World Cup 2014: The 10 best players featuring in their final tournament
1/10 Didier Drogba

Drogba may have turned 36-years-old in March but the Chelsea legend hasn't lost any of his desire. He's had a mixed year in Turkey with Galatasaray and looks likely to be on move before next season and any side would benefit from his power, presence and goals. He is still the heartbeat and inspiration of the Ivory Coast team and will win his 100th cap in their first game against Japan on June 15. Not only is he the captain but also his country's leading goal scorer, with 63, and if any African nation ever had a realistic shot of going deep into a World Cup tournament, then it's Drogba's Elephants this time around.

GETTY IMAGES

2/10 Samuel Eto'o

Much like the Ivory Coast and Dider Drogba, another Africa country will lose one of their greats in the coming years. Cameroon's Samuel Eto'o may well have just one last World Cup campaign in him, especially given that his country's chances of qualification are not always assured. During his first season with Chelsea last year, he notched nine goals in 21 league games and doesn't go into the tournament in the greatest of from. Regardless, Eto'o is pretty much Cameroon's only star player and, like Drogba, is his nation's captain and leading all time goal scorer. But, sadly, playing against Brazil on June 23 is likely to be the 33-year-old's only highlight this summer and the career of the African legend could well come to an end at the group stage.

GETTY IMAGES

3/10 Xavi and co

Whether or not Spain make it two World Cups on the bounce, many of their stars look likely to bow out after Brazil. Xavi (34), Iker Casillas (33), David Villa (32), Xabi Alonso (32) and to an extent Andrea Iniesta and Fernando Torres (both 30) all have plenty of Spanish silverware in their respective cupboards but this summer may well be the last time they have the chance of add to it. Reigning world champions, Xavi and his tiki-taka teammates will want to show the world again that their way of playing football is still the best.

GETTY IMAGES

4/10 Julio Cesar

The conundrum of the Brazilian goalkeeper had foxed the world for years before Cesar came along and nailed down the position. But, after his relegation with QPR and a loan spell treading water with Toronto in the MLS, his confidence and form has been dented dramatically. He'll be number one in goal, no doubt of that, but if the host nation do have any chinks in their armour, the goalkeeper position is certainly up there. Cesar will have his say though, and at 34-year-old, it'll be his final say on the biggest international stage. Having said that, lifting the World Cup on his own soil would be quite a way to bow out.

GETTY IMAGES

5/10 Miroslav Klose

The German needs just two more goals to become the leading World Cup goal scoring of all-time, taking him past Ronaldo's 15 for Brazil. Klose will turn 36-years-old shortly before his country's first game with Portugal on June 16 and the marksmen will want to be on top form for the tournament. After his scoring for club side Lazio dipped last season, many were a touch surprised that he was still included in the Germany squad but not many players have World Cup pedigree and experience quite like Klose.

GETTY IMAGES

6/10 Ginuigi Buffon and Andrea Pirlo

England will face two old foes from the 2012 European Championships as they play Italy's Buffon and Pirlo on June 14. This summer's tournament will be the last time the world sees the two greats on the biggest stage. Buffon, 36, and Pirlo, 35, will notch over 250 appearances between them over the course of the World Cup and replacing these two is something any country across the globe would hate to have to do. Both plying their trade a Juventus, the pair will be the back bone of Italy's challenge for the title.

GETTY IMAGES

7/10 Giorgos Karagounis

The Fulham faithful have enjoyed having Greece's captain in the ranks over the past two season, even if he was unable to help them avoid relegation. As the leading appearance maker for his country, Karagounis will provide all his experience and knowledge in abundance and given their slightly favourable group, the Greeks will want to give this World Cup a good go and give a better showing of themselves than that of four years ago. Their captain and leader will be at the heart of anything good they do.

GETTY IMAGES

8/10 Diego Forlan

Forlan might have disappeared off the domestic club map but he is always a threat at major tournaments. The 35-year-old has 108 caps for Uruguay, the most for the country, but is now playing his club football for lowly Japanese side Cerezo Osaka. Never the less, the former Manchester United striker will want to continue his superb World Cup record. He scored five goals in the 2010 tournament, the joint highest, and trails Luis Suarez by just two goals on his country's list of all time top scorers.

GETTY IMAGES

9/10 Steven Gerrard and Frank Lampard

Among those christened the 'Golden Generation' earlier in their careers, both Lampard and Gerrard have now lost that weight of expectation from their shoulders and will have a tough decision on whether to prolong their England careers after Brazil. The pair are infamous for the debate over why they can't play well together but as England's most capped players, their country will need that experience in the camp. With well over 200 caps between them, both will be eager for one last crack at the World Cup nut and lay some demons of the past to rest. While Gerrard will captain and start every game, Lampard's inclusion in the team is far more uncertain but, either way, this World Cup will be a fitting way for two England's finest servants to, perhaps, call it a day.

GETTY IMAGES

10/10 Mario Yepes

One player we definitely won't be seeing at a World Cup again is 38-year-old Colombian defender Mario Yepes. With close to 100 caps for his country, the centre-back will surely call time on his international career after this summer but he will still captain his side for their first match with Greece on June 14. Despite his 15 year career for Colombia, Yepes has never played in a World Cup and his superb service to his country will finally be rewarded this summer.

GETTY IMAGES
"You can tell they did not have the desire," said Keshi. "They were not ready to fight and die for their country." Then, he was speaking from the commentary box. Tomorrow, against Iran, he will see what effect his words have when delivered from the dressing room.
Reuse content