When it comes to penalties at this World Cup, the one scored by Neymar that features most often on Brazilian television is the spot-kick he tucks away in an advert for the Claro mobile phone network, broadcast in just about every commercial break since the tournament began. That penalty segues into him cheerfully dribbling around a group of delighted schoolchildren before delivering the sponsor's message to camera.
Put simply, the country's No 10 is everywhere in Brazil. From Nike billboards, all the way to the television commercial for the Guarana Antarctica drink, in which even Luiz Felipe Scolari sends himself up for the benefit of the team's star. Neymar is on the cover of the current Brazilian edition of Vogue, along with his compatriot, the model Gisele Bündchen. His team-mate Hulk has had to make do with front-page billing on Men's Health.
The stakes could not really be any higher. The best-paid Brazilian footballer in the history of the domestic game, and now worldwide, he and his father, Neymar Senior, have been unabashed in realising the boy wonder's value ever since his early teens at Santos. Come 3.50pm on Saturday he was faced with the age-old question: could he deliver in a penalty shoot-out, under intense pressure, with the fifth spot-kick of five?
"Neymar is a straightforward lad and he likes playing football," Scolari said. "So when he goes to take that penalty it's like he's playing in Santos with his friends. Like he's having a kickabout with his mates." We knew what he was trying to do, but no one in that stadium believed it was anything other than the most pressured moment of his young career.
Brazil 1 Chile 1 (Brazil win 3-2 on penalties) player ratings
Brazil 1 Chile 1 (Brazil win 3-2 on penalties) player ratings
1/22 Julio Cesar

Had precious little to do in the first half but stood up firm when challenged more often in the second period. Made an emphatic save from Charles Aranguiz after 64 minutes. Made several great saves in the shoot-out! 7

Getty Images

2/22 Dani Alves

Was regularly berated by Luis Felipe Scolari for failing to track back after losing possession. Was tricky to deal with upfront but poor at the back. 6

Getty Images

3/22 Marcelo

Like Dani Alves, Marcelo was more of an attacking threat that a beacon of defensive solidity. 6

Getty Images

4/22 Thiago Silva

Was typically emphatic in the air but struggled to make an impact going forward. The obvious, but only exception, was his flick onto David Luiz for the PSG-bound defender's early goal. 7

Getty Images

5/22 David Luiz

The most passionate man on the pitch, David Luiz wore his heart on his sleeve. Occasionally getting too wrapped up in his emptions, though, he'll need to control his temperament in future. 6

Getty Images

6/22 Fernandinho

Taken off towards the end, this was a decent if unremarkable display from the Manchester City ace. 6

Getty Images

7/22 Luiz Gustavo

Does the unglamorous job of mopping up after his teammates' mistakes but, with their relaxed attitude to keeping possession, this is an invaluable role. 7

Getty Images

8/22 Hulk

A constant menace throughout, gliding through the Chilean defence with relative ease, but will perhaps only be remembered for the poor pass which lead to Alexis Sanchez's equaliser. 6.5

Getty Images

9/22 Oscar

Had a quiet afternoon and, with his reputation climbing an ever steepening gradient, the Chelsea man will have expected to do more today. 6

Getty Images

10/22 Neymar

Carried a nation's hopes on his shoulders with relative ease. Worried the Brazilian faithful with an early injury but kept running until the very end. 7

Getty Images

11/22 Fred

Ineffectual for large periods, like he has been for much of this World Cup, Fred showed little desire to make chances out of nothing. Expected his teammates to do the work. 5

Getty Images

12/22 Claudio Bravo

Will have been expecting a far busier afternoon but, thanks to his defence, was well protected all game long. 6.5

Getty images

13/22 Eugenio Mena

Despite being foolishly booked in the early exchanges, earning himself a one game ban, Eugenio Mena was a rock at the heart of the Chilean defence. Heading every ball, blocking every shot and tackling any Brazilian which dared stray too close – this was a masterful defensive display. 8

Getty images

14/22 Gonzalo Jara

A thoroughly impressive shift at the back of Chile's system. While many question his inclusion in their squad, Gonzalo Jara continues to prove his doubters wrong. 7

Getty images

15/22 Gary Medel

Nicknamed the 'Pitbull', Cardiff City's midfield general raced across the central areas with a canine desire to chase the ball. Delivered an effective performance. 7

Getty images

16/22 Mauricio Isla

Galloped forward at any opportunity with a performance which defined a breathless first half. Became more defensively minded in the second period but his work-rate was unrivalled. 7

Getty images

17/22 Francisco Silva

Perched just in front of the Chilean defence, Francisco Silva's job was simple and he made it look so. Dealt with the threats of Hulk and Neymar with an effortless swagger. 7.5

Getty images

18/22 Marcelo Diaz

Remaining composed in the midst of a packed Chilean midfield, when Brazil relentlessly piled on the pressure, Marcelo Diaz is the reason the hosts were contained for so long. 7.5

Getty images

19/22 Arturo Vidal

It is no surprise that Arturo Vidal has been linked with a £44million move to Manchester United of late. Kept possession well but his tackles had a worrying bite to them. Could have been dismissed on more than one occasion. 7

Getty images

20/22 Charles Aranguiz

A thorn in every Brazilian defender's side, Charles Aranguiz was regularly seen racing down the flanks with menace. A peerless display. 8

Getty images

21/22 Alexis Sanchez

Played the role of controller for much of this tie. Ran the midfield single-handedly and drove his side forward along with him. Deserved his goal and more. 8

Getty images

22/22 Eduardo Vargas

Not as threatening as his colleagues but still put in an admirable shift. 6

Getty images
Miss that last spot-kick and, had Brazil been eliminated, the mood would have changed considerably for Neymar Junior. He may yet win league titles and Champions Leagues with Barcelona, but he will never play in another World Cup in Brazil. That he scored, and his team won, only continues the narrative that the boy-prince of Brazilian football is capable of delivering his country its first World Cup on home soil.
For now, there are concerns about Neymar's fitness after what Scolari and many in Brazil considered Chile's targeting of the player. Scolari complained that Neymar had played 75 minutes of the game with an injured thigh and the Brazil bench was furious that the referee Howard Webb did not penalise Arturo Vidal for a challenge that sent their star player toppling headfirst to the ground. In fact, Neymar made the most of it.
The way Colombia approach the Neymar threat is likely to become a theme in the next few days as Brazil build up to the quarter-final against their fellow South Americans on Friday in Fortaleza. In Neymar's early days as a footballer one of his coaches at Santos, Wanderlei Luxembourgo, hit upon a nice turn of phrase to describe his young player's physique. He called him a "file de Borboleta", a "butterfly fillet" or, to put it another way, there was not much meat on him at all.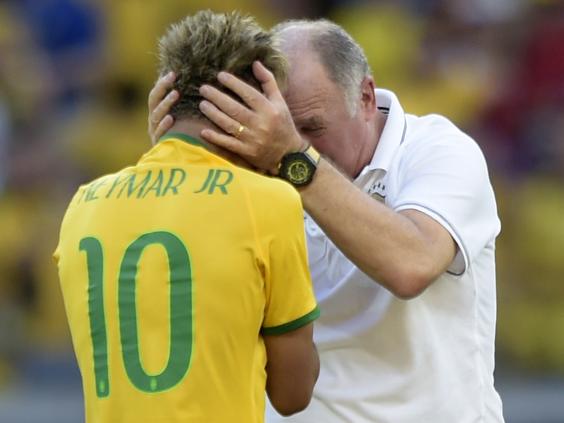 In that respect, Neymar is the purist's player. He is no weakling but his success is largely dependent on technique, guile and pace rather than being able to fall back upon any great physical strength – either natural or developed. All bony elbows and knees, he still resembles the adolescent prodigy for whom the seniors' kit is a size too big. How referees reward him with decisions on Friday, and potentially beyond, will be crucial to Brazil's progress.
The biography Planet Neymar, by the Brazilian journalist Paulo Vinicius Coelho, is a fairly sympathetic work but offers clear-eyed analysis of the ambition and self-belief that have fuelled his career. Even before his transfer to Barcelona and the ensuing scandal that ended the club presidency of Sandro Rosell, Neymar and his father, a former professional footballer himself, were unafraid to realise the player's value.
According to Coelho, when Neymar Junior was just 13, and with Real Madrid eager to sign him, Santos guaranteed the boy and his father two million Brazilian reals (£530,000) payable in four instalments up to the age of 19, a monthly salary of 16,000 reals and a penthouse near the Vila Belmiro stadium. His team-mates in the club's youth teams earned 170 reals a month.
As with that deal, Neymar's sponsors will meet their obligations to him whether he wins the World Cup for Brazil or not. The expectation is, naturally, that he will one day challenge the status of the world's two leading players, Lionel Messi and Cristiano Ronaldo. His record of 35 goals for Brazil in 53 caps is phenomenal. He scored his 100th professional goal on his 20th birthday. Ronaldo had 28 goals for club and country at the same age.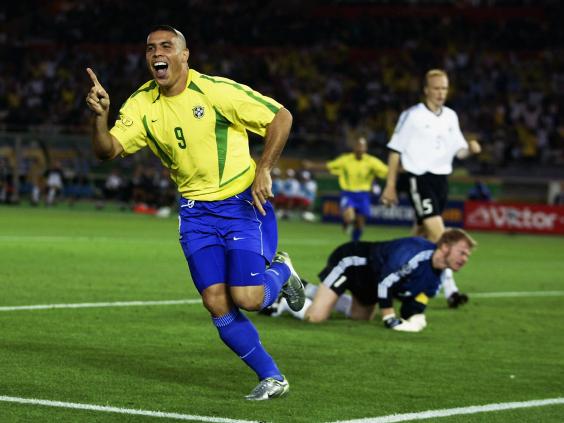 There is scope for debate over the relative merits of playing domestic football in Brazil, which Neymar finally left last summer for Barcelona, and the European leagues. What is not in doubt is that Neymar's career has had an extraordinary start. Messi turned 22 during his first prolific season at Barcelona but by then he had not scored anything like the number of goals for Argentina that Neymar has for Brazil. Now, at 27, Messi only has seven more international goals than the younger man.
In Planet Neymar, Coelho tells an intriguing story about the power Neymar wielded at Santos even at the tender age of 18. It also gives a clue as to why his penalty on Saturday was, for those Brazil fans who have followed his career, not a foregone conclusion.
In a league game in 2010, Neymar's then manager at Santos, Dorival Junior, had forbidden the player from taking a penalty because of what Coelho described as a "poor recent record, most caused by badly executed Panenkas and stutter-steps". Neymar swore at his manager, a row ensued and Dorival insisted to the club president that the player be banned.
Neymar was suspended for one game. "It was Dorival who ended up being dropped," Coelho writes, "and for a distinctly determined amount of time: for ever. He was fired."
Reuse content