Former Football Association chairman David Bernstein sees no end to England's under-performance in major tournaments.
Roy Hodgson's side were knocked out of the World Cup at the group stage after managing just a single point from their three games in Brazil.
Bernstein's successor Greg Dyke has come under fire from former England midfielder Paul Scholes, who claimed England will be "lucky to qualify" for the 2022 tournament in which Dyke has targeted victory.
And Bernstein told the Daily Telegraph: "We've been knocked out of the World Cup again and this compounds 40 years of under-performance. We've had different managers, different players and, by and large, the same results.
"Is there a connection between that and governance-structure issues? Of course there is. As in any organisation, if you're not right at the top, the rest won't be right."
England man for man marking
England man for man marking
1/23 Joe Hart

No chance with any of the goals conceded and no clangers. Yet did not look assured at the start of the Italy game. Strangely hyper pre-match. 5.5/10

Getty Images

2/23 Glen Johnson

Never looked comfortable. Offered very little going forward. One of group of players whose best moments during the Premier League season seemed beyond them. 3

Getty Images

3/23 Leighton Baines

Looked vulnerable, especially against Italy when he was not offered much cover by Rooney. Stopped from getting forward as much as he does for Everton. 3

GETTY IMAGES

4/23 Steven Gerrard

Never hid but looked overrun at times in midfield. Unable to prevent Andrea Pirlo dominating the Italy game. Struggled to influence games as he can. 5

Getty Images

5/23 Gary Cahill

England's best defender, but that is not saying much. Will be haunted by losing Mario Balotelli for Italy's winner. Otherwise (and it's a big "otherwise") solid. 6

6/23 Phil Jagielka

Good clearing header off the line against Italy. The flip side was losing Luis Suarez for the first of his two goals. Looked vulnerable. 5

Getty Images

7/23 Jack Wilshere

Best moments came in the first half of his only start, against Costa Rica. Still coming back from injury and does not look fully fit. 5.5

8/23 Frank Lampard

Difficult one. Only played against Costa Rica and was steady. Not called upon otherwise. Brought along to bring experience to group. 5.5

9/23 Daniel Sturridge

Scored against Italy and got himself in positions to score in two other games. But missed too many chances, especially against Costa Rica. 6

GETTY IMAGES

10/23 Wayne Rooney

Two starts, two different positions. Tried hard, and scored against Uruguay (below). Relative to what is expected of him though, disappointing. 6

Getty Images

11/23 Danny Welbeck

Hard worker against Italy, his best performance. Disappeared against Uruguay. In danger of being overtaken by younger players. 5.5

Getty Images

12/23 Chris Smalling

Strong and athletic but just not comfortable enough on the ball in his one start against Costa Rica. Much to prove at international level. 4.5

13/23 Ben Foster

No chance with any of the goals conceded and no clangers. Yet did not look assured at the start of the Italy game. Strangely hyper pre-match. 5.5/10

Getty Images

14/23 Jordan Henderson

Often overrun alongside Gerrard. There is potential there at international level but he seemed unable to exert a grip on his two games. 5.5

Getty Images

15/23 Alex Oxlade-Chamberlain

Did not play. N/A

Ben Stansall | AFP | Getty Images

16/23 Phil Jones

Almost three years since his full debut at right-back against Montenegro, it felt like he had regressed against Costa Rica. Nervous and untidy in possession. 3

17/23 James Milner

He drifted through his one game against Costa Rica. Did not have the same effect on games he managed for his club at times last season. 5

18/23 Rickie Lambert

Difficult to judge. Given only three minutes at the end of the game against Uruguay. A frustrating tournament for him, especially not featuring against Costa Rica. 4.5

Getty Images

19/23 Raheem Sterling

The English performance of the tournament against Italy (pictured). Struggled to do the same when moved to the wing against Uruguay and as a sub against Costa Rica. Nevertheless, one of the few successes. 6.5

Getty Images

20/23 Adam Lallana

Two substitute performances, and a start against Costa Rica, but none of the sparkling moments that have made him stand out for his club. 5.5

Reuters

21/23 Ross Barkley

Some moments of staggering naïvety but, relatively speaking, a good tournament for a 20-year-old rookie. Needs time to mature, but potential is there. 6

22/23 Fraser Forster

Did not play N/A

Getty

23/23 Luke Shaw

Impressive against Costa Rica, his one game of the tournament. Great potential but requires patience. Will make mistakes along the way. 6

PA
Bernstein blamed the influence and wealth of the Premier League for the FA's difficulties.
"The Premier League has £3billion-£4billion of income and is a fantastic product, nobody disputes that," he said. "The FA has £300million, less than one tenth of the income. So it's outgunned financially.
"The Premier League exercises considerable influence over the game and over the FA. It has strong representation on the FA board.
"The FA council is outmoded and sits below a very obscure shareholder structure. It drives what is a very good FA executive crazy. They feel they're being smothered by a blanket.
"The FA is not capable, in my view, of self-reform and without change, we will continue with this disappointing cycle. Real progress is not possible. It will need legislation or a regulator imposed to make the changes."
Dyke's England Commission has proposed a reform plan for the national game, including inserting a B-team league in the football pyramid, in a bid for long-term success.
His targets are for England to reach the Euro 2020 semi-finals and aim for World Cup glory two years later.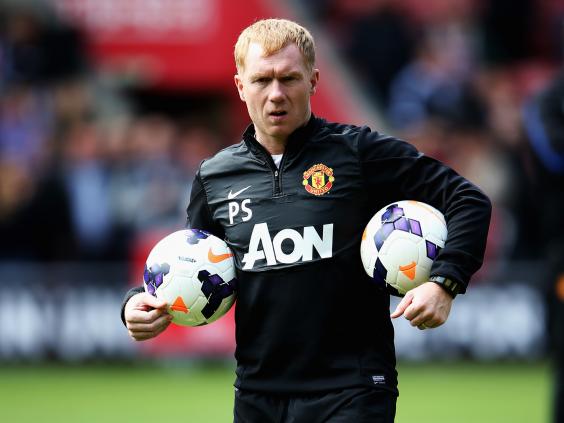 But Scholes wrote in his blog for Paddy Power: "Greg Dyke, the chairman of the Football Association, believes that proposed changes to the league system could help England win the World Cup in 2022.
"From what I've seen at this World Cup, we'll be lucky to qualify. I fear England are going the way of the Republic of Ireland, Wales and Scotland.
"England can take some positives. Raheem Sterling, Daniel Sturridge and Ross Barkley, even though he didn't start the first two games, are a sign of the future - fast, intelligent footballers. But otherwise I'm struggling."
Dyke's B-league plan is aimed at increasing the number of English players starting for Premier League sides, with only 32 per cent of starters in the 2012-13 Premier League season qualified to play for England according to the commission's report.
Former Manchester United star Scholes acknowledges that is a major issue to be addressed and feels the inflated prices paid for English players - citing his former club's reported £34million move for Southampton full-back Luke Shaw - have led to a glut of "average" imports.
"Compared to La Liga and the Bundesliga, English players are not getting enough first-team time in the Premier League," said Scholes.
"We're going backwards from 1990 and the era of Paul Gascoigne and that conveyor belt of talent. Simply, the Premier League is riddled with average foreign players. This is having a detrimental effect on the opportunities for young English talent and our international results.
"Players as talented as David Silva, Robin van Persie, Sergio Aguero and Eden Hazard only make the Premier League stronger. But it seems the Premier League is known as a market for average players (or their agents) to say: 'I'll go to England and they'll pay me stupid money to play'.
"The proposed £34m transfer for Luke Shaw to United is another example of something which has a bad long-term impact. Clubs are priced out of this market which is why they go abroad for cheap options. For a left back to be worth £34m shows how silly the game has gone."
Reuse content