The Italy squad arrived in Rio de Janeiro this morning, disembarking from their Alitalia jet just as one would expect, in Armani suits and discreetly expensive sunglasses. On the flight with them were their wives and children; the kind of arrangements that would have prompted a flurry of handwringing had it been the England squad.
Remarkably, the Italian WAG cavalcade will be staying at the team hotel; an unusual arrangement that is one part tournament training camp, one part Center Parcs family holiday. If it goes wrong, and England beat Italy in Manaus a week Saturday then it might not look quite so clever but, as with all tournaments, it is a case of each country doing what it thinks best and hoping it all works out.
So it goes at a World Cup when the best intentions can go awry, although there is undeniably a positive and relaxed mood in the England squad. The manager, Roy Hodgson, joked that instead of his wife reminding him to behave his age, now he had the psychiatrist Steve Peters doing the same. "I'm always irritable, it's in my nature," he said. "Steve Peters is always telling me I should respect my age."
But he said it with a smile and, should they come through Saturday's match against Honduras without any more injuries, the Miami camp will be looked back upon fondly. The squad will fly immediately after the game and arrive in Rio de Janeiro tomorrow morning, when the World Cup will begin in earnest.
The England players were back at their Barry University base in the north of Miami for the last time today, working in temperatures that had most scurrying for some shade. The players were at last permitted to strip off the layers they have previously used to replicate the brutal conditions that they will face in Manaus. The clouds have lifted over Hodgson's World Cup preparations and he finally has the conditions he hoped for.
In this part of the world, the England players barely merit a backward glance from the locals. There were no interested bystanders trying to peek over the fences at the stadium, ordinarily used by the university's women's soccer teams. Similarly, their hotel in Brickell Key in the city has been untroubled by the usual hordes of hangers-on in the lobby. England will leave the United States on Saturday night and fly into a country building itself up into a fervour.
Glenn Moore's 10 to watch: Young players with the flair to get Brazil dancing to their tune
Glenn Moore's 10 to watch: Young players with the flair to get Brazil dancing to their tune
1/10 Raheem Sterling - England

Of all Roy Hodgson's young guns, Liverpool's 19-year-old is most likely to light up the finals. Very, very quick, mature in his movement and able to play anywhere across the front line, Sterling can shine.

EPA

2/10 Paul Pogba - France

Prospered hugely since quitting Old Trafford in 2012, winning two Serie A titles with Juventus and leading France to the U20 world title. Now 21, "Paul the Octopus", is a key figure in the senior team.

Reuters

3/10 Marco Verratti - Italy

Playmaker at Paris Saint-Germain who sealed a squad place with his display against Ireland last week. Andrea Pirlo's understudy, but given the conditions the 21-year-old should get some playing time.

Getty Images

4/10 Son Heung-min - South Korea

Known as the "Sonsation", the 21-year-old has had four seasons in the Bundesliga, latterly with Bayer Leverkusen, developing into a dangerous left-sided striker who can also play as a lone forward.

Getty Images

5/10 William Carvalho - Portugal

This has been the Angolan-born holding midfielder's breakthrough year with Sporting Lisbon. Given his debut in the play-off against Sweden – against Zlatan Ibrahimovic. Age 22.

EPA

6/10 James Rodriguez - Colombia

The man most likely to compensate for the loss of Radamel Falcao. Monaco's 22-year-old attacking midfielder is regarded as the creative heir to Carlos Valderrama (without the hair).

Getty Images

7/10 Serge Aurier - Ivory Coast

Born in Africa and brought up in France, where he plays for Toulouse, but probably not for much longer. Aged 21, can play right-back, central defence or wing-back. Bacary Sagna's replacement at Arsenal?

Getty Images

8/10 Kenneth Omeruo - Nigeria

Defender or holding midfielder familiar to Middlesbrough fans after being loaned from Chelsea. Powerful, quick and composed, the 20-year-old will hope to impress Jose Mourinho against Argentina.

Reuters

9/10 Granit Xhaka - Switzerland

Likened by Switzerland's ex-Bayern Munich coach Ottmar Hitzfeld to a young Bastian Schweinsteiger. One of the many immigrant sons who have breathed life into the Swiss national team, his family are Albanian-Kosovan. Age 21.

Getty Images

10/10 Divock Origi - Belgium

Quick, strong and skilful Lille striker. Much coveted (by Arsenal and Liverpool). Made Belgium debut last month, aged 19, having chosen the country of his birth over Kenya, whom his father represented.

Getty Images
This is the last chance for Hodgson's players to give him something to think about before he picks his team for the Italy game but two players will be watching from the sidelines.
Alex Oxlade-Chamberlain continued his rehabilitation from his knee ligament strain, although there is a hopefulness about Hodgson that the player can play some part in the tournament. Raheem Sterling, sent off against Ecuador on Wednesday, is suspended.
Not that it rules him out of contention for the game against Italy; in fact, it was striking how much Hodgson threw the teenager into the conversation when it came to the team he will pick in Manaus. "I'm disappointed for him," Hodgson said. "He was going to start in this game [against Honduras]. When he got sent off that was a blow to my plans but it doesn't affect his chances of playing when the tournament starts.
"I don't think the red card was an ill-disciplined act. It was an over-exuberant, slightly reckless act. It was his desire to help us out of a difficult situation, using his incredible pace to reach Antonio Valencia. I doesn't make me worry about the discipline in the camp. I was impressed with Valencia's comments afterwards [The Manchester United winger apologised for his reaction to the tackle]. It was a reckless challenge and the referee was entitled to send him off, so it was strong of Valencia to do what he did [to apologise]."
Gerrard, who accompanied his young Liverpool team-mate down the tunnel when he was dismissed on Wednesday, shared the advice he gave Sterling when they sat together in the dressing room afterwards.
"He's very resilient," Gerrard said. "He was the best player in training this morning. Straight away after the incident I spoke to him in the dressing room and I said it was important he was the best player in training between then and next Saturday to put himself back in the frame for Italy, and he's done that."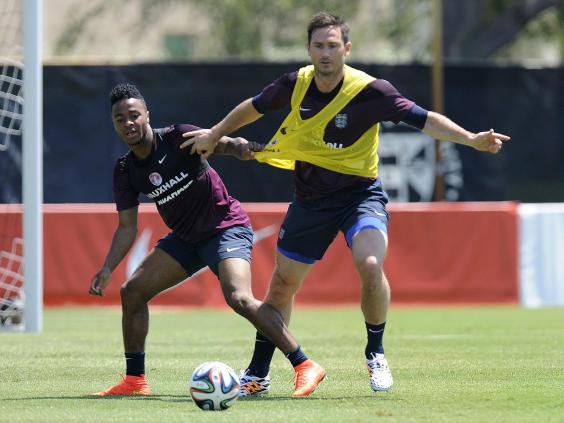 As for the team, the side that Hodgson picks will give us many pointers towards Italy, although he would not go on record as saying that this is as good as a dress rehearsal. He is well aware that the conditions in Brazil will mean that he has to use his substitutes carefully in order to preserve tired legs and also that he may not be able to play the same XI in all three games once fatigue takes a hold.
Yet even with Oxlade-Chamberlain's injury the team remains in the balance in the attacking areas with the likes of Danny Welbeck, Ross Barkley, Sterling, Wayne Rooney, Adam Lallana and James Milner all competing for three places; not to mention the competition between Jordan Henderson and Jack Wilshere for the spot alongside Gerrard.
"It gives you that headache all coaches say they want," Hodgson said. "You don't just have 11 players. You have players who are forcing their way into the team and will divide opinion. My favoured XI for Italy might divide opinion. That's good for a start. It'll give us enormous opportunities on the bench to change things around. It's going to be hot. Most teams won't be able to get through three 90-minute games with the same team.
"I have the opportunity to make changes. We've got impact players on this occasion. Oxlade-Chamberlain is an obvious example of an impact player. We've spoken a lot about Raheem, and it's a pity he can't play, and Ross Barkley another you could put in that category who could come on and make a big impact."
It is not perfect, but then what is? Italy lost their captain, Riccardo Montolivo, in a warm-up game, have not won a match since September and drew with Luxembourg this week. Imagine the reaction to an England squad travelling to a World Cup with that kind of record and the WAGs in the same hotel? As preparations go, Hodgson can give thanks for a relatively smooth ride so far.