Italy are hopeful that their goalkeeper Gianluigi Buffon and the defender Mattia De Sciglio will recover in time for Friday's Group D match against Costa Rica.
Both players missed the Azzurri's 2-1 triumph over England on Saturday with injuries. Buffon twisted his left ankle last Friday and was replaced by Salvatore Sirigu in goal.
"Gigi [Buffon] has had a specific trauma, which is not your usual sprained ankle," Italy's team doctor Enrico Castellacci said. "It has affected the knee but fortunately, the knee ligament is fine. His condition will be evaluated. He is having specific therapy and we will decide whether or not to do some x-rays. We will try to have him available as soon as possible.
"We are optimistic that he will have a speedy recovery but his health comes first. I cannot say if he will be able to make it for the game against Costa Rica. After the injury, Buffon told me he was relieved because for a moment he feared he may have to miss the World Cup."
England 1 Italy 2 player ratings
England 1 Italy 2 player ratings
1/22 Joe Hart

Didn't stand a chance for either goal, but almost at fault for another. 6/10

GETTY IMAGES

2/22 Glen Johnson

Never really exposed, but never entirely uncomfortable. 5

GETTY IMAGES

3/22 Gary Cahill

Partially at fault for both goals, and generally struggled with Balotelli. 5

GETTY IMAGES

4/22 Phil Jagielka

Sometimes caught out, but in the right place for Mario Balotelli's chip. 6

GETTY IMAGES

5/22 Leighton Baines

Repeatedly exposed and never got chance to display his attacking abilities, other than one superb slipped pass for Rooney. 5

GETTY IMAGES

6/22 Jordan Henderson

Putting him right beside Gerrard made England, and the player, look a little flat. 6

GETTY IMAGES

7/22 Steven Gerrard

Typically effective in attacks, less dependable when forced to defend. 6

GETTY IMAGES

8/22 Danny Welbeck

A productive showing that dismissed doubts over whether he should start. 7

GETTY IMAGES

9/22 Raheem Sterling

The player who best defined some of the new optimism around England. 8

GETTY IMAGES

10/22 Wayne Rooney

One fine assist, a lot of futile play. Poor. 5

GETTY IMAGES

11/22 Daniel Sturridge

A Gary Lineker-style finish to a cap a fine World Cup debut. 7

GETTY IMAGES

12/22 Salvatore Sirigu

Stepped in for the injured Gigi Buffon and then stepped up, making some excellent saves. 7/10

Getty Images

13/22 Matteo Darmian

A good performance, even if his pace wasn't as penetrative as usual. 7

Getty Images

14/22 Andrea Barzagli

So dependable, and perpetuating a fine line of Italian defenders. 8

Getty Images

15/22 Gabriel Paletta

The hair might be thinning, but the former Liverpool player made his own presence felt. 7

Getty Images

16/22 Giorgio Chiellini

Some cynical challenges, and still doesn't look entirely comfortably at left-back. 6

Getty Images

17/22 Claudio Marchisio

A brilliantly precise finish, a productive performance. 7

Getty Images

18/22 Daniele De Rossi

The necessary aggression amid so much Italian elegance. 7

Getty Images

19/22 Marco Verratti

Barely misplaced a ball, and played a key role in the first goal. 7

Getty Images

20/22 Antonio Candreva

An utterly exceptional cross for Balotelli's goal, and a surprise he was taken off. 7

Getty Images

21/22 Andrea Pirlo

The clever passes are too plentiful to remember, but the dummy for the opening goal impossible to forget. 7

Getty Images

22/22 Mario Balotelli

Frequently a threat, occasionally wasteful, but ultimately the match-winner. 7

Getty Images
De Sciglio, meanwhile, has a calf strain. "There is no date yet for his return," Castellacci said.
"Right now he is not in a condition to train with the rest of the squad because you cannot take risks when dealing with muscular injuries. Mattia was also concerned he might miss the World Cup but once he was reassured that he could play in Brazil, he smiled again."
Castellacci is hoping Fifa will allow time-outs for the players to drink water or fluids during the Italy's next two games, against Costa Rica and Uruguay, both of which will kick-off at 1pm local time.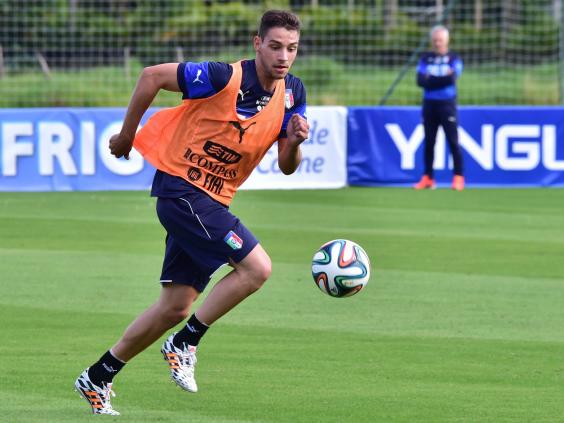 Italy and England played later and were not allowed any time-outs during Saturday's match. But both teams admitted after the game that the heat and humidity in Manaus had affected the players.
"It would have been good to have had a three-minute time-out during that game," Castellacci said. "Fortunately, we prepared well and none of our players had cramps.
"I hope that in Recife and Natal, where the conditions will be no better than in Manaus because of the times the games are scheduled, Fifa will reconsider. The criteria is that if the temperature is 32C or above then the time-out is almost automatic. However, what they don't consider is that with humidity above 70 to 80%, it feels three or four degrees warmer. With those conditions and in these type of games, one can lose two litres of sweat."
PA
Reuse content