I am sitting beside Zico, watching as he radiates the qualities of optimism and joie de vivre which made him one of the most adored Brazilian football players of all time in his own country. No matter that he never lifted the most precious trophy– his three World Cups, in 1978, 1982 and 1986 came to nothing – this man belonged to a team that delivered the sinuous joga bonito and that way of playing has always mattered as much as winning to Brazilians.
But it is at the end of this private audience at the Maracanã – the iconic stadium in Rio de Janeiro rebuilt for the World Cup which is about to consume global attention – that a lesser appreciated Brazilian trait reveals itself. I ask Zico about his part in the incredible 1981 defeat of Liverpool, then the most formidable force in European football, who were put to the sword by his Rio de Janeiro-based Fiorentina team in that year's Intercontinental Cup. "We knew we would win. Yes they had conquered Europe, but failing did not come into our heads," he says of that 3-0 win. When it comes to football – playing the game or organising it – Brazilians have a self-belief exceeding swagger. The prospect of embarrassment simply doesn't enter the equation.
And just as the Brazilians believe they can win the approaching tournament – "We are pleased because we are five-times champions and will certainly be the sixth," General Ubiratan Poty, commander of the Amazon military police tells me at the outset of my one-week pre-tournament tour of this vast country – they believe they are capable of staging the event successfully, too.
Such confidence in the latter is being sorely tested. With the tournament now a mere 19 days away, two new stadiums have left their test event games to the eleventh hour, while questions about security and the capability of the airport infrastructure to deal with 600,000 international fans and three million Brazilians, not to mention the 32 teams, continue to haunt the organisers. The Independent's visit, at the invitation of the Brazilian government, encompassed Fortaleza, Manaus and Rio, though it is elsewhere that the story is now unravelling.
The Associated Press has reported that the cost of the Estádio Nacional Mané Garrincha in Brasília has almost tripled to £535m, largely due to allegedly fraudulent billing, according to government auditors. The spike in costs has made that stadium the world's second-most expensive soccer arena (after Wembley), even though the city has no major professional football team. And no one in Brazil is terribly surprised by this. The investigative journalist Juca Kfouri, who has done most to uncover the endemic corruption in Brazilian football, speaks of how transparency and clean business have been slow to take hold, because Brazil has emerged relatively recently from military dictatorship into democracy, 29 years ago. There is an ideology in the country of rouba, mas faz (roughly, 'It's OK to steal if you get things done') Kfouri says.

The scare stories which habitually occupy the build-up to big sports events certainly seem less likely to abate on this occasion. Brazil's erudite deputy sports minister, Luis Fernandes, tells me that the G4S 'crisis' before London's 2012 Olympics – a seemingly apocalyptic security fiasco which rapidly vanished when the sport got going – revealed how premonitions of disaster can be unfounded. "We have to put the [World Cup organisation] problems in context. It is a work in progress rather than things getting worse," Fernandes says. Yet even he admits that bottlenecks at airports could be a problem. A 28-gate, £534m terminal at Viracopos International Airport in the state of São Paulo will seemingly not be ready in time; nor will renovations at the Rio and Salvador airports. And the protests which seized media attention during last December's Confederations Cup in Brazil are also continuing.
Beyond the flak-jacketed TV journalists and their protest footage, there is a question struggling to be addressed, however. It is whether, for all the chaos and corruption which reflects this country's status as one of the world's developing nations, Brazil can reap the economic benefits which justify this World Cup. Fernandes characterises the Western reporting of the preparations as sneering and argues that it is precisely because this nation's infrastructure needs upgrading that it wanted to stage this summer's tournament. "If people don't have a more generous outlook [towards developing countries] then these events will become like rich men's parties," he says. "There's no comprehension of that from developing countries."
He argues that the dispossessed are not being forgotten in the rush for the limelight – and integral to that argument is the fact that the President, Dilma Rousseff, runs a socialist administration which has expanded the Brasil Sem Miséria anti-poverty programme introduced by her predecessor, Luiz Inácio Lula da Silva, in an attempt to haul those lost in this country out of poverty. A research institute, the Fundação Getúlio Vargas, says that a state-owned banks credit programme for businesses – also introduced by the socialists – has done even more to lift the minimum wages in real terms by 60 per cent over nine years in the most impoverished north-east. It is because unemployment levels are at a historic low that Rousseff remains favourite to win October's presidential elections.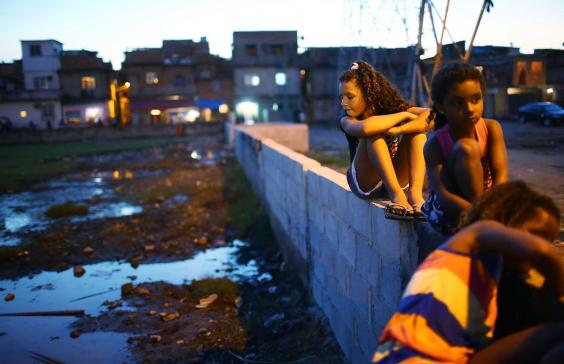 At Fortaleza, the coastal city in that north-east region, there is certainly evidence of the World Cup generating infrastructure which had remained unattainable for years. The gap between rich and poor here makes it economically the fifth most unequal city on the planet, according to the United Nations, and part of a region where a fifth of the area's adults are illiterate and half live on less than £20 a month. The investment in a £149m football stadium – Arena – might sound absurd, though the city, casting around for an economic identity to supplement its gradually developing tourism, has plans to achieve what Manchester did, when it put its Commonwealth Games (and bids for the Olympics) into its own deprived eastern quarter 12 years ago and drew in British Cycling's HQ, as well as national squash, tennis and swimming facilities. Opposite the stadium, a high performance centre will be opened in November for the Brazil Olympic team preparing for the country's 2016 Olympics. Those Manchester Games were a catalyst to get long-awaited projects completed and it is the same for the urban metro lines which Fortaleza had been waiting 14 years for, but which were finally completed last year.
The lines are desperately needed. The roads here are so clogged that the city, like others hosting World Cup games, will grant school holidays on World Cup match days, simply to help ease congestion. But the struggle to build the metro system is tougher when, like Fortaleza, you are a late developer. The track is part-laid on an old line originally laid to transport cotton, at a time when that commodity was suddenly scarce during the American Civil War. But new stretches of planned track pushed through areas which had become densely and chaotically populated with corrugated-roofed shacks – thrown up without any plan or forethought. Acquiring land has brought years of protracted legal problems. "We've been promising this line for over a decade but the World Cup has finally provided the push," says Natasha Nunes, analyst at the local Ministry of Planning. "We think it can accelerate the way the city grows and make others want to work here."
Evidence of the need for stimulus is not hard to find. No one seems to see irony in the fact that one of the most impoverished favelas is known locally as 'Enchanted Castle'. Its most solid construction is a whitewashed brick > wall, built to discourage its 5,000 inhabitants from making the potentially fatal walk across a railway track to the fish market where they might find work.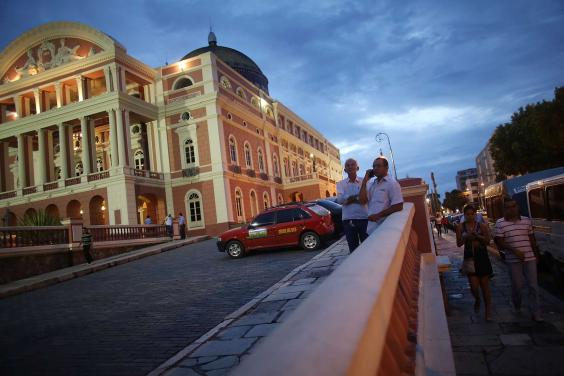 It would help if there was a robust tax system to deliver the city more of the income it needs for infrastructure. "If the tax havens gave everything back to Brazil that was owed, we'd be a wealthy country," says Fernando Araujo – the third person in half an hour to make such an observation, as he makes his way home through streets clogged with traffic. Efficient taxation is one form of robust management that the newly democratised economy is still struggling for, barely a decade after the presidential victory of Lula's left wing Workers Party delivered Brazil the first leader in the country's 502-year history who did not belong to the established military and social elite.
Involving private businesses is evidently another concept which still runs against the grain of a new democracy. The government has been tentative about private sector involvement in running airports – and it shows in the generally dismal concourse retail operations. "It's just a mercy the state is handing the Castelão stadium to private business to run, now that it's built. It's the only way to cut the corruption out," says a government white-collar worker near the stadium. He is reluctant to be named, but describes the same barrier to development which crops up in every other conversation.
Corruption is talked of less in Manaus, three hours' flight to the west and up the Amazon, where England's World Cup campaign begins against Italy on 14 June, and that might be because it has a more established economy of its own. The poverty is less austere here. Another sea of corrugated roofs stretches out beyond the Arena Amazonia stadium, though it is more suburb than slum.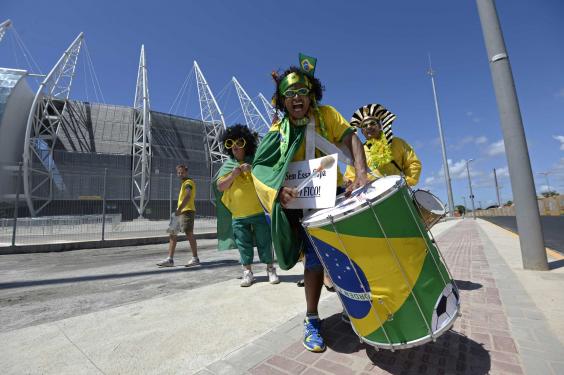 It was the English who arrived here and developed the rubber plantations which gave the place its golden era from the 1890s to the 1920s, before they took that same trade off to Malaysia, leaving Manaus on its knees. Manaus recovered by offering the 3-5 per cent corporation tax rate which brought private investment and prosperity, ultimately luring in Samsung, Panasonic and JVC as well as motorcycle manufacturers Honda, Yamaha and Harley-Davidson.
Getting a slice of the football jamboree is a means to a commercial end for Manaus – not least persuading American holidaymakers that this place, only four hours from Houston airport, is a good alternative to Rio. It is one of the few corners of Brazil that cannot say it is a football hotbed.
At the city's fine opera house, which was built from imported Glaswegian girders in the rubber boom years, Robério Braga, secretary of culture for Amazonas, talks like a liberal, arguing for the right of Brazilian citizens to make their street protests and insisting that the World Cup has given them an audience. It has made the world want to know about Brazil and its problems. "If you ask me are they right to protest about the lack of health services and infrastructure, I say 'yes'," Braga declares. "Do we need to improve transport, like they say? Yes." But he maintains that the protests – the most recent a land occupation of 5,000 people within sight of the new Arena Corinthians stadium in São Paulo, protesting about the lack of affordable housing – are fundamentally not about the decision to hold the World Cup.
Of the government's decision to lay out £6.8bn on the tournament, he asks: "Do you think South Africa solved all its problems before the [2010] World Cup? Probably not. But don't you think the World Cup helped South Africa improve in some areas? Some of the World Cup cities are seeing a big improvement in infrastructure. We're not thinking only about the costs. For us it is the investment it brings – in electric buses, a water system and housing."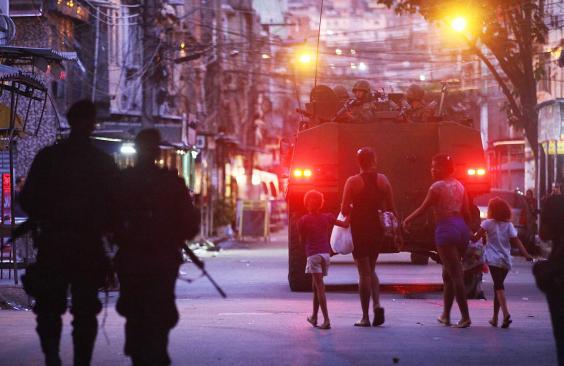 Of course, it isn't always easy to see it that way when you are down below an already pitiful poverty line in a vast country which, as The Economist has consistently argued, the poor level of education and macroeconomic indiscipline, rather than social welfare policy, have held progress back. This government-sponsored tour is designed to show off the best parts, but only 10 minutes after wandering off from out hosts and down on to Rio's deserted Ipanema beach in the early hours of a Thursday morning, your correspondent – accompanied by an American and two Germans – is approached by a group of five locals, at least one armed with some type of baton, demanding our valuables. There is a brief pandemonium and they flee. The experience says plenty about the risks attached to travelling here.
The escalating stories of World Cup overspends have hardened attitudes about the tournament – not so much to the staging of it but to the corruption which has always been at the heart of Brazil's national game. The loathed directors who have traditionally run Brazilian football are universally known as cartolas ('top hats') and Lula's attempts to introduce transparency to their world is proving another long job, too. As the rush to get stadiums finished has intensified, developing world safety standards have resulted in eight deaths – the latest earlier this month at Cuiabá's Pantanal stadium, where a worker was electrocuted and died.
The government can only hope that amid the background noise, the sense of order Fernandes predicts will begin to take over. The transport infrastructure is taking shape. In Manaus, work is complete on blue-marked, bus-only lanes, on all the main roads between downtown and the Arena da Amazônia. Private cars will be excluded on match days. In Rio, the TransCarioca bus rapid transit route, linking the international airport to beachside Barra da Tijuca, will be completed on time.
And then the football – the component which everyone has an interest in – can kick in. There was no more graphic proof of the national swagger than the events of 16 July, 1950, the last time the World Cup final was played in the Maracanã – as it will be again on 13 July. Back then, the hosts were so convinced they would win, that early editions of Rio's O Mundo carried an image of their players alongside the headline: 'These are the World Champions'. Uruguay's subsequent 2-1 win has since been characterised by Brazilian writers as their country's 'Hiroshima' or 'Waterloo'. Zico tells the excellent story of how his father, José Antunes Coimbra, never set foot in the stadium again, having been among the crowd of 200,000 on that fateful day. "If he came to Maracanã to watch me play then I never saw him!" he says, smiling. "1950 was the first World Cup after the war – a different type of World Cup and maybe the first worldwide event after the war, when Brazil was chosen to stage it because it had a reputation for being such a welcoming country. But the tragedy of war was the tragedy of football for us..."
Dispel any thought that this country has learnt from that mistake. To the question of whether the burden on coach Luiz Felipe Scolari's players may be too great, Zico shakes his head. "The Brazilians are very used to this heavy responsibility," he concludes. "We are not really prepared to be the second one but only the winner. The champions. All the football players know this." Whatever the rest of the world might be saying, Brazil believes it will put on a party to remember.
Ian Herbert is a sports writer for 'The Independent'
Sidenote #1
Some common misconceptions about Brazilians I've encountered living in the UK.
By Paulo Weiler, a Brazilian
1. We all play football (though I do)
2. We all dance the samba
3. There aren't many white Brazilians (over 50 per cent of Brazilians are white)
4. We have endless summers (southern Brazil – where I am from – can get very cold!)
Sidenote #2
Chris Hallett is riding a scooter from London to the World Cup for Unicef. Here's a brief idea of what he's getting up to on his journey:
"I've been in Bogota, Colombia, less than 24 hours and I'm in a taxi to a petrol station to meet members of Vespa Club Bogota.
After a few bike comparisons, we are off. I am riding pillion with Rafael Rubio who's wearing washing-up gloves, on a classic 125cc.
There is some light rain as about 20 of us set off through the deeply potholed roads. The rain builds into a constant torrential downpour.
I haven't been this wet since starting the journey in England in the heavy February storms. I've been in dangerous hail and winds riding from Croatia to Italy. But both times I was wearing the right clothes. I feel the rain through to my chest and take off my goggles for better vision. I'm tapped on the shoulder but see it's a bucket of spray thrown by a truck. "How much longer, Rafael?" "About 25 minutes," he says.
Reuse content