There was more to the high-five between Louis van Gaal and Robin van Persie – that most iconic image of this World Cup tournament – than you might have imagined. It was, of course, an expression of shared ecstasy over what may prove to be the goal of the tournament, yet also a gesture of private mutual recognition that the transformation of Dutch football tactics that the two have been working on together for four months had paid immediate dividends against Spain.
The shift has been from  4-3-3 – a system so embedded in the nation's football psyche that they call it "the Dutch system" – to a 5-3-2: a new set-up built around rapid transition from defence to attack which Van Gaal believed would allow the two spearheads of the side, Van Persie and Arjen Robben, the freedom and space to operate as an attacking partnership. 
The details of Van Persie's personal involvement in the tactical change are extraordinary and they tell us much about the emotional intelligence of Van Gaal, which belies the new Manchester United's imperious image. The two men got off to a bad start when Van Gaal took on the Netherlands job after the disastrous 2012 Euro Championship campaign under Bert van Marwijk. Van Gaal staged an open-house meeting to invite the players' views on what went wrong. Van Persie was the only one of the senior players unwilling to contribute. He has since suggested, unconvincingly, that he did not know Van Gaal well enough. The new manager's decision to relegate him to the bench in the August friendly game with Belgium that summer – a 4-2 defeat in which Klaas-Jan Huntelaar started instead – contributed to the sense that this was an uncomfortable collision of sizeable egos.
Spain 1 Netherlands 5 player ratings
Spain 1 Netherlands 5 player ratings
1/22 SPAIN: Iker Casillas 3/10

Lack of club football evident with tournament's most capped player beaten five times in a horror show.

GETTY IMAGES

2/22 Cesar Azplicueta 4

Not individually at fault for any of the goals but part of a woeful Spanish defence.

GETTY IMAGES

3/22 Sergio Ramos 2

Embarrassed by Robben, particularly for the fifth goal. Abysmal.

GETTY IMAGES

4/22 Gerard Piqué 3

Equally culpable and totally failed to deal with the Dutch attack

GETTY IMAGES

5/22 Jordi Alba 4

Flashes of quality going forward but defensively very poor.

GETTY IMAGES

6/22 Sergio Busquets 5

Started confidently but disappeared after half an hour. Constantly overrun on the break

GETTY IMAGES

7/22 Xabi Alonso 5

Converted the penalty but offered little else and couldn't hold back the Dutch tide.

GETTY IMAGES

8/22 Xavi 6

Made more passes than any other player but failed to dictate the game.

GETTY IMAGES

9/22 David Silva 6

Showed some nice touches but little penetration. Anonymous in the second half.

GETTY IMAGES

10/22 Andres Iniesta 7

Comfortably Spain's best player. Produced the pass of the match in the first half with wonderful disguised ball to Costa.

GETTY IMAGES

11/22 Diego Costa 6

Provided Spain with a useful outlet early on and pinned Dutch defence back, but let down by poor finishing. Lucky not to be sent off for petulant headbutt.

GETTY IMAGES

12/22 Jasper Cillessen 7/10

Went the right way for the penalty but couldn't keep it out. Saved well from Silva at vital stage.

13/22 Daryl Janmaat 5

Lucky to not get booked for late early foul on Alonso. Gave ball away too much.

14/22 Daley Blind 9

Sharp in the tackle and got forward well, putting in some dangerous crosses. Superb balls for the Van Persie and Robben goals, and dominated the whole left flank

15/22 Martins Indi 7

Strong in the tackle and composed in possession. Wound up Diego Costa, who was lucky not to be sent off.

16/22 Ron Vlaar 8

Marshalled defence superbly and made some vital tackles

17/22 Stefan de Vrij 6

Gave away penalty and booked for cynical challenge on Silva. Much improved second half capped with somewhat fortuitous goal.

18/22 Jonathan De Guzmán 7

Neat and tidy in possession and battled well, winning headers and tackles.

19/22 Nigel De Jong 6

Pressed well to deny Spanish midfield space but distribution poor.

20/22 Wesley Sneijder: 5

Missed glorious early chance. Failed to impose himself on the game and was a largely anonymous presence.

21/22 Robin van Persie 8

Anonymous until the goal, which he took superbly, and was a menace throughout after that. Added a second and only the crossbar denied him a hat-trick.

GETTY IMAGES

22/22 Arjen Robben 8

Good early through ball to send Sneijder clean through, and the Dutch's most dangerous player. Took his goals superbly
Yet unbeknown to the Dutch nation, Van Gaal sat Van Persie down for a full hour before that friendly in Brussels, explaining that Huntelaar would be starting because Van Persie's mind was on his move from Arsenal to Manchester United which was under way at the time. He also began to articulate his ideas for a change of system in the months ahead and said he wanted Van Persie to be involved in that shift, too.
An opportunity to cement the striker's involvement came this Spring, while Van Persie was recovering in the Netherlands from a knee injury. The manager suggested they attend two games together – Vitesse v Ajax and PSV v Feyenoord. Rather more than social outings, these trips were designed to study the teams that use 5-3-2 and to test Van Persie's reaction. The striker was already taken with the way that Juventus used the system to dominate Italy's Serie A during the season. The two of them certainly "clicked," as Van Gaal has described it. The 62-year-old initially made Wesley Sneijder his national captain. Within a year, Van Persie had taken over.
The Dutch did not fall in love with the idea of 5-3-2, to put it mildly. It seemed to run against the national grain and the pre-World Cup performances during which it was tested out – a draw with Ecuador, narrow win over Ghana and the defeat of Wales – were discouraging. Wales seized big spaces in wide areas created by the absence of Dutch wingers.
But the system was built to beat the Spanish. If there is a vulnerability about Vicente del Bosque's pressing game then it is the chance to punish them with quick transitions. Del Bosque is considered more of a motivator than a tactician and he was certainly blindsided in Salvador last week by a strategy the Dutch had been publicly testing for weeks. Some in the Dutch fraternity were privately amazed that Spain played such a high line and did not sit a little deeper, with less risk. The gifts of Sergio Busquets, Xavi Hernandez and Xabi Alonso do not include pace to retreat to defend. Sergio Ramos and Gerard Pique were destroyed in Salvador.
It is hard to underestimate how glorious that 5-1 victory has been viewed in the Dutch nation. It really is their equivalent of England's defeat of the Germans by the same scoreline at Wembley, September 2001.  But the Dutch national side's struggle to find a pathway has lasted too long for any belief to take hold – either here or in Amsterdam – that they are about to set the world on fire. Everyone talks about David Silva's missed opportunity in Arena Fonte Nova which could have put the Spanish 2-0 ahead and flying. It could have been a different story. "The line between success and failure is very narrow," said one observer who is in regular contact with Van Gaal.
The Netherlands today wait to see if Van Gaal will revert to the old 4-3-3 model against the relatively straightforward challenge posed by the Australians under Ange Postecoglou's charge, before picking up the 5-3-2 again to face Chile's more robust challenge in Sao Paulo on Monday. It seems the manager may stick to his winning formula, even against the world's 62nd ranked team.
In the Australians, they face a nation which has become obsessed with playing the Dutch way, ever since Guus Hiddink took them to the unprecedented glory of the round of 16 in the Germany finals of 2006. They tried unsuccessfully to persuade Hiddink's assistant, Johan Neeskens, to stay when Hiddink left for more money in Russia, and have failed in several bids to bring Hiddink back.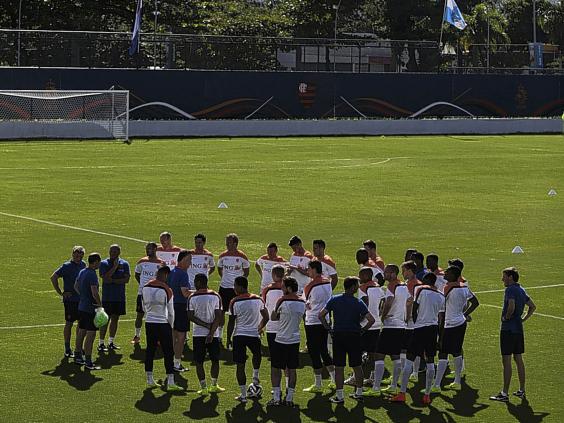 The Australians have also consistently hired Dutch technical directors – first Rob Baan and now Dutchman Han Berger. Jan Versleijen coached the Under-17s and Under-20s from 2001 to 2011. The nation wants football with ambition and Postecoglou, has promised more of it tonight. He admits that the players coming through are not as good as the Harry Kewell and Mark Viduka generation but believes that if you give them their chance they will thrive.
Van Gaal seems to be open to change in so many ways with this Dutch team. In his first brief stint at the national helm, which ended after the disaster of non-qualification for the 2002 finals, he was an authoritarian and controlling figure, allowing few liberties. It is different this time. Van Persie – a snooker addict – was playing pool with his children four hours before the Spain game. The players have been pictured with their children on the field.
"It is ultimately my decision [to change system] but it was important to me that my captain was enthusiastic about the idea," he said, hoping to take another stride in the tournament with his new-found friend, confidante and leader.
Reuse content