Marc Wilmots is a man of contrasting parts. Part one, the one encapsulated in his playing days as Willi das Kampfschwein, the fighting boar, the straight-talking farmer's son who became an attacker of limited abilities but endless spirit. Part two is more subtle, the reformist politician, briefly an elected representative of the Mouvement Réformateur, the multi-linguist. Together they make a man who has fashioned a silk purse from a sow's ear.
Three years ago Wilmots took over a side of promise but, one, because of past failings, the country cared little for, run by a federation short of money and ambition. The country cares now. Belgium is behind the Red Devils again, and in a nation where unity is viewed with the suspicion usually reserved for a politician's expense account in their capital's European Quarter that is no small achievement. "I have replaced the I, I, I with the we, we, we," said Wilmots.
On Tuesday evening in Belo Horizonte, Belgium open their World Cup against South Korea with Wilmots calling for them to ''write our own page of history,'' a reference to the team of 1986, who reached the semi-finals. ''This is the first game in a World Cup for 12 years,'' he added.
''We see this as a challenge and my players are very hungry. We have done it in qualifying and I am not going to change it because we are at the Woirld Cup. Nobody expected us to get to this point so quickly and we have kept things in perspective. I'm going to stay true to our philosophy and play football. The main thing is at the end of the World Cup we have no regrets.''
BELGIUM: Group H team profile
BELGIUM: Group H team profile
1/5 How they qualified

Perhaps the most interesting team in this year's World Cup, Belgium qualified in dominating fashion as they laid a national record of seven straight qualifying wins whilst remaining undefeated. The only shortcomings were two meagre draws against Croatia and Wales but Serbia, Scotland and FYROM could not stop them. Eventually, Belgium finished nine points ahead of second place. Their powerful and disciplined displays led to the team scoring 18 goals and conceding only four in the entire round which resulted in eight wins out of ten matches. The lion share of their success is due to the fact that the team is a very physically imposing side that cannot be outperformed when it comes to strength.

2/5 Manager

Marc Wilmots got a group of very talented players on the same page and showed them how to get the best out of any other side through a patient, defensive and disciplined manner. He is fortunate enough to have a number of attacking players on his disposal that could come handy at any given moment.

3/5 Star Player

Talent is flowing through the Belgium national squad but it is Eden Hazard that has proven that his presence in the front line is key. The 23-year-old is an incredible technician with explosive pace as well as fantastic passing and dribbling skills. This season, he proved to be Chelsea's main playmaker by becoming the Blues' top scorer with 14 goals and seven assists. He will be an invaluable member for his team in Brazil.

4/5 Emerging Talent

Adnan Januzaj is the most promising young talent at Manchester United and much is expected from him and his country this summer at Brazil. The 19-year-old had a very impressive season with the Red Devils, picking up four goals and three assists in 27 matches.

5/5 How they line up: (4-2-3-1)

Courtois; Vertonghen, Kompany, Van Buyten, Alderweireld; Fellaini, Witsel; Mirallas, De Bruyne, Hazard; Lukaku.
Tuesday's game is eagerly awaited not only in Brussels but by a wider audience: Belgium are the best known dark horses since Black Beauty.
To an English audience, in particular, the side are excitingly familiar, from Thibaut Courtois through Vincent Kompany, Eden Hazard and Romelu Lukaku; a dozen of the squad are employed in the Premier League. It is a talented group but it is also a young one, with only Daniel van Buyten having been to a World Cup. This is a green squad overseen by a green manager. "You cannot buy experience," said Wilmots. "You have to fight for it."
It is Wilmots' first big test as a coach. He has just this qualifying campaign – 10 competitive games and no defeats – behind him to add to a few months as a club manager, but the 45-year-old knows World Cups having fought his way to four, played in three and scored more finals goals than any other Belgian.
His playing career was not quite out of the top drawer but he had admirers; Luiz Felipe Scolari sent him a good luck fax when he began his coaching career at Schalke, and Roy Hodgson knows his capabilities. Wilmots was the decisive figure in Schalke's Uefa Cup final victory over Hodgson's Internazionale in 2007.
Belgium begin the World Cup ranked a place below Hodgson's England, which reflects more where they have come from rather than England being a better side. Belgium slithered down to the 60s under Wilmots' predecessor, Georges Leekens. Wilmots had been appointed No 2 in the national set-up by Dick Advocaat, who was impressed by his enthusiasm. Leekens had succeeded Advocaat, and retained Wilmots. Like the country, the squad was split between the French-speaking Walloons and the Flemish. Both barely functioned.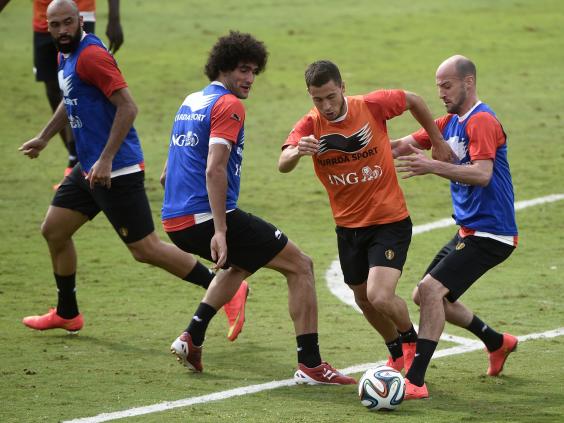 Wilmots accepts he has been blessed with the flowering of a generation of talent not seen since the 1980s (he sees it as a happy coincidence as much as any national plan), but importantly he speaks the language of both sides – and the new generation. In a six-minute film posted on YouTube he provides a guided tour of Belgium's base outside Sao Paulo, switching between the country's two languages – his mother was a French speaker, his father Flemish. It offers a glimpse as to why his players adore him. He paces around the complex, chatting easily, pointing out the training pitches, the dining room and even the office. It is relaxed and straightforward, much the way he likes to run things. 
There is a simple foundation to his coaching – field your best players where they are playing well for their clubs. With Zenit St Petersburg's Axel Witsel anchoring midfield ahead of a solid central defence, he allows his frontrunners freedom of expression: "You have to dare."
"What is most important is team spirit," he said.
 "It's important to honour the value of the team instead of honouring your own personal value and to sacrifice yourself for the team. If everybody has those good intentions, we can have a very good World Cup."