Neymar has been hailed as a new Pele his whole career – the tired cliché that befalls all promising young Brazilians. Yet in the World Cup opener against Croatia this week there was one definitive moment when you could see the former Brazilian star in the new one.
When Neymar took Brazil's penalty, he did not approach the kick like most players do. He accelerated towards the ball. With about two metres to go he slowed down until he was almost stationary, dancing on his tiptoes, before making the final large stride to shoot into the top left corner. Croatian keeper Stipe Pletikosa got a hand to it but the ball deflected into the net.
This penalty style of coming to a virtual standstill before deciding which way to shoot is a Brazilian classic, copyrighted by Pele in the 1960s. It's called the "paradinha", or little stop, and it's a move that Neymar has also made one of his trademarks.
In a traditional paradinha, the kicker gets to the ball, dummies to shoot one way, waits for the keeper to dive in that direction, and then kicks the ball in the other. It's a cheeky move, making the goalkeeper look like a fool. When Pele performed it for the first time, against the Argentine club River Plate in 1962, the referee disallowed the goal for ungentlemanly conduct and River won a free-kick.
In Brazil, however, there were no such objections, and the little stop became one of Pele's signature plays. He scored his thousandth goal, considered the highest moment of his domestic career in 1969 at the Maracana in Rio. It was from a penalty, taken using a paradinha.
Since Pele's era the move has become a Brazilian standard, in and out of fashion, used uncontroversially by many players. Until Neymar. In 2010, aged only 18, he took a penalty for Santos in the local derby against Sao Paulo. In goal was veteran Rogerio Ceni, a former national keeper. Neymar played an outrageous dummy, Ceni moved left and Neymar rolled the ball into the net.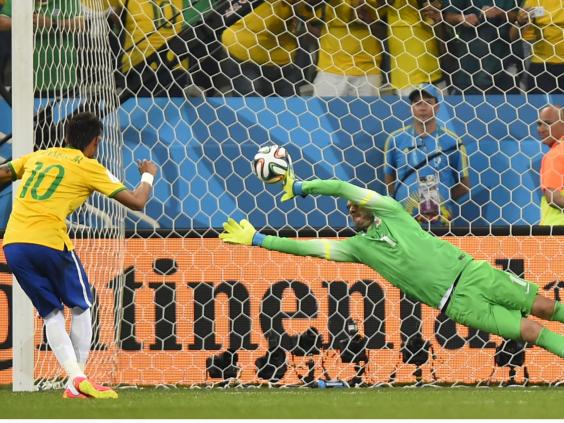 Ceni was furious at the humiliation, especially seeing as Neymar was so young and unrepentant. "I've always done paradinhas," he said. But the general feeling was that Neymar had waited a moment too long before kicking – that it was a "paradona", or big stop, rather than a little one. The ethics of the paradinha became the issue of the day. Even Pele entered the debate: "Players stop for too long now, it wasn't like that when I was playing," he said.
As a direct result of the furore, Fifa made a change to its penalty regulations, clarifying what was permitted and what was not. Players are now allowed to change pace on their way to strike the ball but not stop. Neymar modified his penalty style so he slows down shortly before he reaches the ball, and omits the exaggerated dummy, giving a shimmy that looks more like a samba move while he judges where best to shoot.
You've got to have guts to attempt a paradinha. Most footballers know which direction they will shoot before they start the run up. To decide once you are already in motion heightens the pressure. "The reason why most players don't do a paradinha is because if it doesn't work, you look doubly stupid," says Ben Lyttleton, author of Twelve Yards, The Art and Psychology of the Perfect Penalty. "With a paradinha, you need supreme confidence in your ability to psychologically defeat the goalkeeper."
Neymar has learnt the hard way. He has missed many penalties. A fluffed spot-kick led to one of the most controversial episodes in his early career. In 2010 his coach Dorival Junior at Santos ordered him not to take a penalty, because of a badly  executed paradinha in a previous game. He reacted badly, swearing at Dorival, the fans and the TV cameras. His outburst prompting national soul searching that the country's hottest new talent was turning into a monster. He didn't.
The outburst was the beginning of a calmer, softer Neymar. And one who is never afraid to use the paradinha on the big occasions. In the final of the 2012 Sao Paulo state championship final he scored a goal that was a carbon copy of the one he scored against Croatia.
World Cup 2014: Brazil 3 Croatia 1 - player ratings
World Cup 2014: Brazil 3 Croatia 1 - player ratings
1/22 Julio Cesar 7

Produced some assured catches and stops, and could do little about the goal.

GETTY IMAGES

2/22 Marcelo 5

Not completely at fault for the goal, but far from a complete performance.

GETTY IMAGES

3/22 Thiago Silva 6

Did much to eventually shore Brazil's defence together, but not at his best.

GETTY IMAGES

4/22 David Luiz 6

If always a little unreconstructed, Luiz did do well to cut out a range of Croatian attacks.

GETTY IMAGES

5/22 Dani Alves 4

Must realise he is no longer the right-back-cum-right-winger he used to be.

GETTY IMAGES

6/22 Luiz Gustavo 6

One of the typical midfield cogs that Felipe Scolari so leans on.

GETTY IMAGES

7/22 Paulinho 6

Eventually got to grips with Croatia's technical midfield passing before being taken off.

GETTY IMAGES

8/22 Oscar 9

Neymar's superb supporting act. Having kick-started the response, he delivered the sign-off.

GETTY IMAGES

9/22 Hulk 5

Mostly ineffective, before being taken off when the game really got serious.

GETTY IMAGES

10/22 Neymar 9

A decisive and potentially defining performance. This was the real deal.

GETTY IMAGES

11/22 Fred 6

Almost as ineffective as Hulk, but produced a blatant dive for the penalty.

GETTY IMAGES

12/22 Stipe Pletikosa 7

One exceptional save from Oscar and a host of solid ones.

GETTY IMAGES

13/22 Sime Vrsaljko 6

Ably supported Olic up the left for some of Croatia's best moves.

GETTY IMAGES

14/22 Darijo Srna 6

Caused Brazil a fair few problems but eventually succumbed to the siege.

GETTY IMAGES

15/22 Vedran Corluka 5

Increasingly exposed by the runs and movement of Neymar and Oscar.

GETTY IMAGES

16/22 Dejan Lovren 5

Doubts about his starting place, but even more doubts about the unfortunate penalty decision.

GETTY IMAGES

17/22 Mateo Kovacic 6

Nowhere near as perceptive as for Inter, and eventually taken off.

GETTY IMAGES

18/22 Ivan Perisic 6

Another Croatian wideman who enjoyed such initial joy on the flanks, only to be gradually forced in.

GETTY IMAGES

19/22 Ivan Rakitic 6

Played his role but never as ably as Modric.

GETTY IMAGES

20/22 Luka Modric 7

One of the visiting sides better performers and often the source of some of those exhilarating early attacks.

GETTY IMAGES

21/22 Ivica Olic 7

Started superbly, ran out of steam: the story of the team.

GETTY IMAGES

22/22 Nikica Jelavic 6

Had an unintentional part in the goal, and caused Brazil enough problems.

GETTY IMAGES
The paradinha incorporates Brazilian traits of improvisation, irreverence and the sense of football as theatre. It is also a homage to the legacy of Pele. So far in this  tournament, Neymar is proving a worthy heir.
Reuse content