Leighton Baines was at home on the Sunday before the World Cup squad was announced a little over a week ago, when a friend texted to say that Ashley Cole had announced on Twitter that he was retiring from international football, having been left out by Roy Hodgson. On such details do football careers hinge, and this was undoubtedly a big moment for Baines.
There has been a lot of waiting for the 29-year-old with 22 England caps, who has been understudy to Cole for almost four years up until now. Baines' England debut finally came under Fabio Capello in the March friendly against Egypt in 2010 before the World Cup finals of that year, although he had first been in the squad in 2009. He did not make it to South Africa in 2010, however, with Stephen Warnock preferred, although there is little question he is the No 1 choice in his position now.
It was Baines' performances in the final qualifiers last autumn that took him ahead of Cole, the 107-cap veteran who has really been supplanted in the squad by the 18-year-old Luke Shaw. Baines goes into this World Cup finals in possibly the form of his life. Yet there is always a new man to compete against and Baines acknowledges that Shaw is the kind of player who could be England's left-back for "12 to 15 years".
He said: "He [Shaw] has been amazing. Luke and some of the other younger lads have been great for English football; I mean the emergence of that young talent and the fact that Roy has been bold enough to include them in his squad. Luke is one of the ones who is now at the forefront of the squad. How old is he now? 18? He is going to be an England international for the next 12 to 15 years, he has an amazing future in front of him.
"I was probably coming through at Wigan at 18. My first game was starting in League One, the Championship. It was a progression for me as it has been at this level as well. My debut certainly didn't come at the standard that Luke and the other young lads have been playing. That is a mark of how well they have done."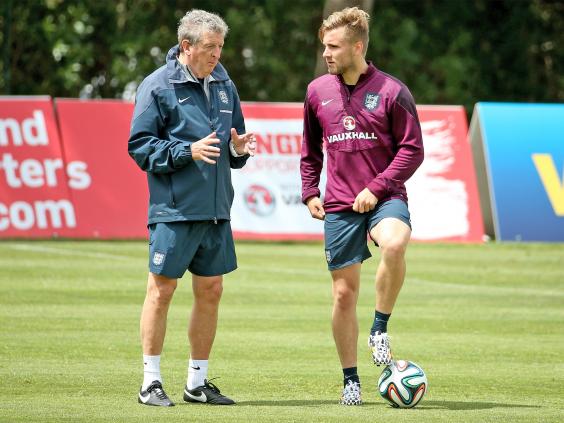 Baines' first tournament was as Cole's deputy at Euro 2012. He spent many days with him as a team-mate but it is the nature of international football that there is not always a chance for a proper farewell.
"I haven't spoken to him but on a personal level I always enjoyed Ashley's company when we were in the squad, so in that respect I will miss him," Baines said. "We had a few years in the squads together and I felt like I had a decent relationship with him. I saw he had some nice words to say and dealt with it really well, dignified. From my experience of Ash, I wouldn't have expected anything different.
"When we trained at Arsenal [training ground] there was a bit of a 'midgets dressing room', most of the lads were in one room and there were four or five of us [smaller players] in the other. That was the catalyst for us getting to know each other a bit better, spending those 40 minutes sitting round chatting.
"He probably wouldn't want me talking too much about him but from my personal experience he was a great guy who always went out of his way to help me. He is the type of guy who was never really the loudest around the squad – you'd never know he was there – but he had a sense of himself. He knew he was a senior player and he was good around the new guys in the squad. If someone was new and needed encouragement he was conscious of that."
Now the challenge is not to win the starting place but to hold on to it. "As for my place in the team, I am not really allowing myself to believe that is the case because at this level the competition and quality of the people in your position right throughout is always going to be there," he said.
"You have to keep on your toes and not get complacent because if you don't do the right things then you are not going to be playing. Things can change very quickly so I think whoever starts the first game in the tournament has to do the job, otherwise they are not going to stay in the team."
Brought to books: Baines' literary passion
Leighton Baines has the most esoteric interest in literature in the England squad. He has Last Exit to Brooklyn in his bag, the most celebrated work of the late American novelist Hubert Selby Jnr. "When I am at home I have three kids running around," he said, "you can barely get two pages in without something happening."
He discusses his choices with Roy Hodgson, another voracious reader who lists Joseph Roth and Stefan Zweig among his favourites. Both Baines and Hodgson are fans of the Japanese novelist Haruki Murakami.
Baines said: "I have read Norwegian Wood and that was a more straightforward novel. Some of it can be a bit dark and there are some strange twists in it. But I have got one of his saved up for the rest of the trip."