The question of how to tame him will be a prime English preoccupation before next Saturday but the only individual in Mario Balotelli's life who could ever accomplish such a feat has been his adoptive mother.
I last saw her on a Sunday morning in the winter of 2009; a tiny, formidable woman who clambered into the ludicrously huge people-carrier which was laid on to whisk her from Manchester's Deansgate – Mario's latest abode – to the airport.
It had been one of her periodic trips, limited by her husband's poor health, to watch over Mario. She had wanted to see Manchester Cathedral, where my own son had not long been installed as a chorister, and she talked that morning about the supreme difficulty of getting her own boy on track. It was when the two of them were alone that she could get through to him, she said. The previous night she had virtually ordered him to watch a film on adopted children. Like a child he had obeyed.
Manchester City tried every conceivable device to find a surrogate Silvia Balotelli. They even appointed a housekeeper – a Mrs Doubtfire type – whom they knew would not be affected by his celebrity or take any nonsense. But it seemed that only his return to Milan 18 months ago – an hour west of the family home in Brescia – might bring his salvation. Balotelli escaped Roberto Mancini's toxic dressing room, not to mention the pariahs and hangers-on who, in the City days, would try to convince him they could source him a sports car at half the price that City could, then tell him the club were cashing in on him.
It cannot be said that Italy has been the saving of him, though. The usual, soaring self-belief led the 23-year-old to post an Instagram drawing last Thursday, depicting him as Rio's Christ the Redeemer statue. But he is still the same baffling bag of madness and wildness.
There is a case to be made that the insulated environment of tournament football – like last summer's Confederations Cup and his display at the 2012 European Championship – brings out the best in him.
World Cup 2014: Top 10 strikers
World Cup 2014: Top 10 strikers
1/10 Diego Costa - Spain

According to all reports, Chelsea have just about wrapped up the signing of Diego Costa from Atletico Madrid and what a player they have acquired. After going under the radar in Spanish football for several years, Costa exploded onto the world scene this year with his goal scoring form and dominating performances. He helped Atletico to their first La Liga title since 1996 and finishing runners up in the Champions League. The 25-year-old also brings Spain something they haven't had for years, a bully. Costa is strong, powerful and direct, a change to the tiki-taka players for previous Spanish teams. He'll be the catalyst if Spain are to make it two World Cups in a row.

GETTY IMAGES

2/10 Cristiano Ronaldo - Portugal

If CR7 doesn't regain full fitness in time for the World Cup not just Portugal will be in despair, the whole world will regret not seeing the best player on the planet on the biggest stage. His quality is seemingly boundless and is coming off another great season for Real Madrid. Portugal need him, perhaps more than any team needs one single player. If they are without their captain and talisman, Portugal may fail completely but with him, they could go all the way. Ronaldo has scored 50 plus goals in each of the past four seasons for Real, a frightening statistic and scored four times in Portugal's play-off success over Sweden in qualifying. He is a true great and a World Cup success would establish him as a legend.

GETTY IMAGES

3/10 Wilfried Bony - Ivory Coast

With a stellar first season in the Premier League under his belt, the Ivory Coast will be hoping for big things from their strike force of Didier Drogba and Wilfried Bony. At Swansea, Bony scored 25 goals in all competitions last season, a superb return for his first season in England. With Drogba likely to call time on his international career after this summer, Bony will have to pick up the mantle of the Elephants' main man up front. He's started well with big goals in qualifying and the African Cup of Nations but to date all eight of his international goals have come against African teams, something he'll need to change, starting, perhaps, with the Ivory Coast's opening game against Japan.

GETTY IMAGES

4/10 Karim Benzema - France

France have had a dismal time of late when it comes to international tournaments. But, this time around, their squad seems much more settled, more together and with some real talent. Karim Benzema has only scored twice for France in past two years and has a chequered past with the national side but his form for Real Madrid last season should give him confidence to translate his good work onto the international level. He scored 17 league goals for Real last season, winning the Champions League and Copa del Rey and is a real superstar in the French squad. If he can keep his temper in check and get on with the rest of the team, France have the players to supply him for the goals he undoubtedly can get.

GETTY IMAGES

5/10 Sergio Aguero - Argentina

Among Argentina's sea of stars is Manchester City's Aguero. Angel Di Maria, Maxi Rodriguez, Lionel Messi, Gonzalo Higuain and Ezequiel Lavezzi form an attacking force that is, perhaps, unrivalled by any in world football. Aguero is likely to start ahead of Higuain for the starting place up top but if the City man does find his best form in front of goal, he's sure to help Argentina to the latter stages of the tournament. He scored five times in qualifying, including strikes against Colombia and Uruguay and comes off the back of 17 league goals for City despite only playing 23 games in a frustrating, injury hit campaign. Now, with his injuries hopefully behind him, he can once again get back to his devastating best and blow teams away starting with Bosnia and Herzegovina on June 15.

GETTY IMAGES

6/10 Luis Suarez - Uruguay

Another player we are all waiting on tenterhooks to see if he'll take to the field is Liverpool's main man Suarez. We all know him well, of course, as a wonderful mixture of sublime skill, great goals and headline making antics. For Uruguay, he is already their leading goal-scorer of all time and scored six times in qualifying. His PFA and FWA Player of the Year awards came off the back of a fantastic season for his club, scoring 31 league goals in 33 games. If he doesn't regain fitness in time the World Cup will be missing one of its true stars and the footballing world (bar Group D opponents England) will miss him more. At 27 year's old he is in the prime of his career and, if fit, will light up Brazil.

GETTY IMAGES

7/10 Daniel Sturridge - England

While many fans and the media are questioning Wayne Rooney's starting place for England, there's another man waiting to make his impact on the world stage in Brazil. Daniel Sturridge opened the scoring in England's warm-up victory over Peru in some style, curling in from 25 yards and that is exactly what Roy Hodgson and the country will be hoping to see much more of. Sturridge scored 21 league goals for Liverpool last season, finishing the league's second highest scorer behind teammate Luis Suarez and being named in the PFA Team-of-the-Year. He gives England something different with his young, fresh arrogance and sheer ability. The Three Lions will need him in the goals if they are to make any impact in Brazil.

GETTY IMAGES

8/10 Jackson Martinez - Colombia

In the absence for Radamel Falcao, Martinez will take on the role as star striker for Colombia. Martinez has been working hard in Portugal for the past two seasons with Porto, finishing the league's top-scorer two years in succession and earning plaudits from across the world. After Colombia were handed a relatively simple group, opinions for the country's chances rose and if they can turn their free-flowing football into goals, they could go far and Martinez could end up top of the goal scoring tables. He bagged three in qualifying and has since scored a hat full of goals in friendly matches. One to look out for, that's for sure.

GETTY IMAGES

9/10 Mario Mandzukic - Croatia

Group A seems to already be a fight for second place with Brazil surely bossing it. Croatia have the best chance of the other three teams in progressing to the next round and could well be a big surprise this summer. Mandzukic will benefit hugely from having the in-form and dynamic duo of Ivan Rakitic and Luka Modric behind him, who will supply him with chances he'll need to help the Croats make an impact. The 28-year-old scored 18 league goals last season for Bayern Munich, a club he is seemingly destined to leave this summer with Arsenal a possibility. He netted three times in qualifying and scored a vital goal in Croatia's play-off game against Iceland, a match he was also sent off in. He's big, strong and has real quality and will be part of a Croatian team who could do well in Brazil.

GETTY IMAGES

10/10 Romelu Lukaku - Belgium

After two seasons banging in the goals on loan for West Brom and Everton, Jose Mourinho and Chelsea will surely give Lukaku the chance he deserves in their team next season. If not he must find pastures new to further his career once he returns from World Cup duty. Still just 21-years-old, Lukaku is on the verge of becoming a top player. He has the power, strength and skill needed to be considered a great and if he can show his quality on the biggest stage at the World Cup, he'll be well on his way. He scored twice in qualifying, not a great return, but now, with Christian Benteke and Kevin Mirallas out injured, his country needs him to step up and get in the goals. Belgium are one team that many people expect big things from given the quality of their squad and the manner of their unbeaten qualification campaign.

GETTY IMAGES
But this is also a player who has not scored for Cesare Prandelli's national side since the 2-2 draw against Armenia last October and has not found the net for Internazionale since they played Livorno in April. Italy still awaits the best of him.
For a time, it seemed that the return home had changed him. Italy observed what Rafael Benitez saw at close quarters in the brief few weeks he managed him at Milan before the striker left for Manchester. "In that time he was no trouble," Benitez insists. Balotelli declared on his return that the stories in the British press had all been fabricated and, perhaps because of the Italian media's desire to protect the players to avoid jeopardising their form, calm broke out.
"He looked more responsible somehow – possibly because he was evaluating more the things he missed while living in Manchester," says journalist Federico Farcomeni, who has watched him closely.
The stories bubbled away on the celebrity pages – the drama of his refusal to acknowledge the paternity of the daughter, Pia, born to former girlfriend Raffaella Fico, followed by his fight for access to the child, and more recently the fascination with his subsequent girlfriend Fanny Neguesha – now pregnant too. But the madness of Mario has inexorably been broadening out in the last six months.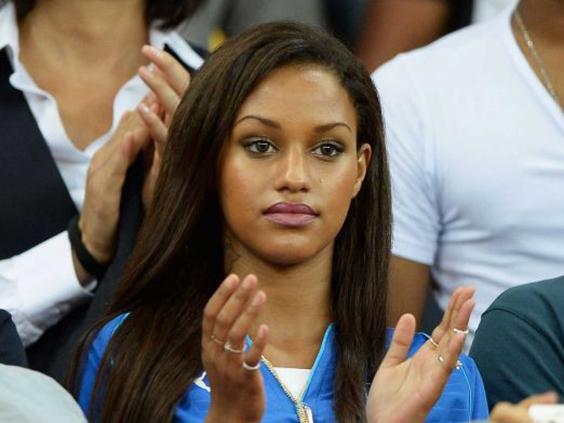 In January, there was a fight in a disco with the Italian TV presenter and former singer Facchinetti Jnr. Then in February, there was an angry reaction to excessive attention from a photographer in Liguria, on Italy's north-west coast. In May, at the Hollywood nightclub in Milan, somebody stole valuables from him and another brawl broke out.
Some of the dramas were more beguiling. Acres of newsprint were devoted to the striker weeping on the bench in Napoli when he was substituted moments after missing an open goal on a bad night for Milan. The immediate, superficial conclusion was that he had been the victim of racist abuse, though this appears to have been the anguish of one who had been denied the chance to complete the dedication of a goal to his then newly discovered daughter. Ms Fico and Pia both live in Naples.
Some of those closest to Balotelli insist his need of biological proof that he is the child's father links to the fact that his own biological parents gave him up. "I know what it's like to be a child and suddenly people leave," he said recently. Balotelli's wildness has always obscured the complex, active mind within.
The fundamental footballing fact is that chaos in the background is still contributing to the vast potential perceived by most managers who work with him – Benitez included – as going unfulfilled. Farcomeni remarks on Balotelli's struggle to make an imprint on the really big games. The fabulous goal from 25 yards against Bologna or a last-minute winner in Cagliari, in the process silencing home fans who had booed him throughout the game, was not complemented by ignition in the Champions' League. Forte con i deboli e debole con i forti (strong with the weak, and weak with the strong) as they like to say in Italy.
If anything, his managers have engaged in the same policy of indulgence as Mancini, to coax the best out of him. The Milan manager Clarence Seedorf insisted after the striker's petulant response to another substitution during April's 2-0 loss to Roma that "journalists have not helped Balotelli's growth. At times, it's better to leave him alone. I feel his positive changes are not highlighted. It's not fair only to look at his negative moments. His scoring statistics are strong." Balotelli railed that night against TV pundits who "don't understand anything about football". Prandelli's recent observation that he does not want Balotelli dropping back into midfield to help out also smacked of mild indulgence. He and Balotelli both come from Brescia – so does Andrea Pirlo – and however the national side's tactics might change, Balotelli always seems to be spearheading the attack.
The conversation about Balotelli is as endless in Italy as it was in England, with a sizeable number of Milan's supporters tiring of a superstar attitude and a sense that he is "doing them a favour" as Farcomeni puts it. But few football people diverge from the view that he can have it all if he can only sort his mind out. "He has the strength, which not all the Italians possess," says one coach who has worked with him in Italy. "The height, too, the instinct, the finishing ability, two good feet, though his right is better. He won't make the best of all this until he sorts himself out but that could still happen, in four or five years' time.
"Players can surface, look at themselves, and say 'I've got to make the most of what I've got in the time I've got'. For now, you just can't predict when he'll cause big trouble."
That's hardly the most comfortable thought for the current English central defensive partnership but it could be worse. If Mario's mother had had it her way, the English nation would be flinching at the prospect of what he might unleash on them.