Ciro Immobile reasserted his claim to start up front for Italy against England, with a hat-trick in their 5-3 friendly win over Fluminense late on Sunday.
Although Mario Balotelli has been the favoured striker of coach Cesare Prandelli for the last few years, the case for Immobile is getting stronger. He was the top scorer in Serie A last season and has just completed a £16m move from Torino to Borussia Dortmund.
It has been a remarkable rise for the 24-year-old who has only just completed his second full season in the Italian top flight. He might not be quite as gifted as Balotelli or Antonio Cassano but Immobile's selfless work rate and eye for goal might just earn him a place in the starting XI in Manaus on Saturday night.
Immobile would not put any public pressure on Prandelli but insisted that he would be prepared for whatever job he is given in Italy's opening match. "I was emotional after the first goal, let alone the hat-trick," he said after the game against the Brazilian club side in Volta Redonda. "I am a striker and obviously live to score goals. Scoring is always important, even in games that are not official. But now comes the fun, we have to be ready for the England game."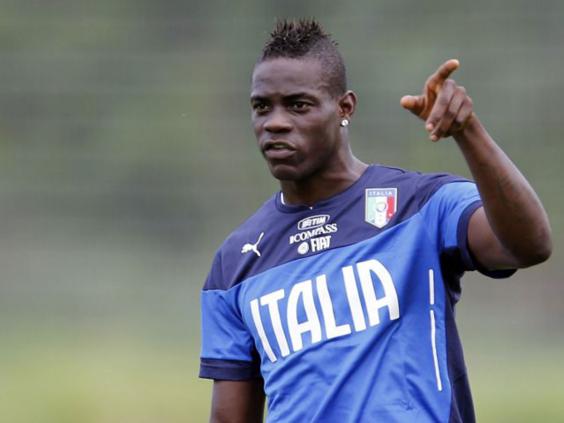 Prandelli could well partner Immobile with Balotelli in a 3-5-2 formation, but he is most likely to play a 4-3-3 with wingers either side of one central striker. That means Prandelli will probably have to choose between Balotelli and Immobile to lead the line.
"Will I play on Saturday? This is decided solely by the coach, I accept all of his choices," said Immobile. "When he calls me, I will be ready. I can only do my best and carve out my space. [Playing upfront] with Mario? Prandelli decides and his choices are not to be discussed."
Immobile is the popular choice in Italy, though, after outscoring Balotelli last season. His 22 Serie A goals won Immobile the capocannoniere for top scorer. It was his first year at Torino after a disappointing season with Genoa the year before.
The growing popularity of Immobile, who has just two official caps, was underlined yesterday when Gazzetta dello Sport honoured him with the cycling-themed front-page headline "Il Ciro D'Italia" following his exploits in the warm-up game on Sunday. He scored a hat-trick within an hour, the third a delightful flick into the net from Alberto Aquilani's cross. Immobile also set up Italy's two other goals, for Lorenzo Insigne, before being replaced by Balotelli.
Insigne only just made it into Prandelli's final 23, with Milan midfielder Riccardo Montolivo suffering a late broken leg and Fiorentina's Giuseppe Rossi failing to prove that he had recovered from a knee injury. But Insigne could even rival Cassano for a place on the left of the front three against England. Both Napoli's Insigne and Immobile emerged playing for Pescara in Serie B three years ago, and still have a good relationship on the pitch. "We have seen interesting things, especially in attack," said Prandelli. "Insigne and Immobile have done very well. They have set an example in attack."
Insigne would be an even less likely starter than Immobile but said he would relish partnering him in attack. "We know each other," said Insigne. "Our understanding is proven thanks to our time previously at Pescara. England are a strong side and we will have to use our  best weapons."
Reuse content