Theirs was a night that would have played well back in the United States. There was an early goal, a dramatic finish and plenty of wounded heroes. It was almost cinematic.
They last time the US came to Brazil for a World Cup, they pulled off one of the sporting shocks of the century against an England team who wondered what they were doing on a football pitch.
Now, despite the fact they reached a World Cup quarter-final a dozen years ago, there is still some of that condescension towards "soccer". As he prepared to face the US, the Ghana midfielder André Ayew remarked: "If we are fit and 100 per cent, there is no way we are not going to win this game."
However, Ghana were not fully fit – neither Kevin-Prince Boateng nor Michael Essien started in Natal. They were also a long way from 100 per cent when it came to taking the many chances they created in a vibrant if intensely physical game that saw Jozy Altidore pull a hamstring, Clint Dempsey play out the match with a broken nose and centre-half Matt Besler (hamstring) failing to finish.
Ghana 1 USA 2 player ratings
Ghana 1 USA 2 player ratings
1/22 Adam Larsen Kwarasey

Kept America at bay for much of the match but will have been disappointed not to have saved Clint Dempsey's early strike. 6/10

Getty Images

2/22 Daniel Opare

Firm into the tackle and not afraid to fight for the cause, he did well at the heart of the Black Stars' defence. 6.5

Getty Images

3/22 John Mensah

Solid and effective, Mensah made some important challenges which broke up a series of USA attacks. 7

Getty Images

4/22 John Boye

Decent, if uninspiring, Boye's game represented Ghana's overall performance. It had potential, but struggled to reach it. 6

Getty Images

5/22 Kwadwo Asamoah

While not necessarily awful, this was a timid display from one of Ghana's leading players. 6

Getty Images

6/22 Sulley Ali Muntari

With such vast experience behind him, the former Portsmouth man lacked composure in key moments. 6

Getty Images

7/22 Mohammed Rabiu

Strong at the back but offered little else. Will need to improve in time for Portugal and Germany. 6

Getty Images

8/22 Jordan Ayew

Decent but unremarkable. Could have given more. 6

Getty Images

9/22 Christian Atsu

Offered a decent platform for the Black Stars to build upon. Will have been disappointed with his passing but proved to be a threat. 7

Getty Images

10/22 Andre Ayew

Actually had more chances than Jordan but spurned a guilt-edged opportunity in the first half. 6

Getty Images

11/22 Asamoah Gyan

Poor finishes ultimately cost Ghana and Gyan was reasonable for a great deal of these instances. Many even lost count. 5

Getty Images

12/22 Tim Howard

Made a number of decent saves to keep Ghana at bay but will have liked to have saved Ayew's shot late on. 7/10

Getty Images

13/22 Fabian Johnson

Allowed the men in front of him to operate with freedom and provided a strong defensive line. 7

Getty Images

14/22 Geoff Cameron

Rigid and difficult to beat, he did his job well. 6

Getty Images

15/22 Matt Besler

Like Cameron, knew what job he had to do and executed it well. His manager couldn't have asked for more. 6

Getty Images

16/22 DaMarcus Beasley

Decent performance in the heart of a defence which only conceded one solitary goal. 6

Getty Images

17/22 Kyle Beckerman

Proved to be the foundations for many of the USA's forays into the Ghana half, was a valuable member of the side. 7

Getty Images

18/22 Jermaine Jones

An exciting member of the USA midfield, Jones was careless in possession as a result of his own exuberance. He will learn how to merge the two in time. 6

Getty Images

19/22 Michael Bradley

A regular member of the USA squad, he steadied the ship when nerves were clearly jangling. 6

Getty Images

20/22 Clint Dempsey

An excellent goal in the opening 35 seconds got his evening off to a flier. Battling on despite a nasty-looking facial injury, he did his country proud tonight. 7

Getty Images

21/22 Alejandro Bedoya

The Nantes winger was a constant thorn in Ghana's side and will be invaluable against Group G's European giants in the coming weeks. 7

Getty Images

22/22 Jozy Altidore

Looked dangerous until his unfortunate injury. America will be hoping he'll be back sooner rather than later. 5

Getty Images
Even after Ayew scored a beautifully worked equaliser with eight minutes to go and, with the momentum flowing their way, Ghana looking good for at least a draw in the Arena das Dunas, the Americans struck back.
"I thought our maturity and resilience were awesome," remarked Tim Howard. The Everton keeper is 35, Dempsey is 33 but the rest are very much younger and though they qualified more impressively than the other World Cup entrants from North and Central America, Mexico and Costa Rica, they were expected to be the first to perish in a group of death.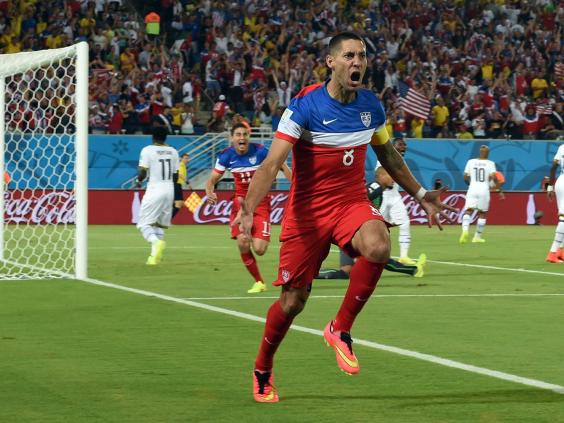 John Brooks is 21 and, with charming naivety, he had announced to the squad that he dreamt he had scored in the 80th minute against Ghana and the United States had won the game. His dream was six minutes out, but he was correct when he forecast in his sleep that the goal would come from a header executed at a corner.
Premier League football may fill his dreams, with Everton, Aston Villa and Newcastle monitoring his admittedly erratic progress with Hertha Berlin. Brooks has never actually lived in the country he plays for, having been born in Berlin to an American serviceman father – one of five members of Jürgen Klinsmann's squad that have German roots.
Nevertheless, amid all the euphoria generated by a visit to the US dressing room from Vice-President Joe Biden, there was also some anxiety. Klinsmann  joked that he wondered what a fired-up Cristiano Ronaldo might do when they face Portugal in Manaus on Sunday.
"We have got to keep possession better," said man-of-the-match Dempsey, who led by example. "There were times when we allowed Ghana far too much of the ball." His manager admitted on occasion he was screaming at his players from the touchline not to squander possession. Ghana aimed 21 shots at Howard's goal, the third-highest total of this World Cup so far and with more composure they might have broken through decisively.
With the Germans facing them in Fortaleza on Saturday, there appears no credible way back for Africa's best organised and most obviously talented team. "We lost focus and lost concentration. We have only ourselves to blame," said Asamoah Gyan, who missed with two athletic headers in front of the noisiest and most colourful supporters of this tournament.
Essien attempted to console them by announcing that at 31 he would attempt to play on to take Ghana to the 2018 World Cup in Russia. This one, however, may be over for Ghana before it has properly begun.