It would be easy enough, at Colombia's first World Cup finals since 1998, with their best generation of players for 20 years, to get carried away. With their tens of thousands of travelling fans, their joyous football and gleeful, dancing celebrations, Colombia have been one of the brightest attractions of the first week of the World Cup, and will continue to be so on into the knockout rounds.
But coach Jose Pekerman, the 64-year-old Argentine who has presided over the transformation of Colombia's fortunes, is staying level-headed, even after the 2-1 win over Ivory Coast on Thursday, combined with Japan's draw with Greece, sealed qualification for the last 16 and, probably, top spot in Group C.
"We still have to face Japan, who are going to grow in their game and are capable of fighting for qualification," said the modest Pekerman on Thursday night in Brasilia. "We will see how we deal with it as we move on."
Thursday was a special day in Colombian football. They were facing their strongest rivals in the group and, in a game that was in the balance throughout, overcame them in the second half with goals from thrilling youngsters James Rodriguez and Juan Quintero. After the  0-0 draw between Japan and Greece ensured their passage through to the last 16, only two unlikely results on Tuesday evening would stop them winning the group. One point, against Japan in Cuiaba, would be enough.
Colombia 2 Ivory Coast 1 player ratings
Colombia 2 Ivory Coast 1 player ratings
1/22 David Ospina

Could have done better for Gervinho's goal but did fine overall and made one or two decent stops. 6

2/22 Juan Zuniga

Not at his flying best as in the first game and caught out for Gervinho's goal but a fine performance overall. 6

3/22 Carlos Sanchez

Did well in the heart of defence without making any headlines. 6

4/22 Cristian Zapata

Was good again up and down the wing. 6

5/22 Pablo Armero

Didn't have the same thrust as he did against Greece but good at the back for the most part. 6

Getty Images

6/22

The 38-year-old making his 100 cap did well for the first 70 minutes but his age showed a touch towards the end. 7

Getty Images

7/22 Juan Cuadrado

Top player once more. His passing, touch and technique was a real highlight for Colombia. 8

Getty Images

8/22 Abel Aguilar

Nowhere near the same impact as their opening game but fine on the whole. 6

Getty Images

9/22 James Rodriguez

Very good performance again from their main man and powered home his header. 8

Getty Images

10/22 Victor Ibarbo

Very little on offer and would be surprised if he starts again in their final group game. 5

Getty Images

11/22 Teofilo Gutierrez

Missed a glorious chance in the first half and really should have scored but did well to tackle Die and set up their second. 6

Getty Images

12/22 Boubacar Barry

No chance with either goal and did everything asked of him besides that. 6

Getty Images

13/22 Arthur Boka

Not the same attacking threat as his fellow full-back but fine in defence. 6

Getty Images

14/22 Souleymane Bamba

Not enough quality to deal with the attacking threats of Colombia, poor. 5

Getty Images

15/22 Serge Aurier

Electric from full-back, a real highlight for the Ivory Coast. 8

Getty Images

16/22 Didier Zokora

Very good in cleaning up at the back but his yellow card means he'll miss the next game and that will be a great shame for the Ivory Coast. 6

Getty Images

17/22 Yaya Toure

Poor by his high standards. Didn't take the game to the opposition nearly enough. 5

Getty Images

18/22 Cheick Tiote

Strong and powerful in midfield as ever. 6

Getty Images

19/22 Die Serey

Caught out for Colombia's second which was the difference ultimately. 4

Getty Images

20/22 Gervinho

A real highlight for the Ivory Coast and their best player. Took his goal with skill and class and was their biggest threat by far. 7

Getty Images

21/22 Max Gradel

Offered very little and was rightly taken off on the hour mark. 5

Getty Images

22/22 Wilfried Bony

Had a couple of half-chances but never really looked like getting on the score sheet. 5

Getty Images
That would mean a last-16 match against the runners-up in England's Group D at the Maracana next Saturday night. The golden generation of Carlos Valderrama and Faustino Asprilla, of whom much was expected, did not get out of their group at the 1994 or 1998 tournaments. The current players, new on this stage, and the travelling fans, after 16 years of waiting, must be excited. Pekerman, though, is staying calm.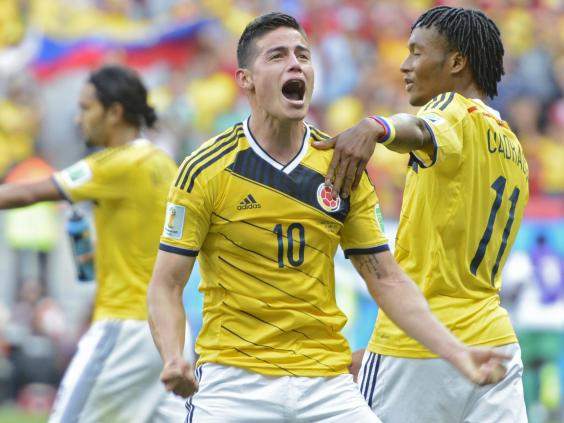 "It is, of course, a huge pleasure to see Colombia coming to this level, first of all at the World Cup after such a long period of time, and then having enjoyed two consecutive victories with players who are here for the first time, so they are all very positive situations for us. However, we cannot start thinking ahead of time or what might be coming later on."
Colombia have excellent players, especially going forward, but Pekerman's cool experience has held them all together. No one in the squad has been to a World Cup finals before, but Pekerman has, coaching Argentina in 2006, and it has rubbed off. "He has helped us so much," said Rodriguez after the Ivory Coast game, "he always wants us to play well."
Rodriguez has been at the heart of everything good that Colombia have done so far. The little midfielder, who plays for Monaco, is the  No 10 within the 4-2-3-1 system, unleashing the pace out wide of Juan Cuadrado and Victor Ibarbo, as well as arriving late into the box to score himself. Rodriguez made the first and scored the third against Greece, and on Thursday scored the first and made the second.
It has been an impressive assumption of responsibility from the 22-year-old, reacting to the absence of Radamel  Falcao by becoming the new leader of the team. Pekerman is certainly impressed with how his players have stepped up with their talismanic striker ruled out with a knee injury. "It is not easy to substitute someone who was so important," said Pekerman. "The high responsibility, the pressure of replacing Falcao represented a certain uncertainty."
Teofilo Gutierrez is not a world-beater up front but he has worked hard for the team, and Pekerman has Jackson Martinez, Carlos Bacca and Adrian Ramos to call on from the bench. They have talent going forward, certainly, and experience at the back. Mario Yepes, the oldest outfield player at this World Cup, earned his 100th cap on Thursday and did so shackling Wilfried Bony, Gervinho and Didier Drogba with all his nous and skill.
Yepes, the captain, is a veteran of 38 but even he was not playing when Colombia last reached the knockout round, at Italia '90, when they lost to Cameroon. These are exciting times, although Pekerman has always promised to stay cool. "Colombia waited a long time to play in a World Cup," he said. "The players are new to this, we need to keep calm."
Reuse content