"Eins, zwei, drei, vier!" was Der Tagesspiegel's happy take on Germany's perfect start to the World Cup. Bild, the country's best-selling tabloid, was more bullish. "This," it declared, "is going to be our World Cup." And if it is going to be the Nationalmannschaft's World Cup then it is set to be one German player's tournament in particular. Thomas Müller, added Bild, has the "killer gene".
It is only four years since Diego Maradona refused to share a post-match press conference with a skinny, young Bavarian, fresh from made his international debut in a friendly against Maradona's Argentina. "He looks like a ball-boy," huffed Maradona as he stomped off stage. Much more of the "eins, zwei, drei" that Müller produced against Portugal in Salvador and he will be cast among the greats, well worth a seat alongside Maradona and anybody else.
Yesterday the Argentine judged that Germany had "touched perfection" in their 4-0 win over Portugal, and he mentioned Müller too, albeit grudgingly as if he still felt a burning irritation at the insult of being made to sit with the upstart. "He has no muscles but he played well," sniffed Maradona.
Germany 4 Portugal 0 player ratings
Germany 4 Portugal 0 player ratings
1/22 Manuel Neuer

Flapped at a couple of shots but saved well from Ronaldo's free-kick late on. Didn't have too much to do in truth. 6/10

GETTY IMAGES

2/22 Jerome Boateng

Did fine but will be tested far more in later games. 6

GETTY IMAGES

3/22 Per Mertesacker

Solid at the back and dealt with Ronaldo well for first half hour. Had little to do in the second half. 7

GETTY IMAGES

4/22 Mats Hummels

Great header for Germany's second and was good at the back all game. 8

GETTY IMAGES

5/22 Benedikt Howedes

Got forward all game to good effect and never worried at the back. 7

GETTY IMAGES

6/22 Phillip Lahm

Sat very deep early on and mistake nearly gave Ronaldo an opening goal. Fine performance but not up to his usual high standards. 6

GETTY IMAGES

7/22 Sami Khedira

Very nearly scored from Patricio's woeful clearance and did well throughout. 7

GETTY IMAGES

8/22 Toni Kroos

Quiet night for Kroos but did put in a fine corner for Hummels' goal. 6

GETTY IMAGES

9/22 Mario Gotze

Did well thoughout and had several chances to score. 7

GETTY IMAGES

10/22 Mesut Ozil

Really looked a threat and could have got a goal but lacked final piece of quality. 7

GETTY IMAGES

11/22 Thomas Muller

His superb hat-trick would usually be enough for a higher mark but his play acting to get Pepe sent off was shameful. 8

GETTY IMAGES

12/22 Rui Patricio

Awful game in goal and at fault for two of the goals. Nearly gifted Khedira an early goal with woeful clearance, very poor. 4

Getty Images

13/22 Joao Pereira

Gave away the penalty that opened the flood gates for Germany, poor. 4

Getty Images

14/22 Fabio Coentrao

Played well in a tough situation and looks have picked up a nasty hamstring injury. 6

Getty Images

15/22 Pepe

Not a good game in his first 35 minutes and then stupidity to get sent off after clash with Muller. 2

Getty Images

16/22 Bruno Alves

Did well in aftermath of sending off and it could have been worse without him. 6

Getty Images

17/22 Miguel Veloso

Sacrificed for another defender after Pepe's sending off. 5

Getty Images

18/22 Joao Moutinho

Very quiet game, Portugal need much more from him in future games. 5

Getty Images

19/22 Raul Meireles

Some top tackles as Germany piled on the pressure but helpless to stop the onslaught. 6

Getty Images

20/22 Hugo Almeida

Had an early effort saved by Neuer but pretty ineffective from then. 5

Getty Images

21/22 Nani

Did ok and had a few half chance. Decent performance given his lack of football over past 12 months. 6

Getty Images

22/22 Cristiano Ronaldo

Not bad for the main man but the game didn't allow him to truly excel. Had a few half chances but Portugal will need him to be on fire to get out of their group. 6

Getty Images
It is easy to be sniffy about Müller, judging on appearances. He is all arms and legs, something of a Salvador Dali footballer, with no obvious athletic abilities and at times it even seems as if his footballing abilities are minimal for a player wearing the white of Germany. There are the long passages of play where he seems to do very little at all. And then he wins the match, to update and customise Gary Lineker's cute summary of German football.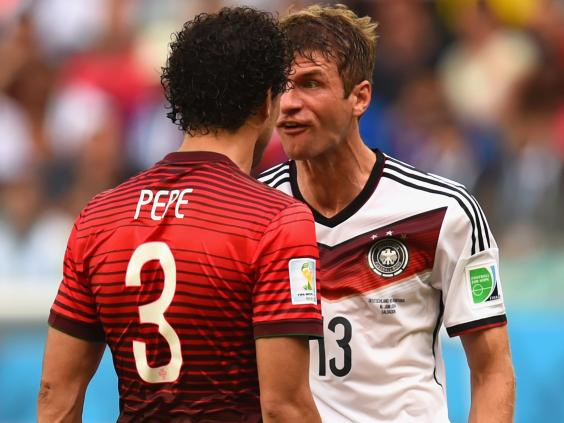 Müller's hat-trick on Monday afternoon – at a time of day when many thought the Germans would struggle in the heat – means he has now scored eight goals at World Cup finals, the same as Maradona. Müller won the Golden Boot four years ago at the World Cup in South Africa. Add his qualifying record to the mix and Germany with Müller in the side – he was suspended for the 2010 1-0 semi-final defeat by Spain – have won 14 of 16 games, scoring 56 goals in the process. Müller has netted 12 of them. His overall record for his country is 50 caps, 20 goals and 22 assists. For all the more obvious talents around him, he has become Germany head coach Joachim Löw's crutch, and not only on the pitch.
Löw and Germany arrived in Brazil under immense pressure to win the World Cup for the first time since 1990. Simply playing attractive football is nowhere near good enough. Reaching the final is not good enough. It is win or bust for Löw after the failure of Euro 2012, where they lost 2-1 to Italy in the semi-finals. Germany have gone 18 years without a trophy and there is no patience back home for that drought to extend into a third decade.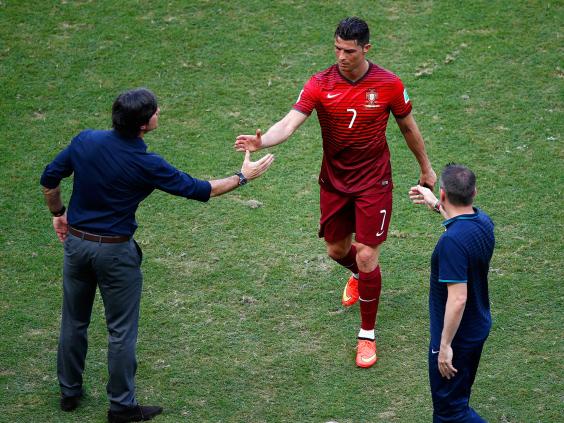 Here then is the less obvious part of Müller's huge importance to Löw and his team-mates: that this pressure is all Oktoberfest beer down a Bavarian's throat for the 24-year-old. "Even just in terms of the atmosphere in the team, Thomas is extremely important," said Andreas Köpke, Germany's goalkeeping coach. "He laughs out on the pitch and in the changing room before matches, when the tension is off the scale.
"We saw again [against Portugal] that he can play and score goals too. He's always the life and soul of the party and is unbelievably important to our game."
As a boy Müller played for TSV Pähl and in one season scored 120 of the team's 165 goals. A move to nearby Bayern Munich was inevitable and the goals flowed as he progressed up the club's ranks. Jürgen Klinsmann, then the Bayern Munich coach, handed him his club debut in 2008 but it was the German's successor at Bayern, Louis van Gaal, who gave the youngster his trust. "With me, Müller always plays," announced the Dutchman and he was true to his word, using him as a striker or on the right wing. Müller describes Van Gaal as his "mentor".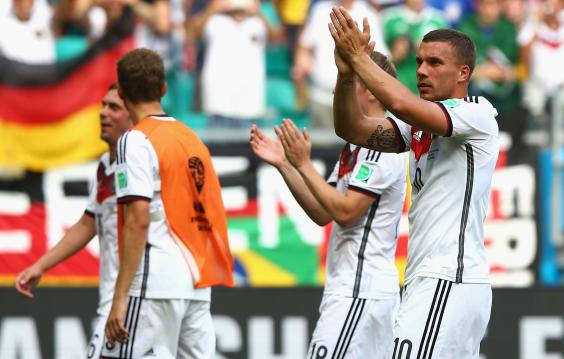 His path to the national side came via every junior category, from Under-16 level upwards. Both Jupp Heynckes, Van Gaal's successor at Bayern, and Löw added tactical discipline to Müller's game. Heynckes liked to play him on the right for Bayern, while Löw required him to bolster midfield when necessary.
Under the current Bayern coach Pep Guardiola, who prefers Arjen Robben to play on the right, Müller has been given the right to roam. His value to the club was made clear in their recent offer of a new contract until 2019.
Müller enjoys the freedom he has been given by Löw and Guardiola. He coined his own term for what he does on a football pitch in an interview in Germany in 2011. He calls himself a "Raumdeuter", a space investigator.
"He has instinct for creating dangerous situations and scores in situations where you don't expect it," said Löw. "Thomas is a very unorthodox player; sometimes you don't really know or cannot predict his pathways on pitch, he is difficult to interpret for opponents, but he has one aim – how can I score a goal? That is the only focus and is what makes him so dangerous, he is a born scorer."
There are comparisons there with his namesake Gerd Müller, Germany's all-time leading scorer with 68 goals, and the former West Germany star has made them. "He is a bit like myself," he said after the 2010 World Cup. Thomas Müller is taller and brings more to the team as a whole, but like Gerd, he wears the No 13 shirt, wears his socks round his ankles and scores scuffed goals (as well as belters). Gerd won the Golden Boot at the 1970 World Cup. No one has won it twice. 
"We looked up and thought 'Hoopla'!" said Müller of his team's reaction to the scoreboard inside the Arena Fonte Nova showing them two-up after a third of the Portugal game. An hour later and the rest of the footballing world took in the score and simply thought "Müller!"
Reuse content