The madness of the Argentine campaign shows no sign of abating. Amid the recriminations over the struggle to overcome Iran on Saturday came a claim from the former head of the Argentine Football Association, Julio Grondona, that Diego Maradona had been a "jinx" because Lionel Messi's late winner only came after he had left the Estadio Mineirao, 10 minutes before the end. "The bad luck charm left the stadium and we won," Grondona said.
Maradona, who was sacked as national team manager by Grondona four years ago, responded in his own inimitable way, describing him as "a poor stupid fool" and raising his third finger to Grondona on national television.
Messi's second goal of the tournament has sent Argentina through and if, as expected, they beat Nigeria in Porto Alegre on Wednesday, their most likely second-round opponents will be Switzerland, all of which looks highly negotiable. But there is no sense of ease in the camp.
Messi's unhappiness with the way Alejandro Sabella set the side up against Bosnia has been well chronicled and the Argentine nation looked on aghast once again on Saturday. The sports paper Ole, which described the 2-1 win over Safet Susic's Bosnians as the worst display under Sabella, took little encouragement from Messi's-90th minute winner against Iran. "La alegria no tape el bosque: hay que mejorar mucho," it said – "Joy doesn't cover the forest. We must improve a lot."
Argentina 1 Iran 0 player ratings
Argentina 1 Iran 0 player ratings
1/22 Sergio Romero – 8

Wouldn't have expected to have such a busy afternoon but stood up to the challenge admirably. Courtesy of a number of excellent saves, Romero is the reason why Iran didn't take a shock lead.

Getty images

2/22 Pablo Zabaleta – 6

Didn't show the same ability going forward which British audiences have grown accustomed to. Left Gago and Messi without back-up on occasions also.

Getty images

3/22 Ezequiel Garay - 6

Started well but looked incredibly nervous as the Iranian momentum built. This frailty almost cost Garay and Argentina very dearly indeed.

Getty images

4/22 Federico Fernandez – 6

Like Garay, Fernandez looked nervous in the latter stages as Iran picked up the pace. Can't afford to do the same against a more reputable side.

Getty images

5/22 Marcos Rojo – 7

Bursting forward at every given opportunity, Rojo was one of the few Argentine players to truly shine for the full match. His deliveries from the left wing caused problems throughout.

Getty images

6/22 Javier Mascherano – 6

Positioned just in front of the back four, the former Liverpool midfielder allowed far too many Iranian passes through the defensive net. Could have been the reason for a decidedly different outcome if luck was on Iran's side.

Getty images

7/22 Fernando Gago - 7

Strived to drag his side back into the game on many occasions and very nearly did so. Showed the passion required to break down such a stubborn opponent.

Getty images

8/22 Angel Di Maria - 6

Was ineffective for large stretches of the game but, as always, proved to be a threat from set-pieces. Needed to show more desire in open play.

Getty images

9/22 Sergio Aguero – 6.5

Worked hard for much of the game and was unlucky not to get on the score sheet. The Manchester City man had a decent, if unremarkable, game.

Getty images

10/22 Gonzalo Higuain - 5

Hardly noticeable for much of the match, the Napoli striker was later subbed. A poor afternoon.

Getty images

11/22 Lionel Messi - 8

Having struggled to make his mark on the game for ninety minutes, Messi did what he has been doing for the best part of the last decade. What would Argentina do without him? A sumptuous goal worthy of winning any game.

Getty images

12/22 Alireza Haghighi - 7

Wasn't called upon nearly as much as he would have expected but was a reassuring figure at the back. Could do nothing about Messi's late strike.

Getty Images

13/22 Pejman Montazeri - 7

Like his defensive counterparts, Montarezi was bitterly unlucky not to have a clean sheet against Argentina to tell his grandchildren about. A fine display.

Getty Images

14/22 Jalal Hosseini - 7.5

Unlucky not to score on a number of occasions, Hosseini was a threat every time he ventured forward.

Getty Images

15/22 Amirhossein Sadeghi - 7

One of the centre-backs charged with man-marking Messi, Sadeghi was a credit to his teammates and very nearly helped them to keep a famous clean sheet.

Getty Images

16/22 Mehrdad Pooladi - 7

With Messi, Higuain and Aguero to deal with, Poladi was magnificent at left-back. Strong into the tackle and ambitious going forward, this was an exciting display.

Getty Images

17/22 Masoud Shojaei - 6.5

Playing just behind the excellent Ghoochannejad, the ball sometimes missed Shojaei along the way but his work rate was clear for all to see.

Getty Images

18/22 Andranik Teymourian - 6.5

Gave possession away poorly on a few occasions but, like all of his teammates, kept running until the very end.

Getty Images

19/22 Javad Nekounam - 7

In the heart of the Iranian midfield, Nekounam was responsible for a wide range of counter attacks which very nearly paid off for Iran. An essential player who almost made all the difference.

Getty Images

20/22 Ehsan Hajsafi - 7

A menace on the counter attack, the man from Sepahan in the Iran Pro League did his job well today. Will maybe even have European scouts taking a second look too.

Getty Images

21/22 Reza Ghoochannejhad - 8

A warrior in attack for Iran, the Charlton Athletic striker is so unfortunate not to have a goal from today's clash. Making Romero work for his cap today, this was a fantastic display.

Getty Images

22/22 Ashkan Dejagah - 8

While some Fulham fans blamed Dejagah's over-exuberance for their subsequent relegation last season, it did nothing but push Iran onto nearly claiming one of the biggest scalps in World Cup history.

Getty Images
Angel di Maria was the only author of substance during Saturday's first half and though there was some occasional rough-housing of El Enano ("the little man"), as Messi's team-mates call him, he could not find a way through. There were two one-on-one opportunities for him during a game in which Iran coach Carlos Queiroz's tactics were to prevent him getting a run on the ball. This is the way it will be for him.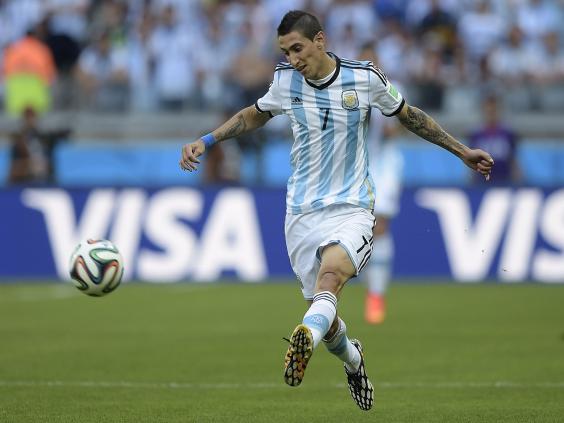 Maradona knows about that type of World Cup experience. It was 28 years yesterday that the Hand of God did its worst against England in Mexico City, for a team which he dominated in the way that Messi does now. But Maradona could shoulder the weight of the entire team, as his slalom run past Terry Butcher, Terry Fenwick and others in the Estadio Azteca all those years ago revealed. The nature of Messi's game requires others to play and interact with him far more.
"He is a player who needs the team," the Argentine journalist Roberto Martinez said at the weekend. "He cannot be emotionally independent of the group and is therefore very demanding of his teammates. He is not Maradona, who used to charge on and could take the weight of the whole squad on his shoulders. Messi needs to be connected to the team, to work as part of a bigger whole."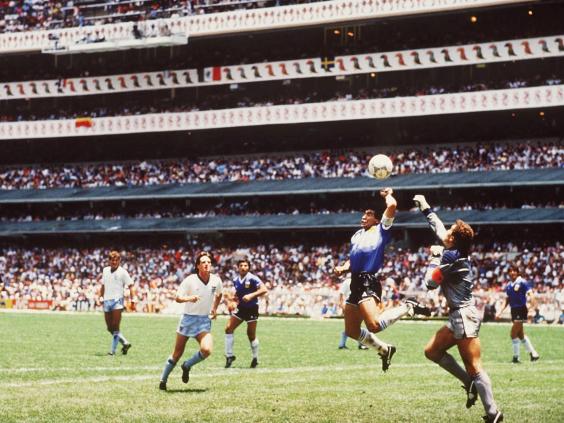 Argentina's concern is that Messi might not be able to rescue them. The former Argentina midfielder Marcelo Gallardo has said that without Messi, the Argentines drop down a level, to be the equivalent of the Netherlands, Portugal, Belgium, Uruguay and...England.
The defence was a part of the chaos against the Iranians too.  "I'm worried about this," Sabella reflected. "During counter-attack situations, a match is decided. Things got a little difficult on counter-attacks, especially around the end of the match. This sort of thing can happen."
If on Wednesday Iran can beat Bosnia – who have lost twice – and Argentina defeat Nigeria, Queiroz's team will make a remarkable journey to the second round. "I hope we have showed the world that Iran can play football," said Ashkan Dejagah, the  Fulham player. "We still have a chance to go through and who would have thought  our World Cup would last longer than England and Spain?"
Argentina is only hoping that the little man – of whom match-saving goalkeeper Sergio Romero observed, "He rubbed the lamp and settled the game" – continues to command. The midfielder Fernando Gago's reflections on him told the story on Saturday night.
"Messi?  You have to use him," he said. "You have to enjoy the best player in  the world."