Lionel Messi says he is 'very happy' to see Cristiano Ronaldo at the World Cup, and also lauded the Arsenal and Germany playmaker Mesut Ozil.
The Argentinian and his Portuguese counterpart have been battling it out for the tag of the world's best player for the last few years, but Messi has nothing but praise for his rival, saying he plays at an 'outstanding level'.
Ronaldo's hat-trick against Sweden in the play-off fired Portugal into the finals in Brazil, and with the Fifa Ballon d'Or voting extended, the Real Madrid forward is now in pole position to win the award for the first time since 2008. Barcelona's Messi, on the other hand, has won it for the past four years, but is currently sidelined with a hamstring injury and has scored 21 goals fewer than Ronaldo in 2013.
"I was very happy for him when he scored those goals," Messi said. "It's just great when the best teams compete in Brazil, and Cristiano has had a great scoring rate for many years now. He plays at an outstanding level."
"I don't know if this is Cristiano's best moment, but he is always there, scoring goals in all the games and playing his part for his club and his country. He has been like that for many years. Whether he is at his best, or a bit below that, there is almost no difference."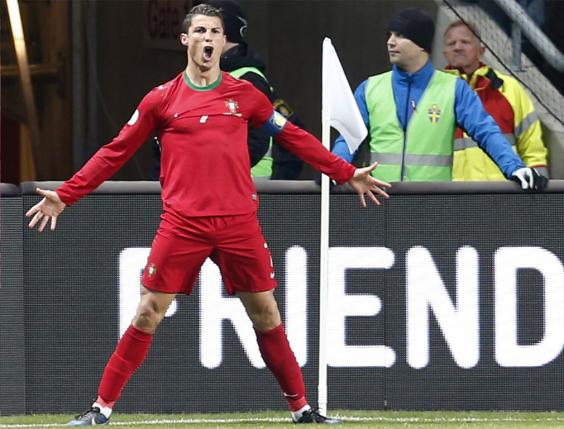 Messi will also be looking forward to watching Germany, who defeated England 1-0 at Wembley on Tuesday, and the Gunners'  £42.5m midfielder Mesut Ozil in particular.
"Germany have a great team loaded with many young players at a high level," Messi was quoted in Kicker. "I especially like Mesut Ozil - although, of course, that does not mean I want him on my team."
Only Gabriel Batistuta (56) has scored more goals for Argentina than Messi (37), and the 26-year-old believes his country have a great chance of ending their 27-year wait for the trophy. They last won it in 1986 in Mexico.
"Certainly, to win the World Cup is a dream for me, my team-mates and all of Argentina," Messi said.
"We are doing well - we need to improve a couple of things, but there are still seven months until the tournament starts. Hopefully we can win there, but a lot of nations can do it."