It was the bitterest of consolation prizes, not least because even Lionel Messi knew, deep down, that he did not deserve it. When he put that final free-kick way over the bar his first reaction was an endearing smile, as if to suggest: "See, I'm mortal after all." But when the Argentine picked up Fifa's Golden Ball award for the best player of this World Cup he looked disappointed, and sheepish. James Rodriguez, Arjen Robben and a clutch of Germans were all better candidates and Messi looked well aware of it. "I don't care at all about that prize, only lifting the trophy matters," he said.
His coach, Alejandro Sabella, said he thought Messi deserved the award, "because he played an extraordinary World Cup, he was a fundamental factor in the team making it to the final". But Diego Maradona felt the award had been made at the behest of sponsors and was embarrassing for Messi. "I could see that he didn't want to go up and collect it. I would give heaven and earth to Leo, but when marketing people want him to win something he didn't [deserve to] win, it is unfair," said Maradona.
Video: Germany win fourth World Cup
The script was meant to include Messi winning the Golden Ball, but only after leading Argentina to victory as Maradona did in 1986. Failure re-opened the old debate as to whether Messi matches his compatriot.
The answer has to be no. It is not entirely fair to suggest a player must shine in a World Cup to underscore his greatness; George Best and Alfredo Di Stefano never played in one, Stanley Matthews was 35 when he made his World Cup bow. But Messi plays for a country that has won it twice and is always a credible contender.
And the comparison with 1986 is unavoidable. Then, as now, Argentina were decent, but far from exceptional, except for their star player. A World Cup has never been dominated by one player as much as it was in Mexico. Then, Maradona scored five and helped make five of Argentina's 14 goals. When it mattered he delivered, scoring twice in both the quarter-final and semi-final and creating the winner in the final. This time Messi scored four and helped make two of Argentina's eight goals, underlining his importance to the team, but the goals were against Bosnia-Herzegovinia, Nigeria and Iran. In the knockout stages his goals dried up, and so did Argentina's. They scored two in seven hours' play.
Surprisingly, given that Argentina's defence was seen as its weakness, they conceded only once in those matches, but that partly reflects Sabella's approach. He focused on defence and hoped Messi, Angel Di Maria, Gonzalo Higuain and Sergio Aguero would turn scraps of possession into goals. With all four affected by injury, or its after-effects, they largely failed.
Germany 1 Argentina 0 player ratings
Germany 1 Argentina 0 player ratings
1/23 Manuel Neuer

Performed with authority on ground and in the air - but was fortunate not to be punished when racing out to punch clear off the head of Higuain. 6/10

GETTY IMAGES

2/23 Philipp Lahm

Again started at right-back and still remained one of the main threats going forward for Germany. Solid in defence in commanding showing. 7

GETTY IMAGES

3/23 Jérôme Boateng

Cleared danger from underneath his own crossbar as Messi drove forward and made another vital interception as substitute Aguero closed in. 7

GETTY IMAGES

4/23 Mats Hummels

Troubled by pace and trickery of Messi in opening minutes but recovered composure to keep forwards at bay. Used strength to hold off Higuain. 6

GETTY IMAGES

5/23 Benedikt Höwedes

Carded before half-time for a late lunge on Zabaleta and powered header against Romero's post at end of first-half when should have scored. 6

GETTY IMAGES

6/23 Christoph Kramer

Brought in after Khedira's warm-up injury and was then hurt himself when caught by Garay. Attempted to stay on but taken off after half an hour. 6

GETTY IMAGES

7/23 Bastian Schweinsteiger

First player to go in the book after light challenge on Lavezzi. Got back to make crucial blocks on Messi and Perez and also influenced Germany's attacks. 8

GETTY IMAGES

8/23 Thomas Müller

Enjoyed running battle with most of the Argentine backline. Found space on right side to link up with Lahm and delivered dangerous balls into box. 6

GETTY IMAGES

9/23 Toni Kroos

Was impetus behind semi-final victory but fortunate not to cost side when heading straight to Higuain. Weak shot at Romero and sent another effort wide. 6

GETTY IMAGES

10/23 Mesut Özil

Arsenal man struggled to get on the ball in right places at start but his bearing on the match grew. Moved inside after introduction of Schürrle. 7

GETTY IMAGES

11/23 Miroslav Klose

Record finals scorer pulled out of early challenge as Romero charged out. Veteran looked a little off the pace, failing to trouble with header or shot. 5

GETTY IMAGES

12/23 Mario Gotze

Bayern Munich midfielder replaced record-breaker Miroslav Klose in the closing minutes of normal time and displayed marvellous composure to chest down André Schürrle's pass before volleying past Sergio Romero. 7

GETTY IMAGES

13/23 Sergio Romero

Last season's Monaco reserve keeper excelled again. Semi-final hero was not troubled by Kroos effort and displayed solid handling when called upon. 7/10

Getty Images

14/23 Pablo Zabaleta

Got forward well, making valuable headed clearances and combining to good effect with Biglia. Made important block on Klose and caught by Höwedes. 7

Getty Images

15/23 Martin Demichelis

Stood up well to sporadic German attacks but was let down by his own indecision as he was caught in possession badly by Klose. 7

Getty Images

16/23 Ezequiel Garay

Robust challenge on Kramer eventually forced young opponent off. Never hid from a challenge and gave Argentines a presence at set-pieces as well. 6

Getty Images

17/23 Marcos Rojo

Wing-back has enjoyed stellar tournament and went in strong on Müller. Kept occupied by pace and passing of Lahm though. 6

Getty Images

18/23 Javier Mascherano

Content to drop back when required and also helped engineer attacks. Surrendered ball to Klose before hacking him down to earn booking. 7

Getty Images

19/23 Lucas Biglia

Early shot was blocked by Höwedes and displayed good positional sense. Fine ball through to Messi came to nothing. Blocked off Lahm. 6

Getty Images

20/23 Enzo Perez

Unable to reach Messi cutback and struggled to make his mark, Swapped flanks in effort to have more impact but taken off near end of normal time. 6

Getty Images

21/23 Gonzalo Higuain

Shot across goal and sent effort wide when presented with Kroos header. Slotted home when offside and caught as Neuer charged out of the box. 7

Getty Images

22/23 Lionel Messi

Surged forward to create opportunities but was well policed. Drove past post early in second half and shot wide but again faded in influence. 7

Getty Images

23/23 Ezequiel Lavezzi

Put himself in place to be pushed over by Schweinsteiger and win free-kick. Pace gave Germany food for thought before early departure. 6

Getty Images
Even troubled by injury Messi scored 48 goals for club and country this season, taking him past 400 in 550 games. Add the number he has created, and the style in which he has scored many, and there is the argument for his greatness.
There are, though, two aspects that make Maradona stand apart from Messi. He dazzled in an era of brutal tackling of which he was a frequent victim, and he would seize games by the scruff of the neck, turning ordinary teams into great ones. It was not just Argentina, look at Napoli. In an 88-year existence they have won two Serie A titles and one European trophy. All during Maradona's six-year spell at San Paolo. He also achieved this despite a wild private life and terrible injuries.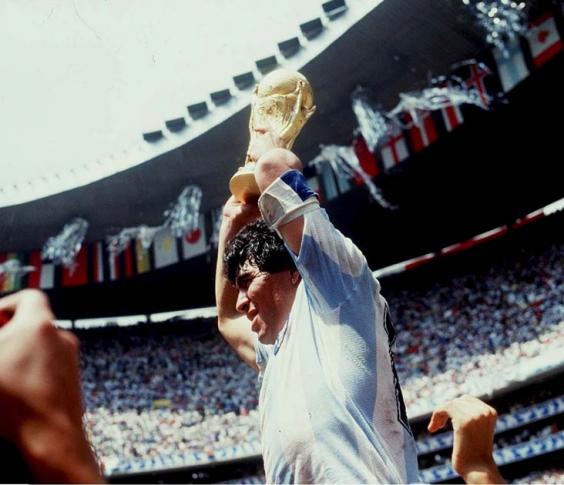 Only Pele matches Maradona, and the argument over which was better will never be settled. This World Cup confirmed Messi belongs in the next tier of football's Pantheon with the likes of Johann Cruyff, Di Stefano and Franz Beckenbauer. There is no shame in that, none at all.
Reuse content