Everyone's favourite manager Miguel Herrera has given Mexico fans reason to celebrate after he agreed a new contract to remain in charge of the national team until 2018 – meaning we may get the excitement of seeing him on the touchline for another World Cup.
Former international Herrera lit up the touchlines in Brazil with his expressive and exuberant reactions to goals, fouls and pretty much everything else.
Mexico were eliminated in the second round in Brazil by semi-finalists Netherlands, infuriating the supporters as they accused Arjen Robben of diving for the match-winning penalty.
But after tensions were given enough time to calm, the Central Americans can return to a state of celebration after confirmation came of Herrera's new deal to remain in charge of the national side.
 "We're renewing Miguel Herrera's contract so he stays as coach of the national team for Russia 2018," Mexican Football Federation president Justino Compean said.
"We're going with him and hopefully he lasts. His work was extraordinary (in Brazil).
"We're pleased because in the short time he had to work, he did it very well, achieving very good results in the style of play and in what the national team transmitted."
Miguel Herrera's best facial expressions
Miguel Herrera's best facial expressions
1/10 It's fun to stay at the...

Herrera pulls out his best 'YMCA' dance to bring a touch of the Village People to Brazil

Getty Images

2/10 The knockout blow

Herrera celebrates Guardado's effort, despite the image suggesting he decided to land a right-hook on the cheek of his own defender Paul Aguilar

Getty Images

3/10 All smiles

Herrera's cult following among the Mexican faithful has seen them produce enlarged cut-out faces of the manager

Getty Images

4/10 Walk like a Mexican

Despite his best effort to emulate the 80's classic, Herrera does hail from Mexico

Getty Images

5/10 When joy quickly turns to fear

Herrera realises that all six-foot of Guillermo Ochoa is about to hit him head-on

Getty Images

6/10 How about that

Herrera reacts to his side going ahead against Croatia as if he had just won the lottery

Getty Images

7/10 Keep it together

One of Herrera's more subdued facial expressions...

Getty Images

8/10 Have a whiff of that

Herrera gets a face full of armpit sweat as he celebrates with Ochoa

Getty Images

9/10 Yes! Yes! Yes!

Herrera is obviously a fan of the Daniel Bryan 'Yes Movement' as he dances along the touchline to get the crowd on their feet

Getty Images

10/10 The roar of success

The Mexico chief finally lets rip as his emotions get the better of him

Getty Images
Herrera's campaign in Brazil was all the more impressive as he only took over the job in October last year, leaving him just eight months to finalise his plans for the World Cup after a tumultuous few years in Mexican football.
In fact, Mexico hadn't even qualified for the World Cup when he took over, but Herrera guided them through a play-off against New Zealand to reach the tournament, where they would hold Brazil to a draw and beat Croatia and Cameroon in reaching the second round.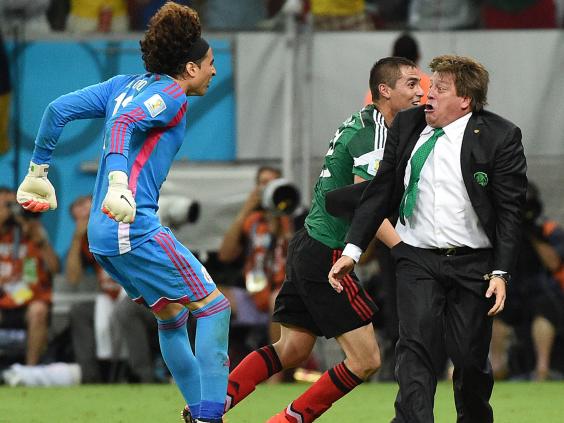 They nearly knocked out the Dutch, had it not been for two goals in two minutes to send them back home, but Herrera had already earned his reputation as one of the true characters of the World Cup for his reactions and celebrations alone.
Here's to hoping Mexico qualify for Russia 2018.