The journey in search of the roots of Neymar da Silva Santos – the golden son of Brazil, feted from the depths of the favelas to the ivory towers of academia – reveals the terribly fine line between those few who make it big in football here and the pitiful despair of those who are left behind.
It takes you south-east, out beyond the teeming metropolis of Sao Paulo, and it is after only a mile or so that the endless expanse of the Diadema favela looms into view. Then come the tiny flats – a few hundred square metres at best – into which a despised government is cramming the slightly less impoverished. It is beyond the Guarapiranga reservoir and the forest of the Serra do Mar that a stinking swamp they call the Mange is reached, with men on the roadside touting crabs they have fished from its depths.
The boy who has made this journey a million times was being celebrated yesterday like never before. "It's all ours," the front of one of the Sao Paulo dailies proclaimed above a picture of the 22-year-old who rescued the nation from ignominy against Croatia. But the boy's father, Neymar Snr, knew all about the narrow margins between this life and something better.
He moved his family into a room of his parents' house in Sao Vicente, a seaside town near here, around the time of his only son's birth because he was struggling to feed and clothe his young family. It is why he wanted to get him into the local club, Portuguesa Santista, who would secure him a private education, and why, when the 13-year-old had joined Santos, he urged him to stay through his teens and develop. Most footballers in Brazil earned less than 1,000 reals a month (£264) when his son's career began. Playing the game offers no guarantee of escape in this vast land.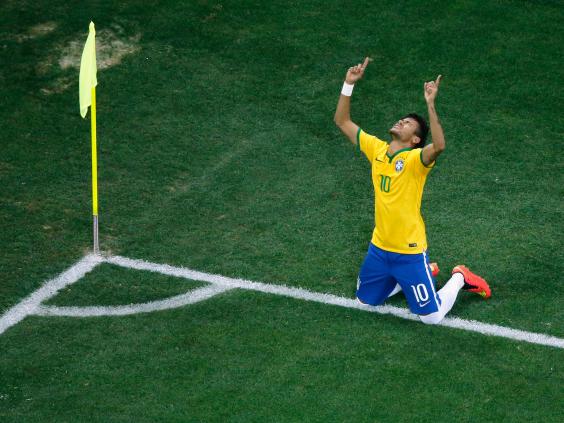 The Santos club's humble Vila Belmiro stadium – where the peeling black-and-white paint does not befit a crucible which was home to Pele too – reveals why Brazilian footballers have been an export commodity for years. It does not take long to see that the strength of his parents influenced Neymar's decision to stay here nine years, and that they drummed humility into him too. That much is evident from Caroline Piedade, one of the club's young marketing staff, whose roles included asking him to appear in club videos. "You never had to beg," she says. "He was never moody. There wasn't an ego. He wanted to help us."
His coaches found the same equanimity in him. Through a translator, one coach who handled him as a teenager tells me that the problems he encountered with teenage boys over the years never belonged to Neymar. "The parents," he says, to the question why this one might have been so different. "The background always matters a great deal." Neymar lived with his family for much of his time here and for years caught the bus up to the training ground.
World Cup 2014: Brazil 3 Croatia 1 - player ratings
World Cup 2014: Brazil 3 Croatia 1 - player ratings
1/22 Julio Cesar 7

Produced some assured catches and stops, and could do little about the goal.

GETTY IMAGES

2/22 Marcelo 5

Not completely at fault for the goal, but far from a complete performance.

GETTY IMAGES

3/22 Thiago Silva 6

Did much to eventually shore Brazil's defence together, but not at his best.

GETTY IMAGES

4/22 David Luiz 6

If always a little unreconstructed, Luiz did do well to cut out a range of Croatian attacks.

GETTY IMAGES

5/22 Dani Alves 4

Must realise he is no longer the right-back-cum-right-winger he used to be.

GETTY IMAGES

6/22 Luiz Gustavo 6

One of the typical midfield cogs that Felipe Scolari so leans on.

GETTY IMAGES

7/22 Paulinho 6

Eventually got to grips with Croatia's technical midfield passing before being taken off.

GETTY IMAGES

8/22 Oscar 9

Neymar's superb supporting act. Having kick-started the response, he delivered the sign-off.

GETTY IMAGES

9/22 Hulk 5

Mostly ineffective, before being taken off when the game really got serious.

GETTY IMAGES

10/22 Neymar 9

A decisive and potentially defining performance. This was the real deal.

GETTY IMAGES

11/22 Fred 6

Almost as ineffective as Hulk, but produced a blatant dive for the penalty.

GETTY IMAGES

12/22 Stipe Pletikosa 7

One exceptional save from Oscar and a host of solid ones.

GETTY IMAGES

13/22 Sime Vrsaljko 6

Ably supported Olic up the left for some of Croatia's best moves.

GETTY IMAGES

14/22 Darijo Srna 6

Caused Brazil a fair few problems but eventually succumbed to the siege.

GETTY IMAGES

15/22 Vedran Corluka 5

Increasingly exposed by the runs and movement of Neymar and Oscar.

GETTY IMAGES

16/22 Dejan Lovren 5

Doubts about his starting place, but even more doubts about the unfortunate penalty decision.

GETTY IMAGES

17/22 Mateo Kovacic 6

Nowhere near as perceptive as for Inter, and eventually taken off.

GETTY IMAGES

18/22 Ivan Perisic 6

Another Croatian wideman who enjoyed such initial joy on the flanks, only to be gradually forced in.

GETTY IMAGES

19/22 Ivan Rakitic 6

Played his role but never as ably as Modric.

GETTY IMAGES

20/22 Luka Modric 7

One of the visiting sides better performers and often the source of some of those exhilarating early attacks.

GETTY IMAGES

21/22 Ivica Olic 7

Started superbly, ran out of steam: the story of the team.

GETTY IMAGES

22/22 Nikica Jelavic 6

Had an unintentional part in the goal, and caused Brazil enough problems.

GETTY IMAGES
His slight physique was seen as the problem. "We involved a nutritionist from Sao Paulo," says the coach. "There was a concern that even though he might be able to beat anyone on the field for talent, when he reached the older age range he would not be able to fight his way through situations."
There were also entreaties to the young man to stop eating junk food. "He'd eat everything," said the coach, one of many here reluctant to take the player's limelight. "Burgers, the lot. We had to ask him to stop at 15 and he did."
What Santos gained from the jewel in their crown is written through the club's modest Memorial de Conquistas museum, which has Neymar and Pele at its heart. Metal sculptures of two icons stand face to face – Neymar's in glittering aluminium with the mohican in bronze. The sculpture captures him poised, the ball at his left foot, about to take it forward with the velocity which the coach says surpasses anyone seen here over the years. He does not alter that assessment when Pele's name is thrown into the equation.
In another corner of the room, a 30-second clip playing on continuous loop in the Neymar display panel reveals the speed in practice. It is the goal – the 63rd of his Santos career – which won him the Puskas Award for the world's best finish in 2011: a surging blend of abilities which takes him from the left touchline and past five men before clipping the ball past the Flamengo goalkeeper. Marvellous though the skill might be, it is the strength that keeps him on his feet in the final surge which is most incredible: testament to the weight training they put him through here while the dieticians were doing their work. To adapt a quote used to annotate the adjacent image of Pele: "There goes Neymar, with the ball that God gave him."
At every level of Brazilian life, they are now analysing the nature of talent. Luca Caioli's fine Neymar biography includes an explanation of his specialness from Jose Miguel Wisnik, the Brazilian musician, composer and professor of literature. "In a time when no one believes a poetic tradition exists and that it is disappearing even in Brazil due to a tendency to play football prose, along comes Neymar," Wisnik says. "He is a poet, a graffiti artist: his sonnets are daubed all over the city's walls. His hair, his way of putting his shirt collar up and his celebrations are all part of the poetic performance."
Most Brazilians do not intellectualise it in that way. The morning papers they were selling on the Santos street corners yesterday simply gave thanks for the boy's rescue act. "Vitoria Suada" – "a victory we sweated on" – read another headline. Driving home to the coast last night, past Diadema and the stench of the swamp, Neymar's family simply gave thanks that it had all turned out this way.
Reuse content