Former Netherlands international Pierre van Hooijdonk told a Mexican fan to "shut the f*** up" after he became embroiled in a row over Arjen Robben's admission of diving.
The 44-year-old responded fiercely to claims that Robben had deliberately dived to win the match-winning penalty in the Netherlands' 2-1 second round victory over Mexico while working on Dutch TV.
Robben, who has shone for the Dutch in Brazil, has admitted that he did dive earlier in the match in an effort to win a penalty. But he stressed that he didn't dive for the final penalty that saw the Netherlands book their place in the quarter-finals, where they will take on Costa Rica.
Afterwards the dispute, Van Hooidonk spoke to clarify what he had said.
"I told the Mexican to 'shut the f*** up over the dive because it annoyed me," said Van Hooijdonk.
"I said 'did you watch the first half as well when he went in and he should have had in one movement two penalties and he didn't get it?'.
"Everyone forgets that. It's a thing a cloud comes above him when he should be in the sun because he has been tremendous for us.
"You know what, I sometimes hate this. I was on the plane sitting next to a Mexican and he showed us his friend blah blah blah... and I said 'what is the problem?
"He said 'he dived for the penalty' and I said 'no, he didn't dive for the penalty'. He said that he dived early on in the game. And that was it. He was being honest. He was chatting like he was with his friends."
Netherlands 2 Mexico 1 player ratings
Netherlands 2 Mexico 1 player ratings
1/23 Jasper Cillessen

Looked nervous in the early stages but stood up firm when called upon. Very little he could have done about Giovani dos Santos' wonder strike. 7

Getty Images

2/23 Paul Verhaegh

Did the unglamorous, but essential, job of mopping up after any Dutch mistakes in front of the backline. A composed and measured performance from right-back. 7

Getty Images

3/23 Daley Blind

Raced forward wherever possible but lacked the desire to get back when needed. Appeared complacent with Dirk Kuyt as cover. 6

Getty Images

4/23 Ron Vlaar

The Aston Villa man delivered a typically stern and imposing performance. Did very little wrong and posed a threat from set-plays. 7

Getty Images

5/23 Bruno Martins Indi

Replaced Nigel de Jong after just nine minutes and delivered a combative and committed display. 7

Getty Images

6/23 Stefan de Vrij

Desperately unlucky not to have scored, forcing Guillermo Ochoa into a stunning second-half save, but kept his head up and delivered a good shift. 7

Getty Images

7/23 Georginio Wijnaldum

The PSV starlet was muzzled for much of the first half but found more joy in the second. Ran at the Mexico defence to some success. 7

Getty Images

8/23 Dirk Kuyt

Playing more defensively than British audiences will have been expecting, after featuring in attack for Liverpool, Dirk Kuyt delivered an impressive shift. Never stopped running on his 100th cap. 7

Getty Images

9/23 Wesley Sneijder

Will be remembered for the bullet finish which got the Netherlands back into the game. Had a quiet game though which, like his tournament as a whole, lacked penetration. 6

Getty Images

10/23 Arjen Robben

Eventually won his side a penalty after many failed attempts at allegedly deceiving the referee. Had one decent shout in the first half. The Bayern Munich man was tireless, however, and never gave up in his pursuit of a goal. 7

Getty Images

11/23 Robin van Persie

Despite the expectations on his shoulders, this was a decidedly quiet afternoon from the Manchester United striker. Was substituted for Klaas-Jan Huntelaar who ultimately won the game. 6

Getty Images

12/23 Klaas Jan Huntelaar

Despite only being on the pitch for little over fifteen minutes, the Schalke striker made his mark. Scoring the penalty which won Netherlands the game, Huntelaar was confident enough in his own abilities to take the spot-kick. 8

Getty Images

13/23

A stunning display defaced by two late, unstoppable, goals. After brilliantly saving Stefan de Vrij's point blank effort, it was clear that it would take quite a strike to get past Ochoa tonight. Lightning struck twice. 8

14/23 Paul Aguilar

Striving to get forward, while remaining wary of the Dutch counter attack, this was a decent if unremarkable outing for Paul Aguilar. 6.5

15/23 Rafael Marquez

After earning many plaudits over an illustrious career, the former Barcelona centre-back had an afternoon to forget. Clumsily bundling into every Dutch attacker in sight, it's no great surprise that he gave away the late penalty. 5

16/23 Francisco Rodriguez

An excellent first half display wasn't built upon and Francisco Rodriguez ultimately struggled to handle the Netherlands' attacking prowess in the final stages. The heat will surely have been a factor. 7

17/23 Miguel Layun

Began the game by showcasing his abilities to shoot from distance but rightfully opted to shift his focus towards firing crosses into the Dutch area. Cutting inside dangerously, this was an impressive performance. 7

18/23 Carlos Salcido

With a frightening ability to shoot from distance, Carlos Salcido will perhaps wonder if he could have contributed more. 6

19/23 Hector Moreno

Standing up to the Netherlands attack for much of tonight's game, Hector Moreno will be bitterly disappointed to have been part of a defence which conceded two late goals. 6.5

20/23 Hector Herrera

Tried to join the Mexican strikeforce whenever possible but was understandably nervous about leaving the door open behind him. A mature, if unadventurous, display. 7

21/23 Andres Guardado

Was occasionally isolated on the left flank and struggled to create chances with such little cover. Unlucky not to have scored with a long-range effort in the second half. 6.5

22/23 Giovani Dos Santos

Scoring a stunning goal to set Mexico up for an unlikely victory, the former Tottenham Hotspur man was a delight to watch. A regular thorn in the Netherlands' side, this was an exciting performance. 7

23/23 Oribe Peralta

With the weight of a nation's expectations on his shoulders, Mexico's Mr. Reliable failed to live up to his billing. 6
Van Hooijdonk was very protective of Robben, who he feels is streets ahead of anyone else in the squad, and while the former Nottingham Forest and Celtic star believes the Dutch have the quality to win the World Cup, their dependence on Robben, Robin van Persie and Wesley Sneijder is a weakness.
"He is not only our star player by a little bit, but by a long way," added Van Hooijdonk. "Everyone realised that we rely on Robben, Robin van Persie and Wesley Sneijder and that's a weakness as well because if these players are not on form, we struggle. 
"But Robben is destroying everyone at the moment. Everyone says when he was younger he was selfish.
"This player now captains Holland (when van Persie is off the pitch), then wins the penalty, walks with the ball and Dirk Kuyt tells him put it in.
"Then Robben looks at Klaas Jan Huntelaar and he thinks: he has fresh legs - here you go do that. 
"When I was at Benfica I saw someone beat two players in the box, went down grabbed the ball and went to the penalty spot. 
"I had already scored five but he took the ball and said 'I will take it because they made a foul on me.' Yes, f*** off you."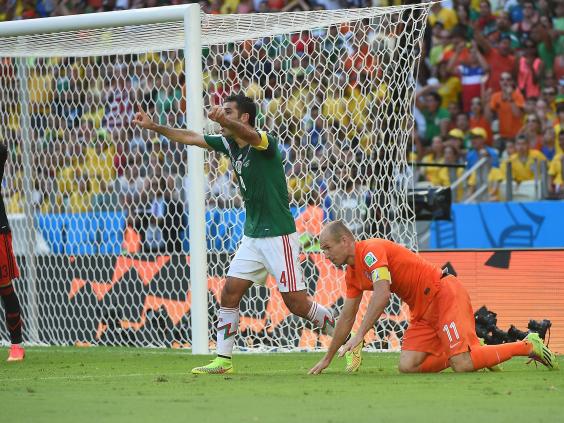 Manager Louis van Gaal led an open training session for the Netherlands on Wednesday, although Robben did not complete the session while Van Persie was forced to train with heavy strapping around his left ankle. Both are expected to be fit for Saturday night's quarter-final against Costa Rica.