How will Tim Howard avoid being mobbed by the adoring public upon his return to the United States after a starring World Cup performance led to him becoming the latest cult figure of the World Cup? "Shave your beard," according to President Barack Obama.
The President of the United States called goalkeeper Howard and team captain Clint Dempsey to congratulate them on their efforts in Brazil, just a day after their extra-time defeat in the second round that saw Belgium clinch a 2-1 victory in Salvador.
In a video released by the White House, Obama said: "Clint, Tim. Man I just wanted to call to say you did us proud. You guys did great. There's someone here who's first sport was soccer although I was never that good.
"To see the way you guys captured the hearts and imaginations of the whole country is unbelievable and obviously the way the sport has been growing steadily because kids have been playing it at a young age, but this is the first time you have had an entire country focused.
#USMNT @Clint_Dempsey and @TimHowardGK got a call from President Obama earlier today in São Paulo. pic.twitter.com/Vm21OhxHqX

; U.S. Soccer (@ussoccer) July 3, 2014
"You guys did us all proud not just by how hard you played and how well you did; you guys just carried yourselves with a lot of class. It makes people really respect the sport and you guys are really great models for a lot of sportsman here in the states.
"I know it is disappointing but what you guys accomplished is really, really significant and it will make a difference to the country so congratulate coach. I know maybe you have got another couple of guys there."
Belgium 2 United States 1 player ratings
Belgium 2 United States 1 player ratings
1/23 Thibaut Courtois

Denied Dempsey with just minutes remaining to complete Belgium's victory. Good throughout but had little to do in normal time. 7

GETTY IMAGES

2/23 Toby Alderweireld

Good energy throughout the game but lack a bit of attacking thrust. 6

GETTY IMAGES

3/23

GETTY IMAGES

4/23

GETTY IMAGES

5/23 Vincent Kompany

Superb again, a real leader. Could have even won it in normal time but mistimed his effort. 7

GETTY IMAGES

6/23 Axel Witsel

Good in the tackle and vital for Belgium in the next round. 7

GETTY IMAGES

7/23 Dries Mertens

Poor game and taken off on the hour mark. Missed one very good chance. 4

GETTY IMAGES

8/23 Marouane Fellaini

Surprised to play the entire game after being pretty ineffective throughout. 5

GETTY IMAGES

9/23 Kevin De Bruyne

Top, top game crowned with his well taken goal and fine through-ball for Belgium's second. 9

GETTY IMAGES

10/23

A true threat throughout normal time and should have scored at least once. 8

GETTY IMAGES

11/23 Eden Hazard

Not at his best but glimpses of brilliance. Belgium will need more from him against Argentina. 6

GETTY IMAGES

12/23 Best from the bench: Romelu Lukaku

Emerged from the bench in the 90th-minute and looked back to his usual, terrorising self. 8

GETTY IMAGES

13/23 USA: Tim Howard

Did not deserve to be on the losing side at all. Save after save, 15 in total and a top performance. 9

GETTY IMAGES

14/23 Fabian Johnson

Injured on 30 minutes after promising start. 5

GETTY IMAGES

15/23 Geoff Cameron

Did well at the back to keep out Belgium in normal time but just lacked concentration for De Bruyne's goal. 7

GETTY IMAGES

16/23 DaMarcus Beasley

Tireless effort and put in a really good shift. 7

GETTY IMAGES

17/23 Omar Gonzalez

Like defensive partner, played well throughout. 7

GETTY IMAGES

18/23 Matt Besler

Did fine but lacked that real quality at times. 6

GETTY IMAGES

19/23 Graham Zusi

Tired early on and found it hard to cope with Belgium's midfield. 5

GETTY IMAGES

20/23 Clint Dempsey

Had one chance right at the death to level the game but missed. Wasn't has influential as USA would have hoped. 6

GETTY IMAGES

21/23 Alejandro Bedoya

Didn't have the real weapons to hurt Belgium but still played well. 6

GETTY IMAGES

22/23 Jermaine Jones

Had one or two half chances and looked good once again. 7

GETTY IMAGES

23/23 Michael Bradley

Lovely through-ball for USA's goal and had a fine game all round. 7

GETTY IMAGES
Howard pulled off a magnificent 16 saves against Belgium to set a new record since the stat started being tracked in 1966. The 35-year-old Everton goalkeeper, who signed a new contract extension in April this year to remain at Goodison Park until 2018, saw himself become the most talked about trend on Twitter on Wednesday, after the hashtag 'Things Tim Howard could save' went viral, leading to a number of photoshopped pictures and memes flooding the internet.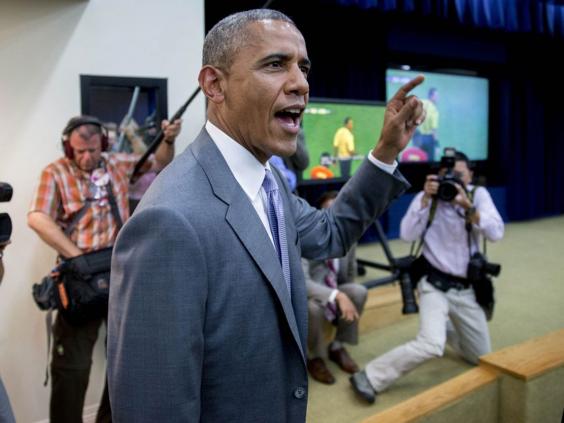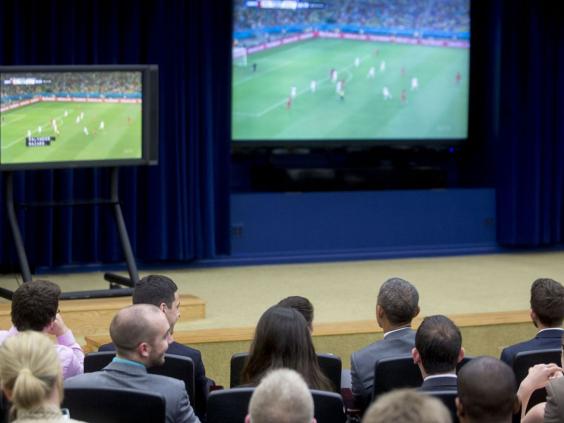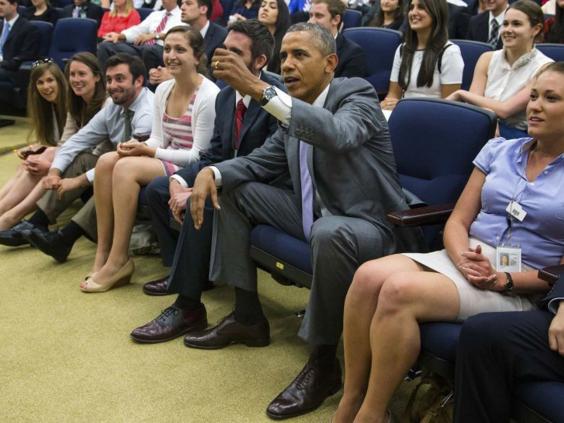 Obama had advice for the US's newest hero on how to deal with the mobs of adoring fans, as he told Howard: "Tim, I think I don't know how you are going to survive the mobs when you come back home man. You are going to have to shave your beard so they don't know who you are."
This is not the first time Obama has found himself caught up in the World Cup hysteria that has swept the US, after he was snapped watching USA's group game with Germany last week while flying aboard Air Force One at around 40,000 feet.
He also became the head of cheerleading – should he create such a role – after he crashed a White House screening of USA's defeat to Belgium to lead a chant of "We believe that we will win", the latest chant to have been made famous by the likes of Obama and actor Will Ferrell.
Obama signed off by inviting the squad to the White House when they return, adding: "Fantastic job everybody and I hope I get to see you guys again at The Whitehouse sometime soon. I've still got my jacket that you guys gave me. I appreciate you guys. Safe travels back. Bye bye."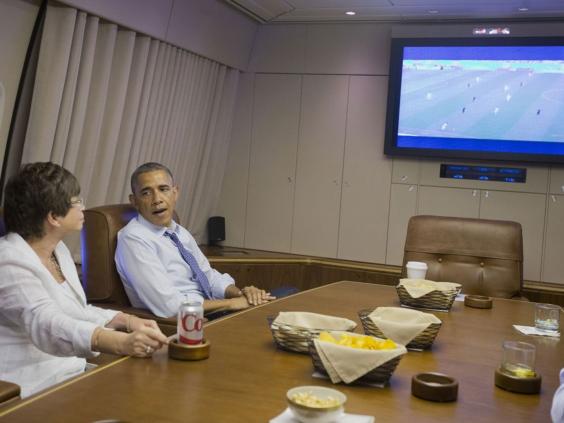 Despite the heartbreak of suffering defeat when the Americans had two chances to equalise late on, Howard revealed that he couldn't elaborate on the sombre mood in the changing room after the match as he was hauled off by Fifa for an immediate drug test.
"I got dragged into drug testing, again, randomly," Howard told when speaking to ESPN Radio. "So I didn't hear all of [the reactions]."