World Cups always throw up surprises but so do World Cup seedings, not least the news that Switzerland will be among the top seeds for the 2014 finals draw on 6 December.
Click image above to enlarge graphic
The make-up of the top pot – presuming that Uruguay beat Jordan in their two-legged play-off – is unlikely, to say the least. Brazil are there, as are the three other likeliest teams to win the tournament: Spain, Germany and Argentina.
Then there are three teams who have enjoyed a good couple of years. Uruguay, the South American champions, pending their play-off, Colombia, who finished second in the Conmebol group, and Belgium, who cruised through Group A.
And then there is Switzerland, looking strangely out of place. But in this morning's Fifa rankings, Ottmar Hitzfeld's side will be up in seventh place, rising from 14th, and ahead of even Italy and the Netherlands, who will be in the second pot instead.
It is testament to Switzerland's good form – they won Group E comfortably – but also to the volatility of the Fifa rankings. The Swiss have consistently been in the mid-teens for the last few years, but did not overtake England until last month.
After Tuesday night's games, in which they beat Slovenia 1-0, they now have 1,138 points, leaving Italy and the Netherlands – the 2006 winner and 2010 runners-up respectively – behind on 1136.
It is a remarkable rise for Switzerland, who in the draw for this qualification process were in the third European pot, along with Belarus, Ukraine and Hungary, based on their July 2011 Fifa ranking of 30th. But in Group E they finished far ahead of the higher-seeded Norway and Slovenia, and seven points clear of second-placed Iceland.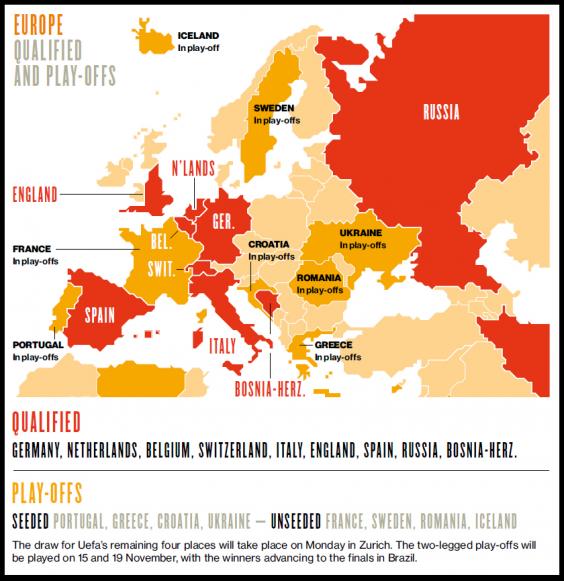 Switzerland have some talented players – Napoli midfielder Gökhan Inler, Bayern Munich winger Xherdan Shaqiri, Borussia Mönchengladbach midfielder Granit Xhaka and Basel's brilliant Valentin Stocker – but they are still not quite on the level of the other seeds. They did not qualify for Euro 2012, and did not get out of their group in the 2010 World Cup or Euro 2008.
England can have no legitimate grievances about not being seeded, but for Italy this is their first time outside of the top pot. England must just be hoping that they draw Switzerland, rather than any of the obvious favourites.
England, Italy and the Netherlands will make up a European-only second pot, along with Bosnia, Russia and then three of the four play-off winners. The likeliest scenario is that there will be a third pot, with the four Asian teams – Iran, South Korea, Japan and Australia – and three from Concacaf – the United States, Costa Rica, Honduras – and then the winner of the play-off between Mexico and New Zealand.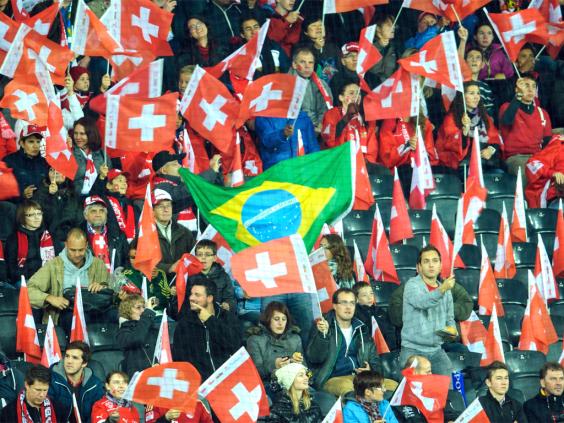 The final pot, where the real danger lies, would probably include the five African play-off winners – likely to include Ghana, Nigeria and Ivory Coast – the two non-seeded South American countries Chile and Ecuador and the lowest-ranked European play-off qualifier.
Roy Hodgson will be keen to avoid the lurking threats of Chile and Ghana in that fourth pot. The worst possible scenario, would be for England to draw Chile along with a big European seed – Spain or Germany – and then the US again. Or, perhaps, Brazil from the seeds and Ghana from the fourth pot.
There is no such thing as an easy group, of course. England drew Algeria, the US and Slovenia in 2010 but scraped through the group, finishing second and losing badly to Germany in the last-16. That said, they would certainly prefer an easier group to a harder one, which would include Switzerland from the seeds, Honduras or Australia from the next pot down and then probably the weakest African play-off winner – most likely the winner of the tie between Burkina Faso and Algeria.
But then England drew Algeria in 2010 and could only draw 0-0, so who knows?
WHO ENGLAND COULD FACE IN BRAZIL
Teams will be split into four pots and drawn in eight groups.
POT 1 (Seeds): Brazil, Spain, Argentina, Germany, Switzerland, Belgium, Colombia, Uruguay/N'lands*
POT 2 (Concacaf/Afc/Oceania): USA, Costa Rica, Honduras, Mexico/NZ**, Iran, South Korea, Japan, Australia
POT 3 (Caf/Conmebol/+ one from Uefa): Ghana/Egypt, Nigeria/ Ethiopia, Burkina Faso/Algeria, Ivory Coast/Senegal, Tunisia/Cameroon, Chile , Ecuador, (lowest-ranked Uefa qualifiers)
POT 4 (Uefa): Netherlands*, Italy, England, Russia, Bosnia + three highest-ranked play-off winners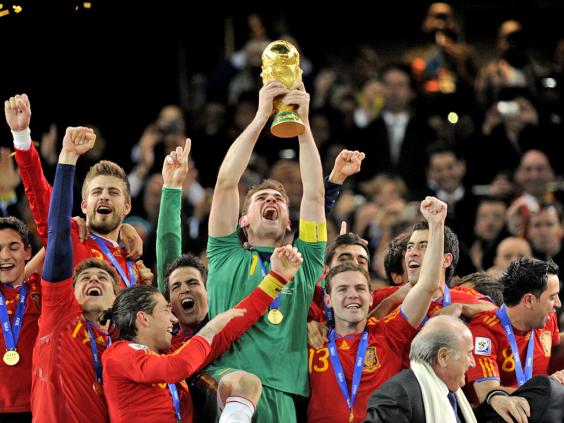 Pot 1 will consist of hosts Brazil plus the seven highest-ranked nations when Fifa's latest ranking list is announced today. Seven of the seeds have definitely been decided, with Uruguay set to take the eighth spot if they overcome Jordan in next month's inter-continental play-off.
Pot 2 is expected to consist of the qualified teams from North and Central America, Asia and Oceania, with Mexico or New Zealand contesting a play-off next month to decide the final spot.
Pot 3 is expected to include the five African teams who qualify from the play-offs next month, plus the two remaining South American representatives, Chile and Ecuador. If Uruguay qualify via the play-offs then this pot would also include the lowest-ranked qualifier from Europe***. They and the two South American teams could then not be matched with a top seed from the same confederation.
Pot 4 would then contain the remaining eight European teams, including England.
* depending on the result of Uruguay v Jordan play-off
** depending on result of Mexico v New Zealand play-off
*** If Jordan beat Uruguay in the play-offs, then it is likely that one of the Asian or North American teams will be moved to Pot 3, with the Netherlands becoming top seeds.
NB Two teams from Europe can be in the same group and no more than one team from the other confederations (eg Brazil cannot be drawn with another team from South America)
Reuse content