Spain were spinning as positive a message as possible in the Maracana on Tuesday, but couldn't negate the nature of that devastating 5-1 defeat to the Netherlands. "A result like that leaves you with no argument," Andres Iniesta flatly acknowledged.
Well, not quite. It does give rise to one rather big argument. Is this the end for this team? Will that atrocious opening to this World Cup lead to the elimination of the defending champions in their second group game against Chile on Wednesday, and thereby the end of an era?
Because, in some ways, the most striking aspect of the opening loss was not even the stunning result. It was the remarkable pattern of play that led to it, and the uncomfortable reality that it could really have been so much worse. Two images remain beyond the brutality of the figures on that Salvador scoreboard.
The first is Arjen Robben simply searing past the Spanish back line, and their defenders proving unable to do anything to keep him out, or even keep up. The second is the complete breakdown those runs caused in Vicente del Bosque's side.
Spain 1 Netherlands 5 player ratings
Spain 1 Netherlands 5 player ratings
1/22 SPAIN: Iker Casillas 3/10

Lack of club football evident with tournament's most capped player beaten five times in a horror show.

GETTY IMAGES

2/22 Cesar Azplicueta 4

Not individually at fault for any of the goals but part of a woeful Spanish defence.

GETTY IMAGES

3/22 Sergio Ramos 2

Embarrassed by Robben, particularly for the fifth goal. Abysmal.

GETTY IMAGES

4/22 Gerard Piqué 3

Equally culpable and totally failed to deal with the Dutch attack

GETTY IMAGES

5/22 Jordi Alba 4

Flashes of quality going forward but defensively very poor.

GETTY IMAGES

6/22 Sergio Busquets 5

Started confidently but disappeared after half an hour. Constantly overrun on the break

GETTY IMAGES

7/22 Xabi Alonso 5

Converted the penalty but offered little else and couldn't hold back the Dutch tide.

GETTY IMAGES

8/22 Xavi 6

Made more passes than any other player but failed to dictate the game.

GETTY IMAGES

9/22 David Silva 6

Showed some nice touches but little penetration. Anonymous in the second half.

GETTY IMAGES

10/22 Andres Iniesta 7

Comfortably Spain's best player. Produced the pass of the match in the first half with wonderful disguised ball to Costa.

GETTY IMAGES

11/22 Diego Costa 6

Provided Spain with a useful outlet early on and pinned Dutch defence back, but let down by poor finishing. Lucky not to be sent off for petulant headbutt.

GETTY IMAGES

12/22 Jasper Cillessen 7/10

Went the right way for the penalty but couldn't keep it out. Saved well from Silva at vital stage.

13/22 Daryl Janmaat 5

Lucky to not get booked for late early foul on Alonso. Gave ball away too much.

14/22 Daley Blind 9

Sharp in the tackle and got forward well, putting in some dangerous crosses. Superb balls for the Van Persie and Robben goals, and dominated the whole left flank

15/22 Martins Indi 7

Strong in the tackle and composed in possession. Wound up Diego Costa, who was lucky not to be sent off.

16/22 Ron Vlaar 8

Marshalled defence superbly and made some vital tackles

17/22 Stefan de Vrij 6

Gave away penalty and booked for cynical challenge on Silva. Much improved second half capped with somewhat fortuitous goal.

18/22 Jonathan De Guzmán 7

Neat and tidy in possession and battled well, winning headers and tackles.

19/22 Nigel De Jong 6

Pressed well to deny Spanish midfield space but distribution poor.

20/22 Wesley Sneijder: 5

Missed glorious early chance. Failed to impose himself on the game and was a largely anonymous presence.

21/22 Robin van Persie 8

Anonymous until the goal, which he took superbly, and was a menace throughout after that. Added a second and only the crossbar denied him a hat-trick.

GETTY IMAGES

22/22 Arjen Robben 8

Good early through ball to send Sneijder clean through, and the Dutch's most dangerous player. Took his goals superbly
The way in which the Netherlands came from 1-0 down to quickly lead 2-1 was the first time that Spain had gone ahead in a competitive game and still lost since 6 September 2006, in a 3-2 defeat away to Northern Ireland.
Since then, the quality and control of their passing game has been the closest thing to a cast-iron guarantee the international game has seen. Once they went in front, you could be virtually certain they would not give the ball away, or the lead.
Last Friday in Salvador, however, it was as if that unprecedented and unexpected turn-around delivered much more than a Dutch lead. It was a body blow which shook Spain to the core and may well have a deeper psychological effect.
How does a team previously so dominant even begin to recover from a dismal thrashing like that? Everything they previously knew was forgotten. The doubt that spread through the team was all too visible.
That is the biggest issue. They are going to have to recover from that before they even start to fix the other stack-load of actual football problems in the team.
For Spain's part, they said all the right things. The surprising optimism of Iniesta and Del Bosque was evident the moment they came out for their pre-match press conference.
Iniesta was asked how he was feeling after such a fierce beating. "I feel like we are prepared to win," the Barcelona playmaker responded. "It's hard to return to normality, like it was before the first game but I also feel what happened has to be in the past.
"It's clear it was a very hard blow, a very bad result above all but, in difficult situations, you just have to give your best to fix the situation."
The key question is whether their best is still good enough. Spain's possession game was always hugely dependent on the drive and intensity that went along with it, but it's somewhat inevitable that will wane after six years of unprecedented success. Once the rot sets in, it also becomes very difficult to do anything about, no matter the age or status of the players. Something intangible evaporates.
In that, there is potential that the nature of the defeat to the Dutch could actually be a positive. It could rock them enough to produce a real response. Del Bosque hinted at a previous absence of any kind of productive tension. "I think it's good to have a bit of anxiety, but always a bit controlled," he said.
Iniesta similarly pointed to the urgency of the situation in their remaining group games. "We have two finals," he said. "We have been in these situations before in the last World Cup."
To do that, however, they may be forced to drop some of the stars of that World Cup. Goalkeeper Iker Casillas made far too many errors, Xavi had too small an impact, Gerard Pique particularly struggled with Robben's pace.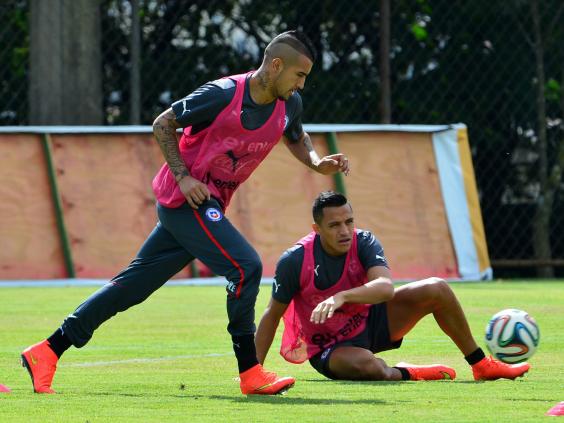 The problem today is that Chile are capable of going at Spain in a similar way, and have an attacker with similar speed in Alexis Sanchez. The suggestions from the camp are that Javi Martinez will come in to anchor defence, and Xavi may be dropped, possibly for Atletico Madrid's Koke.
Del Bosque would not be drawn on his line-up, but did admit that they may have to at last compromise – if not change – their style in order to conquer Chile. "They are valiant, aggressive and take risks," he said. "We have our own identity and can't lose it. We have to mix it with another style of play, without affecting us, but still being able to damage them."
Fernando Torres put that in even starker terms. "We win our way... but, if we can't win like that, we just have to win." Right now, that is the only argument that matters.
Reuse content