German football fans held wild celebrations in the pouring rain after their national team's 7-1 World Cup victory against Brazil on Tuesday night, but the world of Teutonic football has been shocked if not embarrassed by the humiliation the side inflicted on their opponents in the semi- final.
After Brazil's devastating defeat, Germany's ZDF television channel showed close-up shots of gaudily painted yet grieving Brazilian fans and national team members openly weeping. The victorious German players were filmed embracing their opponents and desperately trying to console them.
The German side did its best to play down its extraordinary victory. " A bit of humility is also a good idea right now," remarked Joachim Löw, the German national coach. " It's not over yet. We have to make sure that we stay focused right through to the final on Sunday."
His stance was echoed by striker Thomas Müller, who added; "We haven't reached the final yet, let's keep our sense of proportion."
Oliver Kahn, a former German national team goalkeeper who is now ZDF's chief football commentator, noted that the Brazilian side had "literally fallen apart" after Germany's first goal, suggesting that the players had been simply overburdened with expectations from their own country.
The German media's reaction to the win was also markedly restrained. The mass circulation Bild newspaper noted in a front page headline: "Our joy makes them weep." The paper also devoted space to the Brazilian media's response to the result, including the decision by one paper to produce a black front page with nothing on it except the explanation. "No front page today. We are ashamed."
Der Spiegel magazine did not crow about the victory but insisted "now only the final counts".
In an article headlined "The anger returns", the Süddeutsche Zeitung asked what would happen in Brazil after its humiliating defeat: " Expensive stadiums, decaying hospitals. Before the World Cup many Brazilians protested against their government's policies with violence. Then football suppressed all the anger. What will happen now?"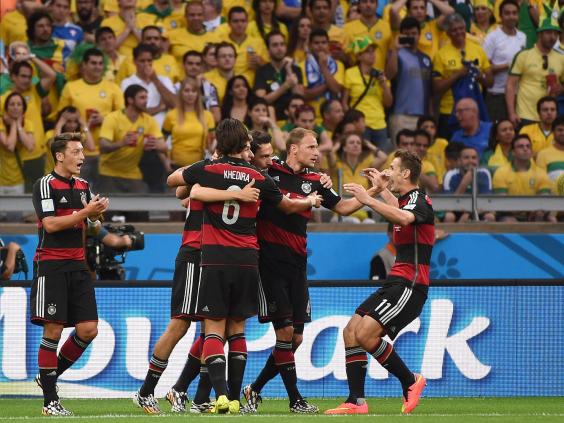 Der Spiegel wrote that Germany had "traumatised" their World Cup hosts but noted that instead of indulging in "exaggerated jubilation" their team consoled their Brazilian opponents and behaved like "fair sportsmen".
However, praise for German Football Association President Wolfgang Niersbach was conspicuously absent. Mr Niersbach's post-match interview with ZDF contrasted sharply with the German players' reaction. He described the German victory as "an historic day not only for Germany but for world football", adding: "That was football from another planet."
Asked if he had any sympathy for the Brazilians in their defeat, he replied: "Oh no, I only felt enthusiasm for our team."
Mr Niersbach, 63, also said he was disappointed that Brazil managed to score its single goal and insisted that "strictly speaking" it should not have happened. He added: "But nowadays we are very, very generous."
Der Spiegel criticised him for "not wanting to address the trauma" experienced by the World Cup hosts.