A stampede at Copacabana beach ended an abysmal evening for Brazil fans watching their team's 7-1 humiliation by Germany.
There were rumours of an arrastão at the iconic beach in Rio de Janeiro – a mass robbery where thieves run through crowds inciting panic and snatching bags along the way.
But police said that a fight between fans started the stampede and although at least seven people were arrested for theft during the game, they all happened in different places.
Reports of gunshots fired at the beach were not confirmed.
The confusion started near at the Fifa Fan Fest near the Copacabana Palace when Brazil were already 3-0 down.
Two teenagers told g1 Rio they were later surrounded by 10 people outside the hotel and robbed of their backpacks and keys.
Police had prepared for riots and there were concerns before the semi-final that a bad result would reignite the anger over huge Government spending on the World Cup that led to violent clashes in the months before.
Elsewhere in Brazil, fights broke out among fans and both the German and Brazilian flags were burned in anger.
Riot police were reportedly called to another Fifa Fan Fest screening in Recife, when disturbances started in the crowd after Germany's first goal.
In Sao Paulo, local media reported that at least 12 buses were set alight in a garage and an electronics shop was looted by angry fans.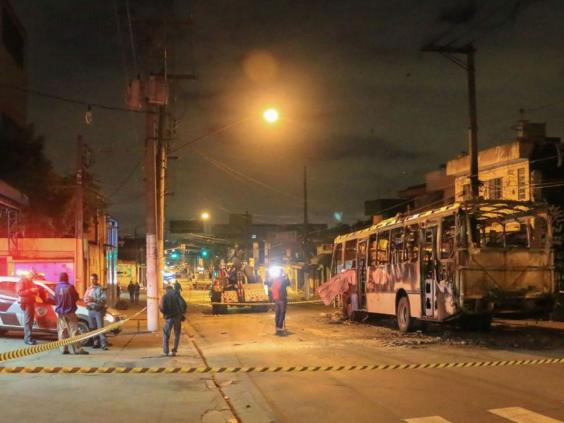 It was the worst defeat the Brazilian national team has suffered, with the misery compounded by its arrival as the country hosted the World Cup.
The team's coach, Luiz Felipe Scolari, called it "the worst day of my life".
Reuse content