Steven Gerrard has challenged Harry Redknapp to name and shame the players whom the former Tottenham Hotspur manager has alleged tried to pull out of England squads when he was in charge of the club.
In a blunt response to Redknapp's allegations, made on BBC Five Live, that unnamed Spurs players would plead with their manager to make up excuses to get them out of England duty, Gerrard said that Redknapp had an obligation to name them. Otherwise up to 12 England players from Redknapp's time in charge of Spurs would be under suspicion.
The England captain even went as far as saying that he knew that Jermain Defoe was not under suspicion. He said he had spoken to the former Spurs man who was "devastated" at not making the World Cup finals squad.
World Cup 2014: The best goal celebrations of the tournament so far
World Cup 2014: The best goal celebrations of the tournament so far
1/19 Neymar

Brazil 3 Croatia 1 Bringing Brazil level and coming good on the promise that he would be a star at this tournament, Neymar needed simply to raise a finger to the air to claim he was the one. When he put the hosts ahead from the penalty spot the emotion was clear to see, with the Barcelona player falling to his knees and pointing to the sky in what is sure to be one of the iconic shots of the tournament.

Getty images

2/19 Robin van Persie

Spain 1 Netherlands 5 Robin van Persie had just scored one of the great World Cup goals with his flying header, but his celebration was less of a success. Rushing over to his soon-to-be club manager at Manchester United, Louis van Gaal, the pair went to 'high-five', only to barely make contact with each other's hand.

Getty images

3/19 Jorge Valdivia

Chile 3 Australia 1 After putting a curler into the top corner to make the score 2-0 to Chile, Jorge Valdivia wheeled away rotating his fingers towards his head in a gesture that seemed to suggest he was going crazy.

Getty images

4/19 Pablo Armero

Colombia 3 Greece 0 The whole Colombia team, including those on the subs bench, got involved when Pablo Armero gave them a scrappy early lead. The defender led his team-mates over to the sideline where they performed a jubilant dance, waving their hands in the air and jigging side to side. they had a little dance after their next goal too, but it couldn't match the first for surpirse and entertainment value.

Getty images

5/19 Joel Campbell

Uruguay 1 Costa Rica 3 When Arsenal forward Joel Campbell brought the scores level, he momentarily forgot his traditional celebration. But within a couple of seconds, he had frantically gestured for the ball and then stuck it up his jersey. As he pretended to be pregnant, he also sucked his thumb for good measure.

Getty images

6/19 Daniel Sturridge

England 1 Italy 2 Despite revealing afterwards that he wasn't planning to if he scored, when Daniel Sturridge found the back of the net against Italy he couldn't resist a few rigid dance moves. Had England gone on to win, it probably would have turned into a craze sweeping the nation. The rest of the England players were so jubilant at the equaliser they managed to dislocate the ankle of physio Gary Lewin amid celebrations by the dug-out.

Getty images

7/19 Gervinho

Ivory Coast 2 Japan 1 Sliding on the knees is nothing knew, but doing it in tandem with Didier Droga whilst wearing the vibrant orange kit of the Ivory Coast made for a great image. Gervinho had just scored the winning goal.

Getty images

8/19 Haris Seferovic

Switzerland 2 Ecuador 1 Haris Seferovic had just scored an injury time winner and didn't we just know it from his celebration. Reminicent of Marco Tardelli, the Switzerland player looked like he couldn't contain himself as he thrust his arms forward and back and charged up the touchline.

Getty images

9/19 John Brooks

Ghana 1 USA 2 Never has a player looked in quite such disbelief at scoring than John Brooks after he scored the winning goal for the United States against Ghana. Putting his hands to his head and looking to the sky, the German born player opted to head to the corner, collapse on his knees and then lie flat on his front with his face in the turf. He'll probably make a better job of it if he scores again.

Getty images

10/19 Tim Cahill

Australia 2 Netherlands 3 Everton fans and watchers of the Premier League will have seen it all before, but Tim Cahill was able to perform his trademark celebration on the world stage after scoring a stumping first-time volley. After a goal that will be among the contenders for best of the tournament, the Aussie headed for the corner flag for a bit of boxing practice.

Getty images

11/19 James Rodriguez

Colombia 2 Ivory Coast 1 Colombia were at it again after James Rodriguez opened the scoring against Ivory Coast. After first heading to the corner for a dance, they opted to head up the touchline to have a dance with the substitutes as well. With the players kicking their legs in sync, it was clear they had been practising.

Getty images

12/19 Wayne Rooney

Uruguay 2 England 1 The forward wheeled away in celebration after scoring his first-ever World Cup goal. The joy did not last long, however, six minutes later Luis Suarez scored the winner for Uruguay.

Getty Images

13/19 Clint Dempsey

USA 2 Portugal 2 Dempsey has become a national hero for the Americans during the the tournament, and this passionate celebration against Portugal showed just how much the World Cup means to the former Fulham and Tottenham man too.

14/19 Miroslav Klose

Germany 2 Ghana 2 So how do you celebrate drawing level with Ronaldo as the World Cup's highest ever scorer? A forward flip that nearly breaks your neck of course. At the age of 36 perhaps Miroslav Klose shouldn't be going for the theatrical celebrations, but luckily he made it just far enough round that he didn't do himself any damage.

Getty Images

15/19 Miguel Herrera

Croatia 1 Mexico 3 He might not have scored himself, but the celebrations of Miguel Herrera are more than worthy of inclusion. As his team beat Croatia 3-1 to book their place in the knock-out phase the Mexico manager couldn't contain himself. Jumping up and down, grabbing anyone in sight and simply looking like the happiest man alive made Herrera an internet sensation.

Getty Images

16/19 Georgios Samaras

Greece 2 Ivory Coast 1 After winning his side a penalty in injury time, Georgios Samaras picked himself up to take it. A goal would mean Greece were going through to the knock-out phase, so when the ball hit the back of the net the Celtic player was suitably jubilant. Racing to the corner, the striker slid on his knees towards the camera before finding himself at the bottom of the biggest bundle of World Cup so far.

GETTY IMAGES

17/19 Julio Cesar

Brazil 1 Chile 1 (aet: Brazil win 3-2 on penalties) After a thrilling, end-to-end game went to penalties, Brazil goalkeeper Julio Cesar emerged as the hero for the hosts, saving two penalties from Alexis Sanchez and Mauricio Pinilla. The relief when Gonzalo Jara hit a crucial penalty was clear for all to see as the Selecao players rushed to embrace the goalkeeper.

Getty Images

18/19 Klaas Jan Huntelaar

Netherlands 2 Mexico 1 Arjen Robben may have caused controversy for the manner in which he won the penalty, but Klaas-Jan Huntelaar, on as a substitute for Robin van Persie, did not feel any pressure with the 94th minute penalty. The Schalke striker's goal sparked wild Oranje celebrations - we're not quite sure who his karate kick was in honour of.

Getty Images

19/19 David Luiz

Brazil 2 Colombia 1 In one of the best quarter-finals ever, the match between the two South American nations was delicately poised heading into the final 20 minutes. James Rodriguez, perhaps harshly, conceded a foul about 35 yards from goal and David Luiz stepped up. What he did next was spectacular, rocketing a shot into the top corner - the celebration wasn't bad either as Luiz, eyes and veins bulging sprinted off down the touchline screaming before 'doing a Huntelaar' to the corner flag.

Getty Images
Speaking together for the first time since England's elimination was confirmed on Friday, Gerrard said that Roy Hodgson had asked him to stay on as captain of the team. The 34-year-old has asked Hodgson for time to consider his future. Gerrard said he felt "broken" by England's elimination from the tournament and needed time to decide. On Redknapp, he said: "I tell you what, I'd be interested to find out who those players are. If Harry is making a comment like that, he should name them and embarrass them. No one in this group wants to go home.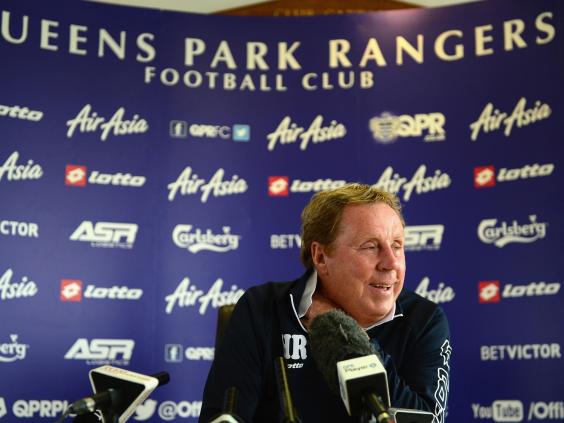 "Should Harry not name them? If he's not naming them, I can't answer that. If it's the case, it's disgusting. For me, if a player doesn't want to be, he doesn't deserve to be here at a World Cup. The comment refers to 'them'. 'They' didn't want to play for England. Who? Name them? Is it Aaron Lennon, Kyle Walker, Andros Townsend? I don't know who he means. Five years ago?
"I've spoken to Jermain Defoe and he's devastated [not to be in Brazil]. I can understand why you've asked the question, with Harry Redknapp a big coach in the game, but we need names. But it's not here [in the current squad]. I can guarantee it's not here."
Redknapp had said earlier in the day that there were "two or three [Spurs] players who did not want to play for England." He said: "They would come to me 10 days before the game and say, 'Gaffer, get me out of  that game, I don't want to play in that game'. That was how it was. I'd say, 'You're playing for your country, you should want to play'.
"[The players would say] 'Nah, my girlfriend is having a baby in four weeks, I don't want to play' and that is the truth, so it makes you wonder. And I think it's only going to get worse. You see the stick the England players get and they come home, they're earning fantastic money at their clubs, they're all playing in the Champions League. They think, 'Do we need the aggro?' "
There have been issues with players withdrawing from Under-21 games. In the past Andy Carroll and David Bentley have pulled out of tournaments. Gerrard said: "Well, he should be embarrassed if there's one player. When you go down into the younger age groups, they're younger lads. They might not want to be away from their families. But when you're picked at this level and find any excuse not to be here, you don't deserve to be here."
Hodgson said that Redknapp's remarks "come as a bit of a surprise". He said: "If you make comments like that, you have to name them. I could name a player with an educated guess, but players? It's unfair to ask people to look back historically. Let's see how it will be moving forward. Let's keep our standards high."
England travelled to Belo Horizonte today before tomorrow's final World Cup group game against Costa Rica.
Hodgson said he would give opportunities to the members of his squad who have not played so far. Frank Lampard will captain the side. Alex Oxlade-Chamberlain has had a set-back in his recovery from a medial knee ligament injury and will not feature. Leighton Baines has a hamstring injury and is not available. Luke Shaw will start.
Reuse content