Thus, Germany stumble on. They did not do it elegantly, nor did they show even the slightest trace of dominance, but, against inferior opposition, Joachim Löw's side toddled gracelessly into the quarter-final, just as they were expected to.
"We're in the last eight. That's all that counts. Do you want us to go out playing nicely? What do you want?" demanded Per Mertesacker on German TV after the game. When faced with the reasonable point that a more convincing victory had been expected against Algeria, the Arsenal defender broke into full rant mode: "Do you really think there are any joke teams in the last sixteen of a World Cup?".
It was a tirade which is already eeking its way onto the Youtube compilations, alongside Lothar Matthäus, Giovanni Trapattoni and Oliver Kahn. Unlike his cursing predecessors in German football, though, Mertesacker was hardly playing the victim. His frustration, though directed at his interrogator, was clearly rooted in his team's – and his own – performance.
There have been many accusations laid at this German team in the build up to and development of this World Cup. There have been a myriad of identified symptoms, knowing diagnoses, and half-baked tactical solutions.
Germany 2 Algeria 1 player ratings
Germany 2 Algeria 1 player ratings
1/23 Manuel Neuer

Perhaps the best goalkeeper in the world right now, Manuel Neuer recovered from a shaky start to deliver a truly commanding performance. 7

GETTY IMAGES

2/23 Benedikt Howedes

Struggled to deal with the pace of Faouzi Ghoulam and was left wanting far too often. Could have cost Germany dearly. 6

GETTY IMAGES

3/23 Per Mertesacker

Isolated by the Algerians as a possible chink in Germany's armour, the Arsenal man's lack of pace was regularly used against him. 6

GETTY IMAGES

4/23 Jerome Boateng

Made a series of awful first-half mistakes but calmed down in the second period. A couple of essential blocks ensure a decent rating. 7

GETTY IMAGES

5/23 Shkodran Mustafi

A surprise choice in the German line-up, the Sampdoria man did a decent job in left-back. Sofiane Fegouli's pace, though, will give him nightmares. 6

GETTY IMAGES

6/23 Bastian Schweinsteiger

Marshalled the play effectively and was one of the major reasons why it'll be Germany who take on France in the quarter-finals. 7

GETTY IMAGES

7/23 Mesut Ozil

The Arsenal playmaker had a difficult night against an Algerian defence intent on muzzling him for large periods. At least got himself a late goal. 6

GETTY IMAGES

8/23 Philipp Lahm

Playing just in front of the backline, the German captain had an important job to do. Faced difficulty preventing Algerian counter-attacks though. 6

GETTY IMAGES

9/23 Toni Kroos

Playing higher up the pitch than usual, to begin with at least, the Real Madrid target was forced to resign to midfield as Algeria began to get a hold of the game. 6

GETTY IMAGES

10/23 Thomas Muller

Could have scored a hat-trick. While his assist for Andre Schurrle's goal is a redeeming factor, this was a poor evening's work. 5

GETTY IMAGES

11/23 Mario Gotze

Played with his usual blend of energy and flair but was faced with a brick wall for much of the game. Couldn't find a way round it. 6

12/23 Andre Schurrle

Best off the bench: Ultimately turning the game on its head, the Chelsea man scored the goal which sent Germany on their way. Having a big hand in Mesut Ozil's winner too, this was a vital appearance from the bench. 8

13/23 Rais Mbolhi

A warrior at the back for Algeria, there is nothing Rais Mbolhi could have done about either German goal. 8

GETTY IMAGES

14/23 Faouzi Ghoulam

Made a magnificent last ditch tackle to deny Thomas Muller in the second half which defined his evening. Was pitch perfect all night. 8

GETTY IMAGES

15/23 Esseid Belkalem

Had difficulty dealing with the tricky style of play utilised by Germany's attacking players but remained strong in the air. 7

GETTY IMAGES

16/23 Rafik Halliche

The Algerian captain led from the back, barking instructions at every stoppage in play, but struggled to deal with players running straight at him. 7

GETTY IMAGES

17/23 Aissa Mandi

Giving Algeria another creative outlet, with a series of magnificent crosses into the box, Aissa Mandi was thoroughly impressive. 7

GETTY IMAGES

18/23 Medhi Lacen

Was the essential cog in the ever-turning machine of Algeria's counter-attacking system. Picked up the ball and got it forward in seconds. 7

GETTY IMAGES

19/23 Sofiane Feghouli

A constant menace, Sofiane Feghouli was regularly seen galloping down the left flank with a twinkle of intent in his eyes. Unlucky not to have scored. 7

GETTY IMAGES

20/23 Saphir Taider

Tasked with pressing the Germans from the right-hand side, Saphir Taider wasn't as effective as his colleague on the opposite flank. 6

GETTY IMAGES

21/23 Mehdi Mostefa

Lucky to have not been sent off, after a series of tackles worthy of a yellow card, Mehdi Mostefa provided a physical edge to Algeria's lightweight set-up. 7

GETTY IMAGES

22/23 Islam Slimani

A threat throughout, Islam Slimani deserved his goal and then some. It's just a shame that it came so late. Bittersweet. 8

GETTY IMAGES

23/23 El Arabi Soudani

Partnering Islam Slimani must have been a pleasure with the amount of chances his colleague created. Unfortunately for Algeria, Soudani couldn't put one of them away. 6

GETTY IMAGES
Löw is, by popular vote, a badisch halfwit to play Lahm in defensive midfield. He is reckless to rely once again on a half fit Bastian Schweinsteiger. He is overly ideological when he fails to use Miroslav Klose more often than he has, preferring instead the false nine.
The real issue with this Germany side, though, is not tactical, but psychological.
Take the Lahm debate, which has been the focus of most Jogi-bashing in Germany over the past months. Playing Lahm in midfield does leave Löw with limited defensive options, particularly when Mats Hummels is out with the flu. His innovative idea to play four centre backs has only papered over the cracks left by taking Lahm out of defence.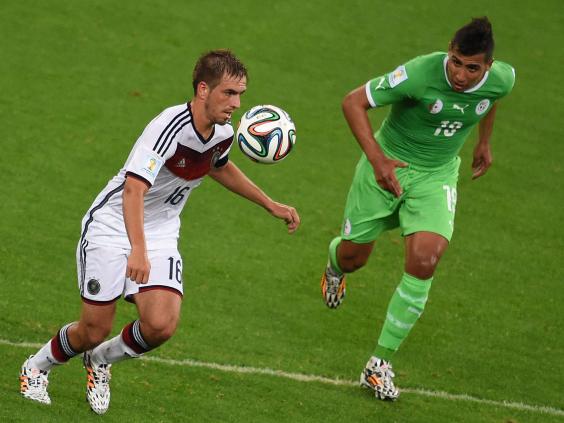 Yet if he puts Lahm back at right back, he risks unbalancing that back four. Bene Höwedes has already proved himself a less than convincing left back, and to let Lahm marauder on the right, Löw would have to play his only bona fide left back, Erik Durm. The 22-year-old is talented, but has one cap to his name and is not even a regular in Dortmund's first team.
The truth is that, whatever Löw does tactically, this side will have weak points. Another, equally important truth is that, whatever Löw does tactically, Germany remain one of the strongest teams in the tournament on paper, and can beat anybody.
What brings them down, and has done since 2010, is their mentality. Against Algeria, it was not the tactics which failed; it was the players' response to their opponents blistering performance. The superb Algerian pressing not only caught Germany off guard in the first twenty minutes, it also relented for the hundred minutes that followed.
Germany were expecting neither, and fell into a familiarly ugly pattern of lurching between insecurity and arrogance. As soon as they got a grip on the game, they relaxed and let Algeria at them again. As soon as Algeria did that, Germany teetered on the brink for another ten or fifteen minutes.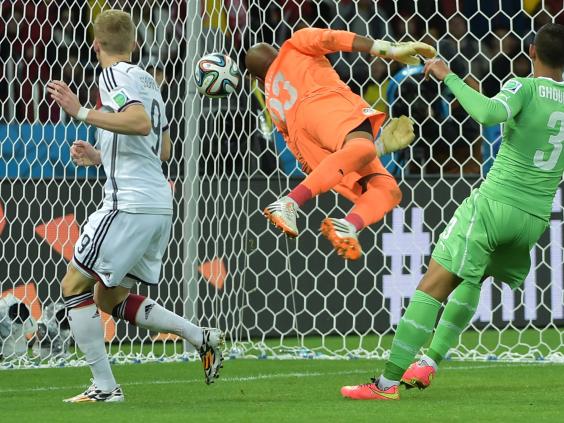 It was familiar, because it is exactly what they have done in the majority of friendlies they have played over the last four years. As this ostensibly gifted German side continue to go without silverware, many interpret that they are regressing. They are not, they are simply getting bored of winning friendlies and early tournament matches. That much is visible from the sloppy passing, the lack of decisive runs and the lethargic approach to positioning.
It is a preposterous mindset, and it brought them crashing to their knees two years ago at Euro 2012. After strolling confidently but less than impressively through the Group of Death, Germany then hit a significantly weaker Greece side with an inelegant battering ram of a 4-2 victory. Then they faced Italy. On paper, they were the stronger side, but they could not rise to the more serious challenge, and were punished.
In 2014, the pattern is almost identical. The Group of Death has been negotiated already. For Greece, read Algeria. For the inelegant battering ram, read an equally inelegant and even more arrogant limp into the quarter-final. For the serious challenge of Italy, read France on Friday.
Germany are deserved favourites for that game. They have more quality, more flexibility, and are more experienced. But, like Italy, France are more than capable of blowing Germany away, should they be given half a chance.
Mertesacker finished his rant last night by declaring that "I am going to go and sit in an ice bath for three days, and analyse the game in peace". Hopefully for Germany, his team mates will follow suit. Hopefully, the ice will wake them from their current bleary slumber in time for Friday evening.
Reuse content